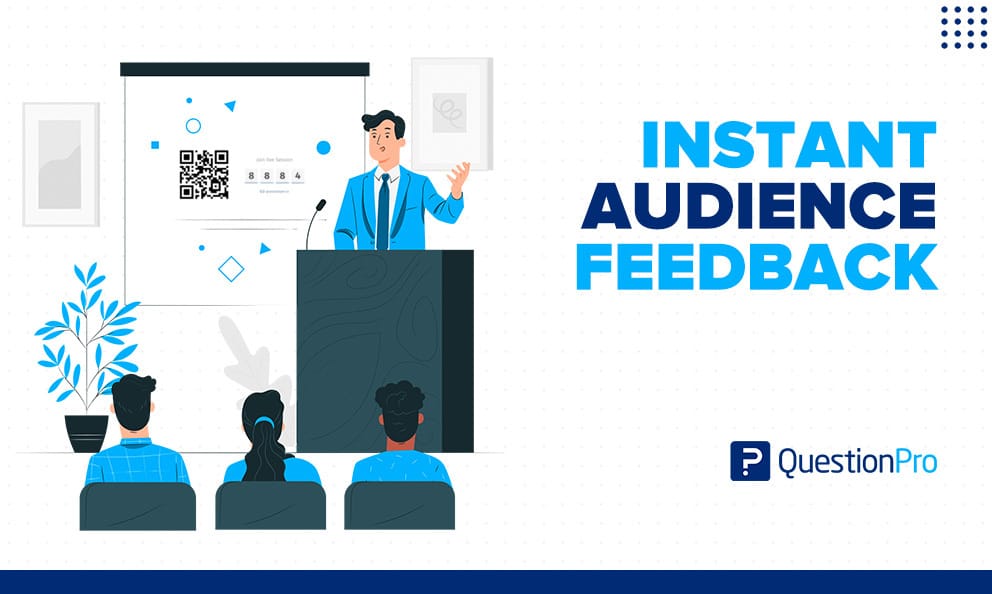 Can you imagine if you could know what your live audience is thinking of your presentation at all times? It might sound not very comforting, for sure. However, presenters, teachers, or anyone with a live audience can benefit from it. As Ken Blanchard said, "feedback is the breakfast of champions." Let's talk about instant audience feedback.
What is Instant Audience Feedback?
Instant audience feedback is gathering data conducted in real-time from a live presentation's audience. Instant feedback has to come directly from each participant. Said data collection is possible using tools for live polling.
In addition to optimal planning, every presenter needs to consider the audience's experience. Attendees should be the primary focus when our ultimate goal is to generate audience engagement.
The audience experience begins the second the presentation or class starts. And who better to teach us about the audience experience than the attendees themselves? Let's discuss the importance of instant feedback.
Why is instant audience feedback important?
Instant feedback makes the retention of information more meaningful as responses are more honest. Having to answer live, students or attendees will have to draw on the information they have retained up to this point in the lesson or presentation.
In addition, being asked to provide live feedback, the audience is more inclined to better engage with the content presented. The feedback will be an asset that can provide teachers and speakers with insights about their lessons or presentations and ways to improve them.
To achieve a perfect audience experience, you can implement adequate tools such as QuestionPro's Livepolls. As most people carry their smartphones with them, taking advantage of it will be a great starting point.
With these tools for instant audience feedback, not only will you implement technology into your presentations or classes, but it will prevent them to become a distractor. If the audience is using their devices to interact with the presentation, they will be engaged in the activity rather than in their social media or emails.
For teachers, QuestionPro's Livepolls is one of the best Kahoot alternatives, as until recently, it was the most trusted tool by teachers. However, it's become obsolete as new challenges develop in the academic world.
With LivePolls, you can design easy Kahoot-style quiz creations to showcase visual information in real-time to students, employees, conference attendees, or any team. This feature allows answer evaluation and instant audience feedback.
IAF for speakers and live presentations
When conducting an event or presentation, you might measure its success by the number of attendees or how easy it was to implement the event management tools without losing time setting it up. The truth is, the adequate tools will be your allies to achieve a perfect presentation.
The most significant and crucial contributor to any event's success should be measured against your audience's engagement. After all, events are considered the best platform for your business to gain impactful brand exposure.
Using live polling for Instant Audience Feedback
Live polling is the action of conducting a poll or quiz in real-time among a live audience, either in real-life or online. In a recent study conducted by Markletic, data scientists found that 71% of marketers use polling to ensure audience engagement.
A Live polling app can help you extend the power of polls not just to boost engagement but enthusiasm as well. Be it a substantial corporate affair or a small classroom discussion, live-polling apps will help you conduct online polls, painlessly to generate results for the participants in real-time feedback.
A continuously interactive loop between the presenter and the audience will automatically boost engagement, which is what the live poll tool can enable & build for your business.
The key to successful live polling is to make it as accessible as possible. Avoid software that asks the user for a download or sign-up anywhere; time is valuable for a successful presentation. Opt for software that offers you a quick and easy-to-use interface.
Conclusion
Opinions are continuously changing, so it's vital to stay updated on the evolving moods. That's precisely what live polling helps you achieve! A live poll tool helps you create custom polls exclusively designed to help you track audience engagement.