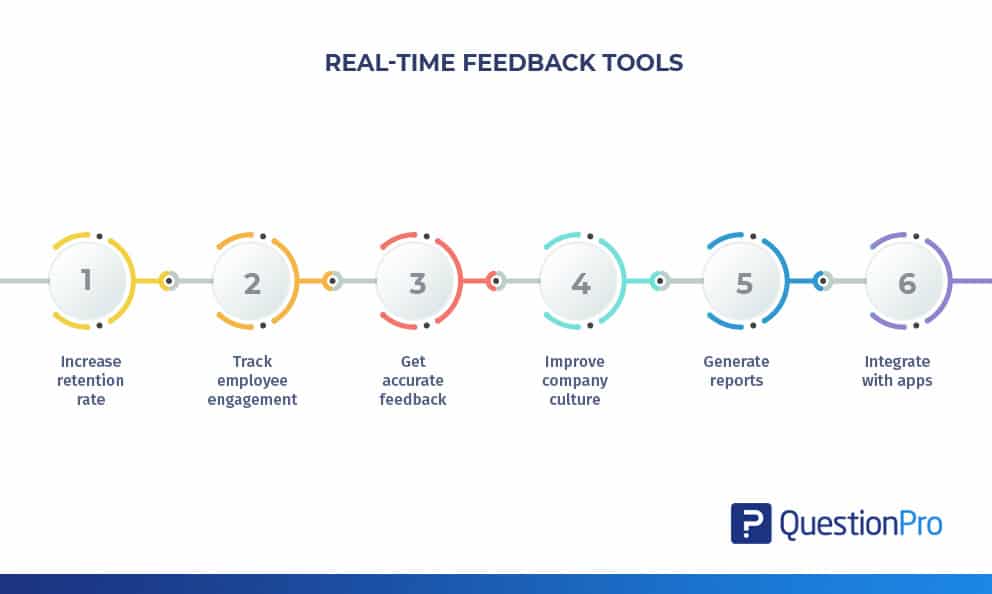 Like many companies, you might be doing a quarterly or annual employee performance review. You might also run an evaluation survey to understand how they feel about the workplace. Employee performance evaluation is dynamic and constantly evolving,  and so your performance feedback mechanism should constantly change. Real-time feedback tools transform performance management into an agile, continuous feedback process.  
Real-time feedback software gives employees constant feedback to leverage their strengths more and focus on their growth. Amazon recently embraced the use of real-time feedback tools to be in line with the company's needs. Since then the company has seen an improvement in its reputation across both existing and potential employees. Amazon is not alone. Real-time feedback apps have been a trend since 2015 as noted by the Society for Human Resource Management.
Why companies should invest in real-time feedback tools?
Increase retention rate
Real-time feedback tools can offer more frequent feedback to employees. This gives an opportunity to take action sooner if they need to.  It will also give them more visibility on how the organization perceives their efforts. If businesses want to reduce their cost per hire, they need to focus on their employees' satisfaction. Investing in employees will increase their retention rate and there will be no need to hire new staff. One of the important ways to achieve this is to provide training to educate employees. This will ensure ample growth opportunities for them in this ever-changing environment. 
Track employee engagement
To increase employee engagement, employees need to be happy, satisfied, and challenged. To track this, feedback systems must be in place. Employee engagement tools must track what makes them happy and if they feel organizations are listening to them. They need to feel that the organizations care for their opinions and experiences. This can be achieved through real-time feedback software which can create and send surveys. These feedback surveys should ask questions related to what do they think about the workplace. With this data, the leadership team can address issues, and improve their employee engagement. Over a period of time, they can measure whether their efforts are making any difference or not. 
For instance, a company can create a poll for employees to vote for their favorite charities, the ones they would like the company to donate to. Based on the response rate, survey administrators can judge if enough number of employees feel connected with the company's goals or not.
Get instant, accurate feedback
The sooner the feedback, the more relevant it is. The employees can work on their weaknesses and give productive output sooner. This will benefit both the company and employees. Real-time feedback tools remind employees to align themselves with the company goals. It makes them think how better they can contribute to the betterment of the organization.
Improve company culture
Organizations need to understand the health of their company in terms of culture. They need to know how employees see the organization and what do they feel about it. Employee engagement is the degree to which employees feel connected with the organization. The higher the engagement, the more they feel that they are affected by the company's growth. Real-time feedback tools can continuously measure this experience.
Many workplace culture measurement tools let you find out what are the key drivers that affect employee behavior. They also generate a driver analysis report that maps the relationship between various factors that affect workplace culture. It highlights how a change in one behavior affects others. Driver analysis report can significantly improve employee experience and increase their satisfaction.
Generate and share reports
Continuous feedback tools generate a wide range of reports that can be used to get insights into employee engagement. If proper measures are taken to improve their experience, their productivity will significantly increase. These reports can also be shared with other team members and departments. Apart from this, reports can also be downloaded in .xls, .pdf, .doc and SPSS format.
Integrate with other apps
This is the icing on the cake! Enterprises can leverage the ability of real-time feedback tool to integrate with other commonly used applications such as SalesForce, Microsoft Dynamics CRM, Zapier, Marketo and many more. This enables organizations to utilize survey data across multiple applications.