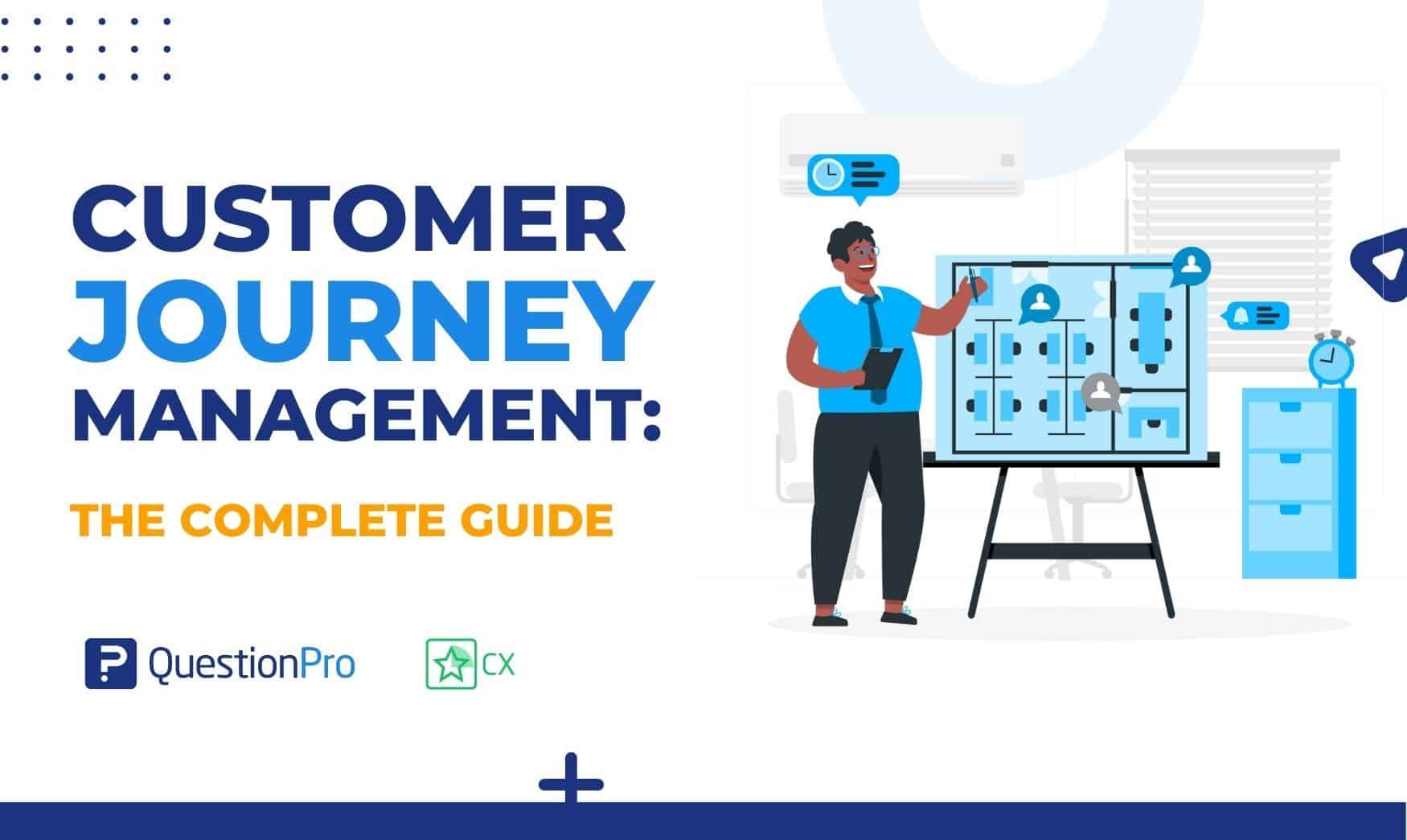 If you want your business to grow, you need to make things easy for your customers. This is what managing the customer journey is all about.
Customer journey management is a way to learn more about your customers and how they interact with your brand. It is important to improve every point of contact with a customer and ensure they have the best possible experience with your business.
Your business should also do well if you help your customers reach their goals.
But what does a strategy for managing the customer journey look like?
And how do you put one into place?
LEARN ABOUT: Perfect Customer-First Strategy
In the complete guide blog, we'll talk about all of this.
Content Index:
What is customer journey management?
Benefits of customer journey management
A framework of customer journey management
How to implement customer journey management
Customer Journey Management Best Practices
Conclusion
What is customer journey management?
Customer journey management is about paying attention to a customer's journey and ensuring that your brand gives them the best and most positive experience possible.
It looks at each interaction with the customer as multiple events. Instead, it looks at the whole journey. A big part of this is knowing what the customer wants and making sure that the way your organization works helps them get what they want.
Management looks at your customers' paths to reach a goal rather than trying to improve each interaction. It's a change in how you think that lets you measure, monitor, and improve CX and align your whole company with your customers' goals.
Companies that put the customer first use customer journey management to:
Find the important journeys based on customer goals and business goals.
Measure and keep an eye on the signs that a trip will be successful.
Plan corrective actions when they are needed.
Use journey success scores to keep track of how well a journey went, and
Invest more in trips that aren't doing well.
Top companies are using customer journey management worldwide to improve the customer experience, which suits customers and the companies.
You may also check out this guide to learn how to build your own Customer Journey Map.
Benefits of customer journey management
Correct customer journey management can help your organization thrive in various ways. Here are a few key benefits that good customer journey management may provide for your company and your customers.
Improved customer experience: When companies understand and optimize the customer journey, they can give customers a smoother and better experience, which makes them more loyal and likely to recommend the company to others.
Increased sales: If customers have a good experience, they are more likely to buy from you again and bring in more money.
Better targeting of marketing efforts: Organizations can better target their marketing efforts and increase conversion rates by understanding customers' needs and pain points at each journey stage.
Improved efficiency: Organizations can improve their overall efficiency and save money by finding and fixing bottlenecks and inefficiencies in the customer journey.
A better understanding of customers: By collecting and analyzing customer data, businesses can learn more about their customers, which can help them make business decisions and improve their products.
Better coordination between teams: CJM can help different teams understand the customer journey, which can help them better coordinate their efforts and work together.
Better ability to develop new ideas: When businesses know what their customers want, what bothers them, and how they act, they can find more opportunities for innovation and disruption.
LEARN ABOUT: Customer Journey Mapping Tools
A framework of customer journey management
The Customer Journey Management (CJM) framework helps companies understand and improve customer interactions. It entails mapping the customer touchpoints and stages—awareness, consideration, purchase, and post-buy—and finding ways to optimize them.
CJM strives to provide a seamless, enjoyable customer experience to increase customer loyalty and advocacy. It considers the overall customer experience.
Usually, the framework has the following steps:
Identify customer segments: Know your customers and divide them into groups based on demographics, behavior, and needs.
Customer journey mapping: Determine the important touchpoints and stages of the consumer journey, such as awareness, consideration, purchase, and post-purchase.
Collect customer feedback: Collect customer data and input at each journey stage to better understand their needs, pain areas, and motivations.
Analyze and optimize: Examine the data and insights to discover areas for improvement and optimize the customer journey.
Implement and monitor: Put the changes into action and track the results to ensure they produce the expected effects.
It is important to note that CJM is not a one-time event but a continuing endeavor to improve the customer experience.
Learn more about why understanding your Customer Journey transforms your CX program.
How to implement customer journey management
The importance of customer journey management in brand success is growing. A professionally planned customer journey is critical in such a competitive online world.
Here are some of the greatest actions to take to successfully adopt a customer journey management plan.
Discover every business function
When promoting a company, a strong customer journey management plan is essential. But every aspect of a company may be directed by a successful customer journey.
The three customer journey aspects your brand should analyze are:
Peripheral touchpoints: First encounters with your brand, such as hearing about it from a friend or seeing an ad.
External touchpoints: Your customers' direct engagements with your brand assets, such as social media engagement or website surfing.
Internal touchpoints: Customer interactions with your company, such as customer support.
Understanding these areas of engagement can help you create a more detailed and relevant customer journey management strategy.
Set a goal
Why do you want to map out and follow your customers' journey?
You can get more out of your customer journey management approach by setting clear, defined goals. Because of this, rather than merely acting on insights, you work.
You might aim to increase sales of particular products, decrease bottlenecks and friction points, or raise consumer engagement. Use the data you learn about your customers' travels to accomplish more with the support of these initial objectives.
Understand customer journeys
After setting goals, map out customer routes. To achieve this, list each marketing function your organization performs and determine how a buyer can discover your brand and how they might proceed.
Tracking consumer journeys online with marketing automation and tagging. Customers may find you through a blackboard or a buddy.
Use your intellect here. Create a path for every customer interaction with your brand. Your inbound marketing approach, commercials, promotions, and more may be involved.
Know your customers
More than just knowing where your customers come from is required. The next most important thing is to understand who your customers are.
Find out what interests them, what hurts them, and what would make them want to buy from you. To do this, you'll need to create detailed buyer personas of your ideal target customer.
The more you know about your customers and what matters to them, the more you can visualize and improve the customer journey for better results.
Bring everyone along
Marketers are just some of the ones concerned about customer experience. Instead, everyone in a business should be involved because the customer experience affects all aspects.
Every department interacting with customers should align with your customer journey management goals and strategy. This helps build a more well-rounded and impactful approach that corresponds with the brand's goal.
Customer Journey Management Best Practices
The above actions might serve as a general roadmap for tracking your customer journey and developing an effective strategy. You can modify this in many ways, though.
The greatest advice and strategies to use in your customer journey management plan are listed below.
LEARN ABOUT: Effective Customer Success Plan
Definition of Success Metrics
Define success for your customers to improve their experience. How can you or they reach your goal?
Understand consumer and business success. Clear KPIs at each customer journey stage can help you stay on track and achieve your goals faster.
Customer journey management involves connecting business goals with customer goals. To do this, define high-priority goals that let you gauge performance broadly.
Consider how your goals and success measures will help your firm succeed. Ensure these outcomes match your customer's goals. Then refine.
Customize trip ratings and business KPIs to help customers and your business accomplish the same goals.
Your customer journey will be thoroughly planned after a while. Customer journey management involves constantly improving your customer experience.
This must be monitored and adjusted as markets and behaviors change. Your journey must adapt to customer journeys.
Keep track of consumer behaviors and brand interactions by revisiting your customer journeys. This ensures that customers always have a meaningful experience.
LEARN ABOUT: Customer Lifecycle
Conclusion
Customer journey management involves having a thorough grasp of your customers and ensuring that you give them the best experience possible. Any successful business should meet its customers' expectations, and customers have high standards for brands.
Customer journey management can improve your business by modifying your customers' views of you. Increase customer happiness, strengthen your brand's reputation, and increase sales by understanding your customers' needs and coordinating these with your business objectives.
You and your team will be better able to respond to customers' queries quickly by matching your buyer persona to the various stages of the customer life cycle.
The other advantage is that your company is no longer reactive to customer expectations. Use social media to successfully and quickly meet customer expectations and demands now that you know them.
Additionally, as your customers become used to this level of care, it will be apparent that they will return for additional purchases, thereby supporting your sales funnel and your marketing tactics throughout the whole customer journey.
QuestionPro CX is a customer journey management platform that offers tools for gathering and evaluating customer feedback, developing surveys, and monitoring customer satisfaction. It can assist businesses in managing and improving the customer journey.
Companies may use QuestionPro CX to obtain insightful data on customer preferences, problems, and opportunities, then utilize this data to inspire data-driven decisions that improve the customer experience.
QuestionPro CX has capabilities like sentiment analysis, NPS score, and survey distribution that can assist businesses in measuring customer loyalty, understanding customer sentiment, and distributing the survey through various media.