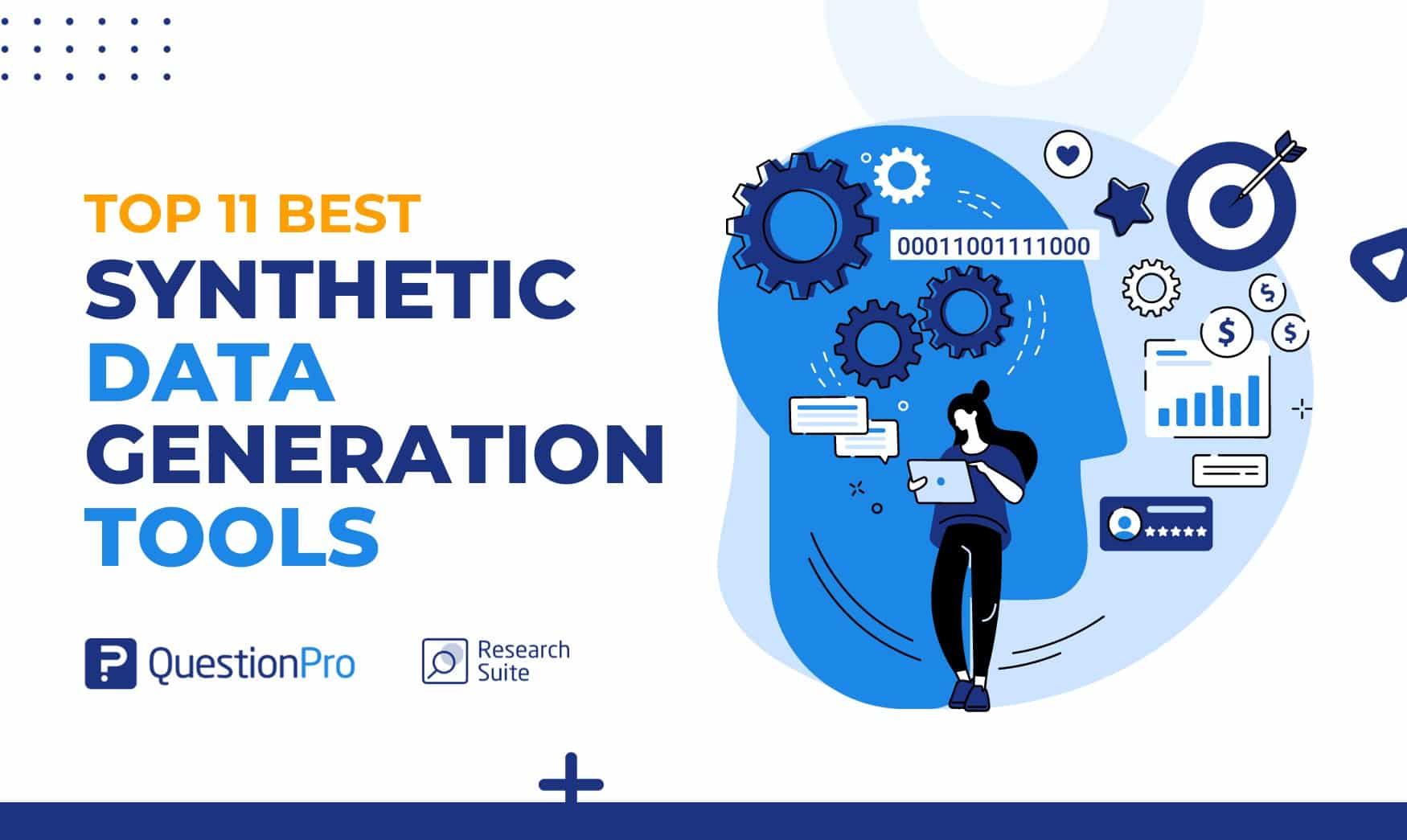 In today's world, having good data is really important because we use it a lot. But it is also necessary to keep data safe and private. To address this gap, synthetic data generation tools have evolved. These tools allow you to produce artificial data that reflects the features of real data, providing a safer and more versatile option for a variety of applications.
If you are looking for synthetic data, you may be curious as to whether it is preferable to purchase a solution from commercial synthetic data companies or use a tool of your own. In this situation, we will explore this blog's 11 best synthetic data generation software.
What Is Synthetic Data Generation?
Synthetic data generation is a technique you can use in various fields, including data science, machine learning, and privacy protection, to create artificial data that closely resembles real-world data without containing any sensitive or confidential information.
This synthetic data serves as a substitute for actual data, allowing you to conduct experiments, develop algorithms, and perform analyses without exposing sensitive or private information.
You can generate synthetic data using algorithms and statistical models to replicate real data's statistical characteristics and patterns. These algorithms create data points, often called "synthetic records," that are statistically similar to the original dataset but do not reveal sensitive or confidential information.
This artificial data can include structured data, text, images, and more, making it versatile for various applications.
11 Best Synthetic Data Generation Tools
Here are the best eleven synthetic data generation tools that are revolutionizing data privacy, testing, and analysis.
01. MDClone
Due to many privacy considerations, evaluating actual patient data is frequently difficult in the healthcare industry. However, such issues are no longer an issue. MDClone is a synthetic data generator designed exclusively for healthcare professionals to generate as much clinical data as you require from real patient profiles.
MDClone provides a systematic way to access healthcare data for research, synthesis, and analytics while avoiding the disruption of sensitive data. It can produce synthetic data from any sort of organized or unstructured patient-oriented data without revealing the patient's identity.
You can frequently apply medical terminologies without the need for coding and easily compare analytical results through in-depth visualizations. MDClone empowers you to share your findings and collaborate on research projects using the synthetic data it effortlessly generates.
02. MOSTLY AI
MOSTLY.AI provides the most accurate synthetic data. It lets you unlock, share, update, and simulate data. MOSTLY.AI employs the most advanced artificial intelligence or AI model to generate fake data that looks and feels just like actual data. You will be able to keep valuable, granular-level information while ensuring that no individual is ever exposed.
MOSTLY.AI supports a wide range of data types, including structured data, text, pictures, and time series data. You can use it in a wide range of sectors and use cases. This versatility makes it suitable for a vast array of industries and applications.
Additionally, MOSTLY.AI provides APIs and integrations that simplify the incorporation of synthetic data generation into your existing data workflows and applications.
03. Hazy
Hazy sets itself apart from the competition by offering models capable of generating top-quality synthetic data while incorporating a differential privacy mechanism. Whether your data is tabular, sequential, or spread across multiple tables in a relational database, Hazy has you covered.
Hazy's innovative data modeling approach empowers you to accelerate analytics workflows without the inherent risks associated with collecting real customer data. With Hazy, you can confidently develop and test your analytics solutions while safeguarding sensitive information.
In the banking sector, where data privacy and transparency are paramount, Hazy provides a sense of security. Even though banks are expected to offer APIs for compliance with GDPR policies, working with Hazy's synthetic data provides an additional layer of assurance. It ensures that companies can effectively monetize data by selling valuable insights without compromising the customers' identities and privacy.
04. Ydata
YData offers a data-centric platform that accelerates development and maximizes the ROI of your AI solutions. With YData, You can improve the quality of your training datasets and make them more robust and effective. Data scientists can use automated data quality analysis and cutting-edge synthetic data generation techniques to improve the performance of your dataset.
When it comes to data quality, YData goes the extra mile. It provides high-quality synthesized data and assures that it is free from bias or any personally identifiable information, which protects your privacy and compliance.
You can trust YData to reduce identity leakage and re-identification threats during inference attacks. They use the strict TSTR (Train Synthetic Test Real) method to evaluate AI-generated data for predictive model training, which gives you peace of mind and confidence in your AI efforts.
05. BizDataX
Whether you work as a test data engineer, bank professional, security officer, or business or data analyst, BizDataX gives you the tools you need to use synthetic data generation to protect personally identifiable information (PII) in your pre-production environment.
You can feel confident that you are in compliance with GDPR rules when you use BizDataX. The platform includes comprehensive data masking algorithms to ensure that sensitive data is secured throughout your testing and analysis procedures.
Additionally, BizDataX's automatic sensitive data discovery module effortlessly scans numerous databases to find and secure sensitive information. This powerful tool maintains referential integrity while efficiently lowering the size of your databases, optimizing them for rigorous testing without risking data security.
06. Sogeti
Sogeti is a cognitive-based tool that can help you with generating fake data. It is known as one of the most effective synthetic data generation tools, particularly for engineering, research, quality assurance, and testing.
You will benefit from Sogeti's Artificial Data Amplifier (ADA) technology, which has the unique capacity to read and reason with data of any type. It is a synthetic structured data generator that also creates unstructured data. ADA uses deep learning techniques to recreate its recognition capabilities, distinguishing it from its competitors.
Sogeti assures that synthetic data maintains its original properties and patterns, keeping statistical similarities with the source data while protecting individual identities. It also goes above and beyond by fully complying with GDPR requirements, guaranteeing that client identities are entirely anonymous.
07. Gretel
Gretel.ai is a new synthetic data generation tool for creating synthetic data. Gretel is a self-proclaimed "Privacy Engineering as a Service" that builds statistically similar datasets without using any sensitive customer data from the original source.
Gretel's ML method compares real-time information by employing a sequence-to-sequence model to enable prediction while generating fresh data and training the data for synthesis. Gretel also employs differential privacy, which ensures that no original data is memorized or re-identified in the system.
Gretel.ai allows you full control over processes for better management by processing data streams in real time and providing many customization choices for setups. Gretel appears to be a promising next-generation synthetic data generator, with the platform promising to function in the banking, healthcare, and gaming industries in the near future.
08. Tonic
Tonic.ai offers an automated and anonymous data creation method for testing and development needs. With Tonic's technology, you can rest assured that your data remains anonymous through the use of database de-identification. This process separates PII from real data and prioritizes your client's privacy.
Tonic's powerful AI system categorizes distinct tables across databases using the Generative Adversarial Network, or GAN model. The platform preserves behaviors and dependencies within the data and allows the data science team to work with equally valuable data by eliminating hours of manual work.
Tonic also allows you to synthesize only a portion of data rather than the complete database. The feature reduces data size by using a patented cross-database subsetting approach.
09. CVEDIA
CVEDIA is an excellent alternative for a powerful computer vision cross-industry platform. The platform can generate synthetic data to power its AI and machine learning algorithms, and it does it effectively. CVEDIA's patented simulation engine, SynCity, allows it to generate high-quality synthetic data, which is extremely useful for testing and training models based on neural network architectures.
CVEDIA has you covered whether you work in security, manufacturing, or aerospace. Through NVIDIA's Metropolis initiative, the platform provides a holistic solution that addresses both your hardware and software requirements.
As you use CVEDIA, you'll notice that they provide a free personal license, making it available for research and development purposes. When it comes to collecting synthetic data, you'll need to contact the provider directly to receive a personalized estimate based on your exact needs.
10. OneView
OneView is a scalable, cost-effective synthetic data solution for accelerating remote sensing imaging analytics. The platform provides synthetic data solutions and generates virtual synthetic datasets for you to employ in the training of machine learning models.
With OneView, you can avoid the time-consuming process of collecting, categorizing, and evaluating real-world photos from drones, aircraft, and satellites. The platform can generate datasets customized to suit your individual needs for any environment, object, or sensor.
With OneView, you can efficiently speed up remote sensing imagery analytics. It recreates the actual environment by adding randomization variables to each variable, such as weather, appearance, textures, colors, and so on, giving you a powerful tool for remote sensing analytics.
11. Datomize
Datomize is a leading new synthetic data-generating tool. It specializes in creating fake client data for banks worldwide. The models learn the original data's essential distributional properties and build high-quality duplicates.
Datomize makes it simple to connect to enterprise data servers like PostgreSQL, MySQL, and Oracle and process complicated data structures and dependencies with hundreds of thousands of tables. The system then extracts behavioral traits from the raw data and generates identical twins that are not connected to the original data.
A rules-based engine in the program allows analysts to produce data for new scenarios. They provide context by providing rules for a certain situation, and the engine generates the appropriate dataset.
How QuestionPro Helps in Synthetic Data Generation?
QuestionPro is a powerful online survey and research platform, and while it primarily focuses on survey creation and data gathering, it can indirectly help synthetic data generation. Here's how QuestionPro can help:
Surveys and Questionnaires: QuestionPro allows you to create custom surveys and questionnaires to collect real-world data from respondents. You can use this data as the basis to generate synthetic data.
Data Cleaning and Structuring: Once you collect survey data using QuestionPro, you can use the platform's data cleaning and structuring features to make sure that the data is consistent and well-organized before using it as input for synthetic data generation.
Data Analysis Tools: QuestionPro provides data analysis tools to help you identify patterns, trends, and correlations in your survey data. Understanding these patterns can be useful when selecting synthetic data-generation parameters to replicate the original data correctly.
Data Security: QuestionPro prioritizes data security and provides solutions to protect the data collected through its platform. This is important because protecting the privacy and security of genuine data is one of the most important considerations while generating synthetic data.
QuestionPro does not directly generate synthetic data, but it can be an essential component in the process. It helps you collect, structure, and analyze real and synthetic datasets using specific synthetic data production tools and procedures.
While QuestionPro can assist with data collection, generating synthetic data usually requires using additional synthetic data tools, libraries, or platforms that specialize in synthetic data creation techniques.
Ready to discover more about QuestionPro Research Suite's features and boost your data collection and research efforts? Sign up for a free trial today to discover the platform's extensive survey creation, sharing, and data collection features.
Use our free trial to see how QuestionPro can assist you in making educated decisions and gaining meaningful insights.