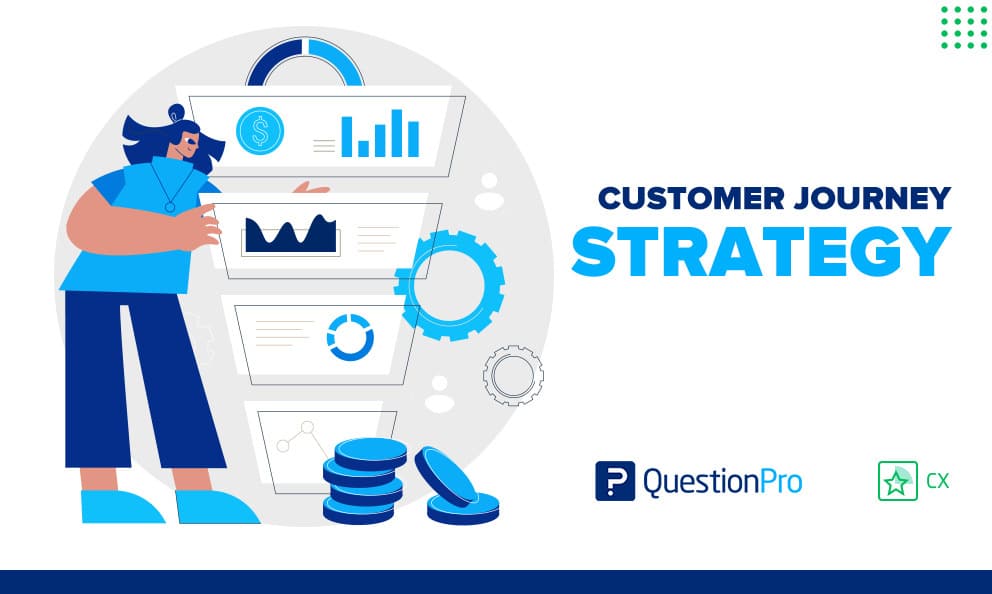 Three quarters of professionals agree that customer experience has a significant impact on loyalty. If customers are frustrated interacting with your brand, chances are they won't come back.
A customer journey strategy is a plan of action focused in improving the experience that the customer has with your brand from start to finish. From the first encounter with your marketing strategy to the sale. The customer journey encompasses all interactions.
As part of the customer experience, the journey should be an easy and pleasant experience, this means simple processes and top-notch customer service.
Why is it important to have a customer journey strategy in place?
The journey is key to customer loyalty.
94% of people are more likely to buy from brands whose customer experience they rate as very good. 59% of professionals say that customers would switch brands after a bad customer experience with it.
A better customer journey strategy not only leads to more loyal customers but leads to higher profit margins. 40% of professionals agree that customers are willing to pay more for a better experience.
60% of business leaders agree that customers are more influential than three years ago, as they can influence the success of your business, with reviews. This turns them into brand ambassadors.
Check out this guide to learn how to build your own Customer Journey Map.
11 Strategies to Improve Customer Journey
Personalize the experience
A personalized service is no longer an option – it is essential.
More than half of customers expect brands to anticipate their needs and 63% expect personalized service.
Two out of five customers complain that brands don't meet their expectations for personalization.
37% of customers say they will not buy products from brands that do not personalize the experience.
78% of brands that have a personalization strategy experience revenue growth.
An easy way to personalize is to offer discounts based on consumer behavior. 52% of consumers say they want individualized offers from brands.
You can also offer personalized recommendations. A third of shoppers say they get frustrated when brands send them offers on something they just bought.
38% of shoppers say brands make them feel special when they send personalized recommendations based on previous purchases.
Try using artificial intelligence (AI) to generate brand recommendations based on your customers' buying behavior, or use a questionnaire to assess their needs.
Improve user interface (UI) navigation
If your website is difficult to navigate, customers will have a hard time reaching their end goal.
Poor user experience makes customers frustrated and abandon your website or app. According to 61% of web designers, poor navigation is the number one reason visitors leave a website. Your website should outline the journey your visitors need to take to achieve your end goals. Use clear buttons (CTA) and easy-to-find and logically arranged navigation menus.
Check out some user interface surveys questions templates available for free.
Optimized for mobile
64% of web traffic comes from mobile devices. According to 73% of web design agencies, the main reason why visitors leave websites is that they are not responsive to mobile devices.
To optimize the design of your site for mobile devices, you must reduce its size so that it loads quickly. In addition, make sure that it responds to different screens of different mobile devices. It is also advised to reduce the amount of information on the screen and increase the size of certain elements to deliver a major impact on the reading user.
Use chatbots
93% of customer service agents agree that customers increasingly have higher expectations of service. Chatbots can help alleviate some of the burdens by handling customer needs queries using AI.
Chatbots are great customer service agents as they can learn up to 92% of visitor questions in just five months.
You can provide immediate, high-quality service without the customer having to wait five to 10 business days for a customer service agent to respond.
67% of business leaders say chatbots increase profits. You can train your chatbot to provide recommendations to your customers first or offer personalized promotions based on their queries, this helps increase the chances that customers will buy.
Learn More: Buyer Journey & Car Buyer Journey
Run A/B tests
One of the best ways to find out what improves the customer journey strategy is to collect real-time data via survey data collection.
57% of companies say that monitoring user data has an impact on design decisions.
A/B testing is a way to determine which version of your website drives your customers to perform the behaviors you want them to do and shows you which customer journey strategy is the most successful.
If you enjoy reading about customer journey strategy you might find interesting what is the 10 best customer journey mapping tools.
Offer self-service options
Customers don't always want to contact a customer service agent. Instead, they often want to search for information themselves. Therefore, it is essential to have a help center where they can search and find answers to their questions themselves.
65% of brands do not have a knowledge base that the customer can search.
Optimize your omnichannel experience
High-performing brands offer omnichannel support that gives the customer journey an all-encompassing feel and makes them feel like they are known and remembered by brands across all platforms.
43% of consumers admit that it makes them feel part of the brand when a brand recognizes that they are the same person across multiple customer touchpoints.
40% of consumers say that brands fail to provide them with that omnichannel experience. Customers are frustrated that brands can't deliver a consistent experience when moving from one platform to another.
If you enjoy reading about customer journey strategy you might find interesting what is the consumer decision journey.
Facilitate transactions
Many brands make it harder for customers to pay than they should. This causes customers to abandon right at the decisive moment.
65% of consumers say they are more likely to buy from brands where transactions are quick and easy.
The process should be simple and offer several payment methods so that customers can choose the one that is easiest for them. Expand beyond credit cards and PayPal to even consider other forms of payment like Bitcoin.
Churn Tracking
Cart abandonment is widespread. many shoppers stack their carts and only 40% complete the purchase.
Following up on the abandonment with an email can get the customer back into the buying cycle.
Cart abandonment emails are surprisingly successful at convincing consumers to buy. They have a conversion rate of over 18%. 31% typically includes an offer to help complete the transaction.
Download Customer Journey Canvas
Stay safe
It is vital that your website has a website security certificate and that any database with customer data is well protected. And yet, it's likely that your website has been hacked, and you don't know it.
A hack not only damages your reputation but can get you in trouble if your security isn't substantial enough to comply with general data protection regulations (GDPR).
Monitor your customer analytics
If you want to drive your customers to complete their journey, you need to analyze the data. This will help you understand which elements drive customers to success and which drive customer churn. If you don't collect and analyze data, you won't know what's getting in the way of your customer journey strategy.
For instance, 67% of product professionals admit they don't know why customers stop using their services. Why? Because they do not monitor behavior or collect customer data.
Determining which key performance indicators (KPIs) you will measure and when is essential. This helps make future decisions and guides your strategy.
Conclusion
To encourage loyalty and have more sales, you need a customer journey strategy that makes it easy for your customers to reach their final goal while enjoying a pleasant brand experience.
With QuestionPro CX you can collect data and analyze it to determine which parts of the journey work and which do not, in addition to performing A/B tests to optimize processes and reduce customer churn.
At QuestionPro, we work on what we believe in. Schedule a demo with Ken and discover how to boost customer loyalty and collect valuable consumer insights through our CX survey and analytics management platform.