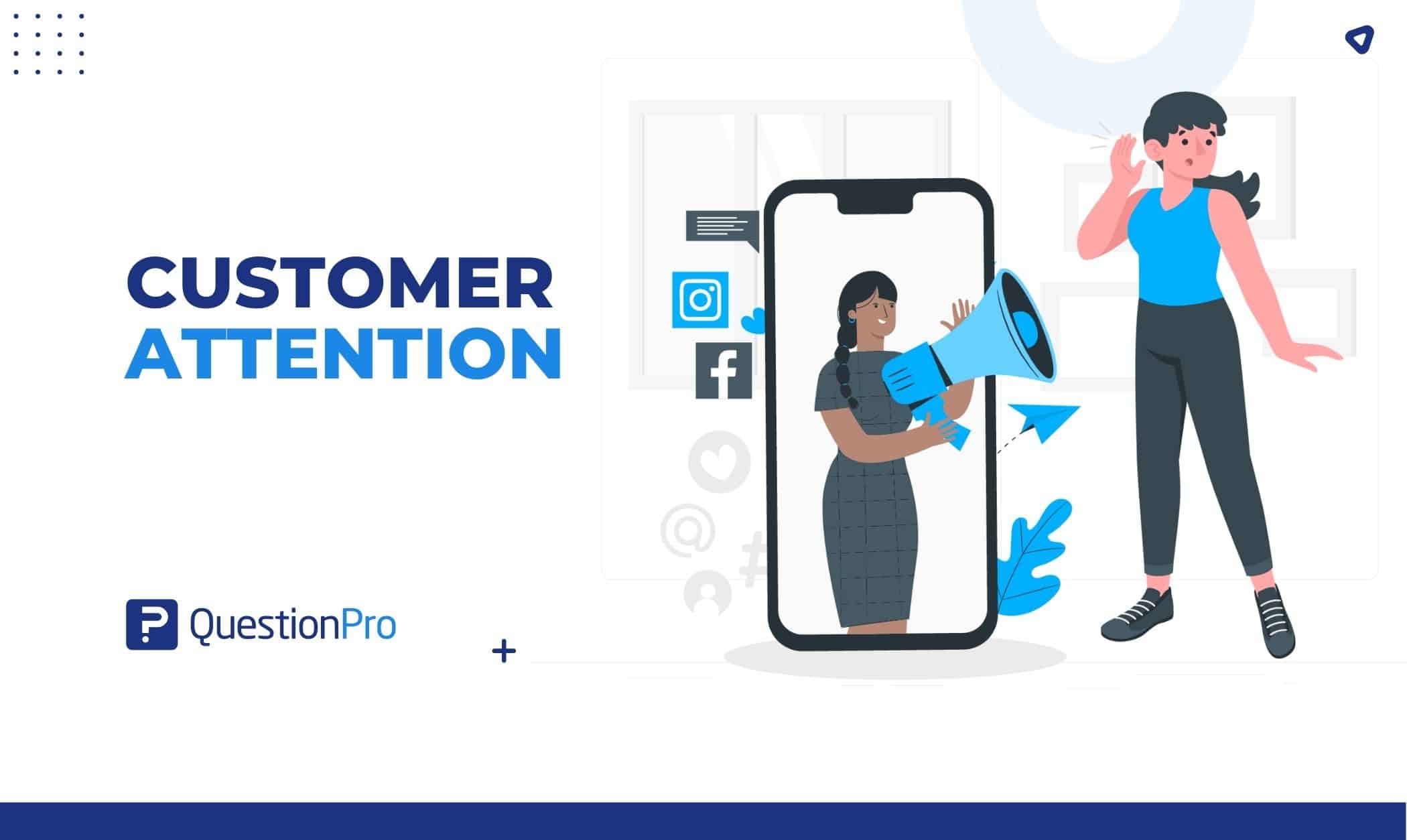 Customer attention is a sign of brand relevance. Take a closer look at how and why customers interact with your business if you need help designing memorable campaigns or sense that your messages need to get through to consumers.
Getting customer attention in a world where every company competes for the same audience is challenging. Marketers have long been fascinated with capturing and holding customer attention, but what exactly is it, and how do you cut through the noise to obtain it?
LEARN ABOUT: Time to Value
This blog will look into customer attention, its importance, and the best practices to follow. 
What is customer attention?
Customer attention is when a person or group focuses on or pays attention to a specific thing or activity. It can be measured by tracking how long someone looks at, thinks about, or talks about a particular item.
In the multidimensional, dynamic, ADHD world of today, paying attention to customers is more important than ever. Customers have so many options and things to do that brands should grab and keep their attention to differentiate themselves from the competition.
The most important thing for digital marketing teams is getting people's attention with relevant content, messages, and ads. It's about getting the attention of your target audience and holding it long enough to create engagement and, ultimately, business value.
Adding value to a business means turning people who might buy into those who do. Customers who are new end up coming back. And then get your customers to say good things about your brand as proof of increased customer satisfaction.
Importance of customer attention
A satisfied consumer will result in the business being promoted. The following grounds make customer attention incredibly important:
With customer attention, earnings rise:
Businesses and organizations that produce quality business reports are adept at handling customers. The level of customer attention reflects the earnings and revenue of the company. It directly affects whether there is a profit or loss.
A better reputation develops
For long-term commercial success, a solid reputation is essential. Higher market and corporate growth is the result of it. The only way to develop a sound and favorable reputation is to act politely around customers and employees.
Customer disturbance decreases
Customers who are pleased and satisfied with the goods do not abandon them. When they are satisfied with you, they become frequent customers. They develop habits around the attention you give them.
Happy employees mean satisfied customers
Customer satisfaction is influenced by how well-informed and pleased the employee is with the customer. As a result, treat your staff well and take care of them since good employees are in high demand.
Customer attention will enhance the company culture
Giving respect to consumers is part of workplace culture. In an atmosphere that fosters harmony, the entire staff collaborates. It will enhance the company's culture to serve humanity with respect and honor. Customers will uphold customs and increase client interest in your business.
Good customer experience benefits the company
When customers have a positive experience with a business, they will spread the word about it. As a result of the customer's good experience, brand recognition will rise. With this approach, the company will quickly become well-known.
Encouragement of customization
Customer loyalty will encourage customization. The pleased consumers will act as brand ambassadors and spread the word about the company. The brand will never lose its devoted customers. They will support their owners through every situation.
Long-Term Business Survival
Only if the customers are happy with the business will it be able to last for a long time. With exemplary customer service and customer care, the loss will be reduced. Satisfied customers will support their business in resolving challenging circumstances.
Best practices for customer attention
Getting customer attention is one of the most important and frequently questioned questions in the business world. Businesses will experiment with ever-more-varied methods of grabbing attention as long as there are items to sell. Find out some best practices below:

Create headlines that are descriptive, concise, and clear. Create headlines for your audience before Google.
Make sure to do your homework and include the words and phrases you would like to appear for in Google searches.
Keep in mind that the payout is frequently found in the headline. This means that the setup for the plot should be in innovative content. A tale should be told by the creative and copied together. This need to be your marketing plan.
Utilize audience information to comprehend the target words and phrases that customers are using. Use these terms and phrases in your headers after that.
Consider integrating. Getting the interest of clients and viewers takes a lot of work. You can better surround your clients with repetitive and consistent messages and engage them on the platforms where they spend the most time. The more integrated your approaches need to be.
Conclusion
Customer attention is more important than ever, as we've witnessed. In today's competitive industry, your chances of success will increase if you can grab and hold customers' attention.
However, it's crucial to remember that risks are involved in grabbing customers' attention, so you should assess the benefits and drawbacks before acting.
Media is overrun with customers. They only want to access and interact with the stuff that is timely and pertinent to them. So they're really listening, really listening.
We can assist you in enhancing how you manage the customer experience with our QuestionPro CX platform. Request a demo to explore how it can assist you in gathering customer information.