How can I change the look and feel of my survey?
To change the theme for your survey go to:
Login » Surveys (select survey) » Edit » Interface » Themes
Click on the Customize Theme button to open the theme popup.
Once desired changes to the theme are complete, click Save. For multi-user accounts, the main-level organization account will also have the option to save a theme as an organization theme. To do so, once changes are made, click Save as Organization Theme.
QuestionPro Standard Themes
We provide professionally designed standard themes. Each theme is carefully designed so the look and feel is uniform irrespective of the platform, browser, or device. Our themes use the latest technology so answering surveys is a lot easier, simple and fun. All of our themes and surveys are fully mobile-friendly. You can select a theme from under Standard Themes.
Use the arrow pointers to navigate through the themes.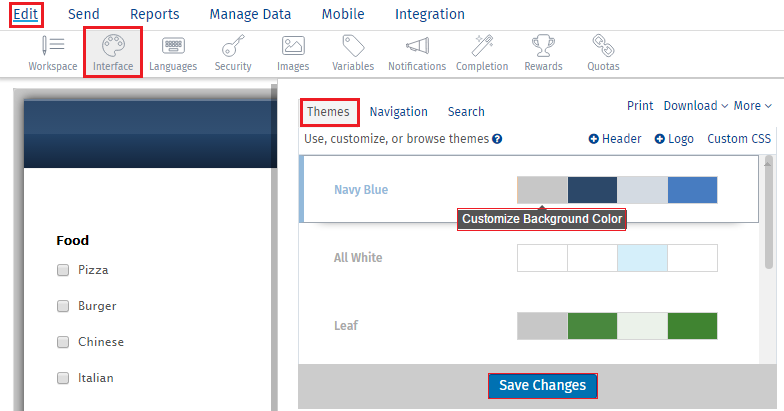 Custom Themes
You can customize the following elements on the survey using the Custom Theme option.
Font Type
Font Size
Background Color
Title Bars
Answer Hover Colors
Button Color