What is Push To Social?
The Push To Social tool allows you to send positive feedback on a survey to social networking sites like Facebook, Twitter, Google+ and Yelp. This tool will help you with your brand marketing and management. For negative feedback, you can collect comments/reasons for the feedback and get notified immediately so that you can take necessary action immediately. This also helps in avoiding negative feedback on social channels.
How does push to social tool work? How do I enable it?
Login » Surveys » Edit Survey
Click onbutton to add a question.
From Standard Question Types, select the Push To Social question type.
Enter the question text and the row choice text.
For a positive review:

Select the number of stars to define a good review.
Select the social platforms that the positive rating should be shared on.
Click in the link text to edit the links and update them to your organization's social page links.
Edit the Message to survey takers. This message will appear when the respondent selects a positive rating.
Edit the Default sharing message. This message is the default that will appear on the social pages if the respondent makes no other updates to the text before sharing.

For a negative review:

If desired, check the box for using a dynamic comment box in the event of a bad review. Select the number of stars to define a bad review.
If the respondent gives a low rating, a comment box will appear for them to provide feedback. Edit the text for the comment box. Note: To get email notifications of bad reviews, use the action alerts feature.

Click Save Question.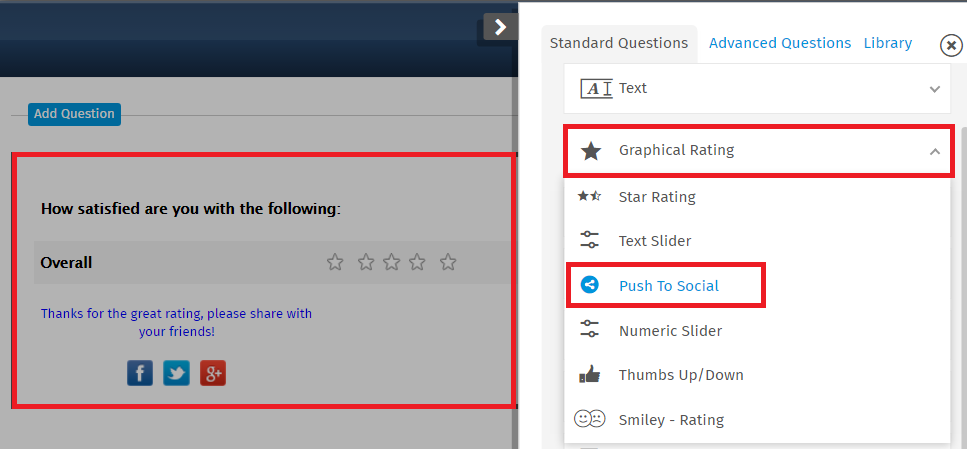 How will this function on a survey?
On the survey, if the positive review action is triggered, a message will be displayed asking them to share their rating on the social platform that you have enabled.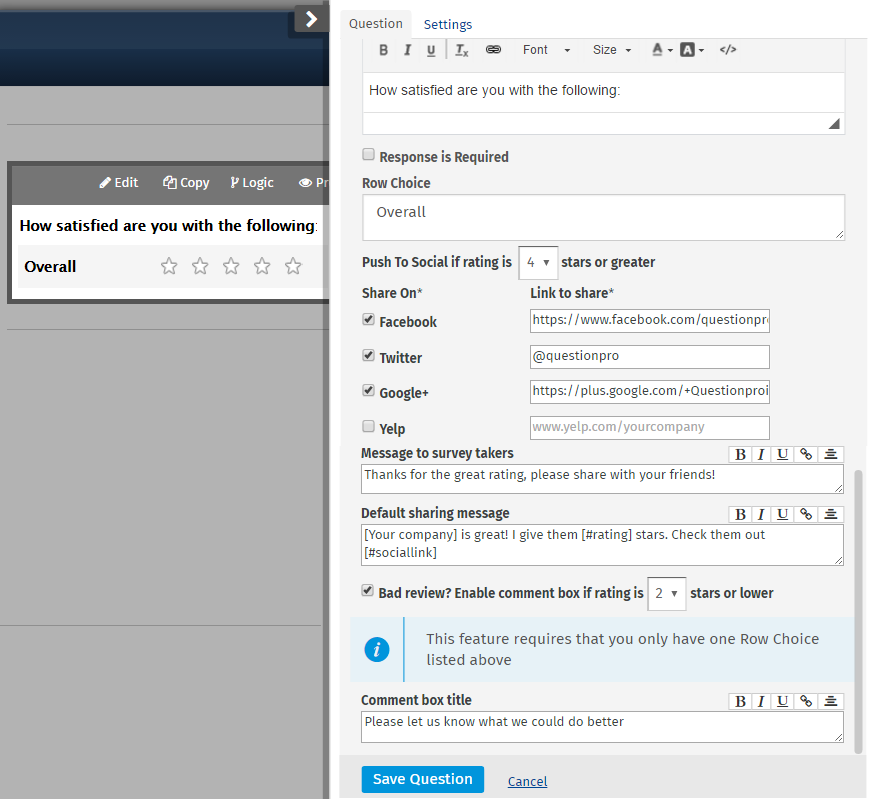 On the survey, if the negative review action is triggered, the dynamic comment box will automatically appear.