What is the upload file question?
Using the Upload Files question, you can have your respondents upload files with their survey response. This helps if you need additional information from respondents which they may have in digital format. The uploaded files get saved in the database along with individual responses. This question type is great for mobile surveys, where respondents can upload a photo from their mobile device to the survey.
How can I add an Upload Files question to my survey?
Click on Login » Surveys » Edit Survey
Click the button to add a question.
Select Upload Files from under Advanced Question Types.
Enter question text, then click Save Question.
Note: Be sure that you have a question and a page break preceding the Upload File question.
Where can I see the files respondents have uploaded with their responses?
Click on Login » Surveys » Reports » Data Management » Response Viewer
Search the database and click on the response ID link to open up the individual responses. You can go to the Upload Files question and download the file from the link provided.
What are the limits on the file size / type?
The size for individual file should not exceed 5MB. If you have the Corporate license, you can store up to 50MB per survey. For Team Edition licenses, you can store up to 100MB per survey.
Following are the approved file types:
| File Types | Extension |
| --- | --- |
| Image / Logo | .gif, .jpg, .png, .bmp |
| Documents / Other | .txt, .doc, .docx, .xls, .xlsx, .ppt, .pptx, .pdf |
Can I download the collected files in bulk?
Yes, you can download the files from under Manage Data » Export » Image/Multimedia Export.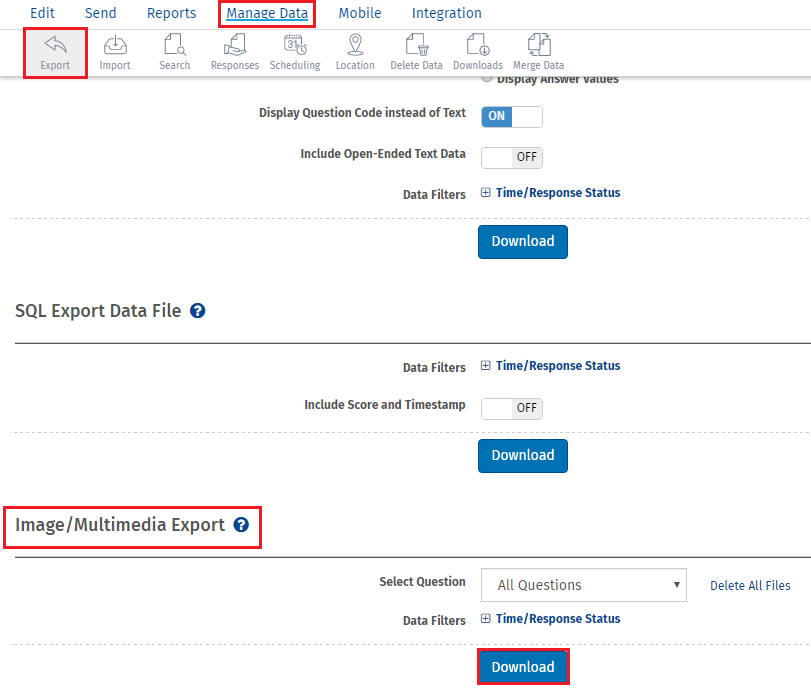 You can also delete all files permanently. Please make sure you download the files before deleting. Once files are delete, this will free up your space and you can collect more files for the survey.
License & Access Options
This feature/tools described here are available with the following license(s) :
Corporate Edition – Buy Now – $899/year

Unlimited Surveys, Questions, Responses
Advanced Toolset and Features
No Long Term Commitment