Why would I want to integrate QuestionPro with Salesforce?
Collecting feedback effectively closes the loop of Customer Relationship Management (CRM). By surveying customers, you've bridged a critical gap in CRM by adding customer satisfaction to your list of CRM data points.
A better understanding of existing customer relationships allows for greater control of customer attraction, conversion, and retention as a whole. Integrating customer surveys into existing CRM systems allows for the measurement of the success or failure of every customer interaction. Sound analytics can take this data and further drill-down to identify exactly what factors are affecting the satisfaction and attitudes of your current customers.
Taken a step further, surveying customers can improve your understanding of how your products and services may be cross-sold or enhanced to improve your value to your existing customers and make your products more attractive to prospective customers.
QuestionPro provides a simple interface for creating online surveys and integrating online survey data with your Salesforce.com database.
Not all SalesForce Editions allow application integration. Please check with your SalesForce representative if your account has access to Application Integration.
How can I configure my Salesforce integration?
Once you've created a survey, the next step to integrate with Salesforce is to define the mapping between the survey and a Salesforce.com object.
The steps for implementing the QuestionPro Salesforce.com integration are as follows:
Enter your Salesforce.com login details. Your Salesforce.com account must have the Salesforce API enabled. Contact your Salesforce.com representative for details. This login information is used by the QuestionPro system to access Salesforce.com and store survey responses. You will need your Salesforce.com Security Token in order to complete the login; to find out how to reset your security token for Salesforce.com, read this Salesforce.com help file.

Define the mapping between survey data in QuestionPro and fields in your Salesforce.com database.
Select the type of object that you would like to map to in your Salesforce.com database.
Select if you want to generate new records in your Salesforce object or update existing records by selecting the appropriate choice from the Integration Type drop-down.

Once you map the object, QuestionPro provides you with the Salesforce.com CRM Link. This link needs to be used in a SalesForce template so that it can be updated.
Note: If you plan on mapping to custom objects or custom fields in Salesforce.com, you will need to create them in Salesforce.com and revisit this mapping screen.

After defining the Salesforce.com object, each question can be mapped to a particular field from the same page.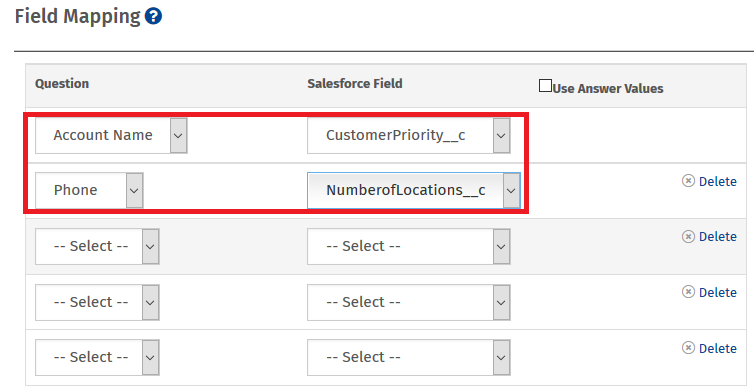 A link is provided with custom variables for your Salesforce.com email campaign. The link contains an ID for the survey hosted at QuestionPro as well as an ID for the Salesforce.com object. Using this link, you can send invitations to your contacts in Salesforce.com, asking them to take a survey. When a respondent clicks on the link, QuestionPro will capture their survey responses and also populate your Salesforce.com system with the survey results.
The next step is to create an email template in Salesforce.com containing the customized link. For help creating an email template, you may reference your Salesforce.com documentation.
The final step is inviting respondents to take the survey. If the link to your survey has been configured correctly, QuestionPro automatically tallies the data and passes it back to Salesforce.com.
Data type
In QuestionPro, all close-ended question types (question types where respondents are asked to select an answer) are saved as integers. You can map all close-ended question types to a number field in SalesForce with 0 decimal places, and usually 1 for length unless there are more than 9 responses to that particular question is which case you will need to set a length of 2 or more. Text questions can be saved as a text field. A complete collection of all the question types and their fields are as below:
| Question Type | SalesForce Field Type |
| --- | --- |
| Multiple Choice Select One | Number |
| Multiple Choice Select Many | Pick list select many |
| Open Ended questions | Text |
| Multi Point scales | Number |
| Constant Sum | Text |
| Date/Time | Text |
| Contact Information | Text |
| Dynamic Lookup Table | Text |
Please note that some question types will require more than one field. For example, the multipoint scale will need one field per row.
Note: We do not support SalesForce Sandbox accounts.
Can I map QuestionPro Custom Variables to elements (Custom Object, Fields, etc.) on Salesforce?
Yes. In the Data Mapping screen, choose the QuestionPro Custom Variable and map it to any of the fields on your Salesforce Object.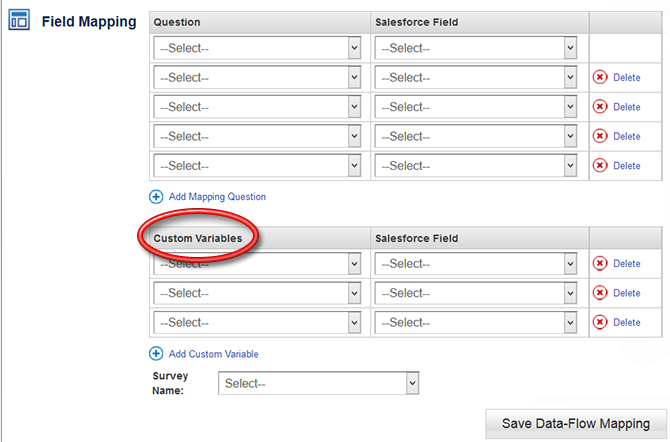 License & Access Options
This feature/tools described here are available with the following license(s) :
Team Edition

Unlimited Surveys, Questions, Responses
Advanced Toolset and Features
No Long Term Commitment