Rewards | Reward Inventory / Redemption
Where can I manage Reward Inventory?
Go to:
Login » Communities » (Select Community) » Incentives » Inventory
What is Custom Reward>
With Custom Reward, you can give out personalized rewards.
Status:: Select the status of the reward as Active, Suspended or Hidden.
Title: Add a Title to your reward.
Content: Write the content for your reward.
URL: You may specify the URL if any.
Image URL: You may upload the image of the URL
Points: Mention the points which would be eligible for the reward.
Fulfilment Email:Add the fulfilment email here.
Card Value:Enter the Card Value here.
Currency: Specify the currency.
Check Availability: Click here before saving your reward.
Save Changes: After filling all the sections, click here.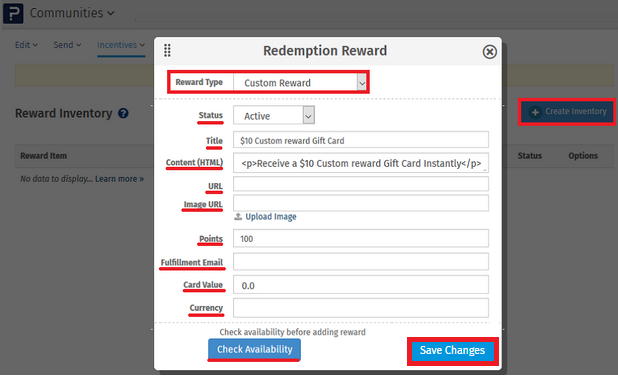 How to set up Tango Card's Rewards?
Select, the reward under Tango Card's Rewards
Status: Set the status as Active, Suspended or Hidden
Points: Enter the points.
Fulfilment Email: Enter the fulfilment email.
Card Value: Enter the card value between the range given.
Notify Members: Turn this option On if you wish to notify the members.
Check Availability:Click on this option to check if the reward's availability.
Click on Save Changes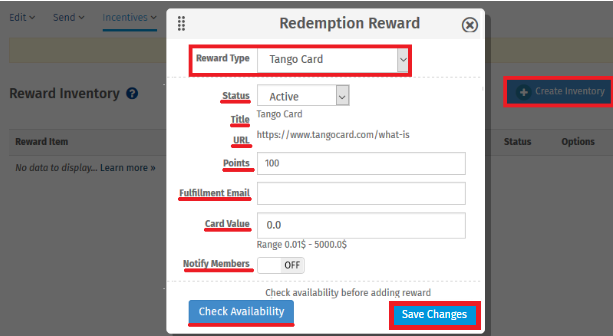 What are the reward types available under Tango Card's Rewards?
Following are the reward types available under Tango Card's Rewards:
Tango Card
Amazon.ca
Amazon.uk
Amazon.com
AMC Theatres
Barnes and Noble
Chili's
Fandango
iTunes
iTunes Canada
iTunes UK
Maggiano's
On the Border
Overstock.com
Papa John's
Sears
Starbucks
Walmart
Visa Virtual eGift Card
Lizenz
Diese Funktion ist mit der folgenden Lizenz verfügbar: