Workforce - Team Pulse
Team Pulse can also be called as weekly feedback secondary question.
What is the use of Team Pulse?
When an employee answers a weekly feedback question, secondary questions can also be asked with respect to the answer given.
How to add Team Pulse?
To add team pulse, go to:
Login >> Workforce >> Pulse
Turn on Team Pulse.
Add a Team Pulse Question and click on save.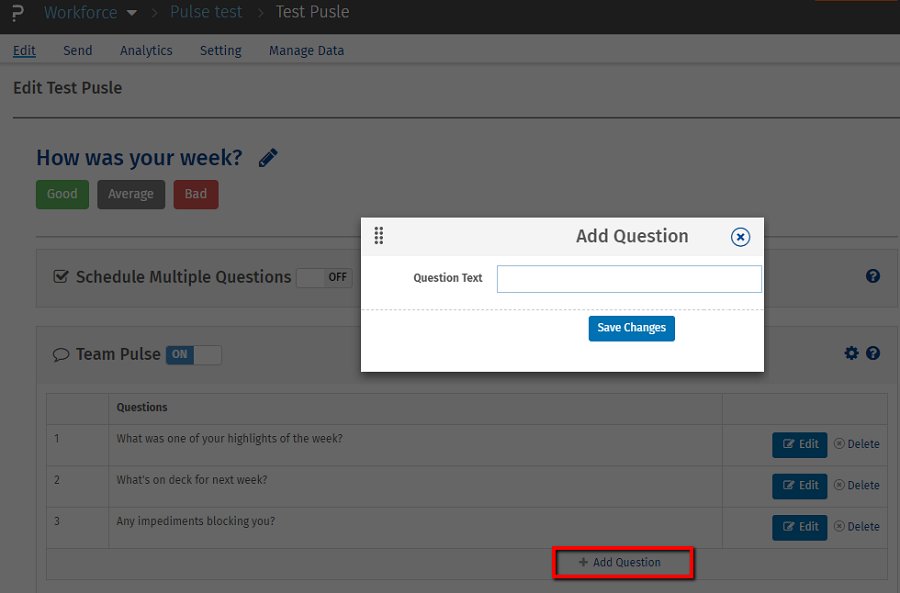 How does it work?
When the weekly feedback question sent to the employee is answered, a new window is opened in the browser and here some secondary questions are seen, these are nothing but Team Pulse questions.
Can I see the weekly feedback responses?
Yes. You can see your own response as well as the whole team responses.
What if I do not enable Team Pulse?
If Team Pulse is not enabled, the email will have a default secondary question.

Can I edit Team Pulse Question?
Yes, you can edit Team Pulse Question.
License
This feature is available with the following license :
You may also be interested in...