Bulk Import Panel Data | Upload Panel Member Data
To Import/Upload Panel Data:
Go To:
Login » Communities » (Select Community) » Edit » Members » Import/Export
There are two ways to bulk import the members data:
Import members by uploading an excel document
Mannually add community members

How to bulk import members using excel?
To bulk import members using excel,
How do I manually add community members?
To manually add community members click on Manually add community members and add all the details in the box as per the format provided. Then click on Add Members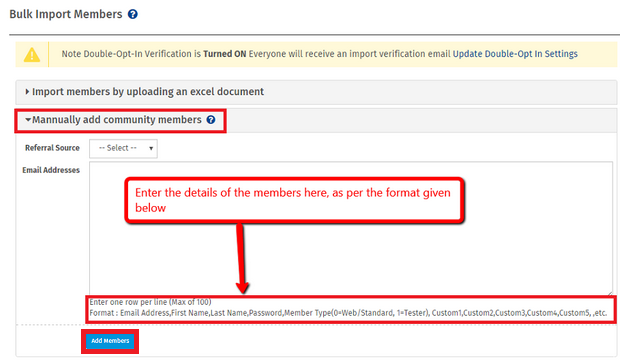 What is the format for uploading Panel data?
Panel data can be uploaded in Excel (.xls) file format. First Column should be the email address.
License
To get the pricing, please email us at communities@questionpro.com
For more details on QuestionPro Communities, click here
License
This feature is available with the following license :