The Supplier Assessment and Vendor Evaluation Platform
Do you "measure trust"?
When it comes to vendors, making the best value and quality procurement is always the goal. But when reality strikes, it is often clear that this simple task is far more complicated.
After all, when it comes to vendors, 3rd and 4th party suppliers, trust plays a major role in creating and building this relationship which often lasts for decades.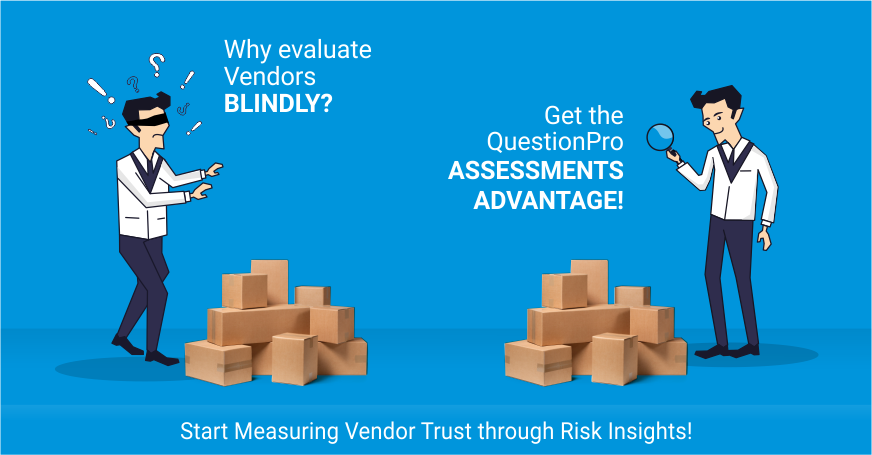 QuestionPro Assessments is the pioneering insights platform which provides actionable intelligence to companies across the globe through detailed supplier evaluation and assessment. Now you can "measure" the trustworthiness and compatibility of suppliers and even compare them for best suitability.
But why do you need to measure vendor trust and conduct thorough supplier selection and evaluation?
In order to make the best value procurement and undertake effective supplier risk management, organizations across the Globe require insightful supplier assessment and vendor evaluation.
But what makes effective vendor evaluation so important?
Did you know?
60%
of companies don't monitor the security practices of their 3rd party vendors.
63%
of data breaches are caused by security vulnerabilities introduced by a third party.
66%
don't have the internal resources to verify their third party vendor's security.
69%
of companies have suffered from a security breach resulting from vendor access in the last year.
Organization today need to quickly and accurately assess the security posture of your vendors, suppliers, and other third parties by streamlining your vendor risk management and IT risk audits.
With QuestionPro Assessments get vendor risk visibility and insights in days, not weeks or months.
And in 2016 alone, vendor risk management took some new low dives:
There were 4,149 breaches reported during 2016 exposing over 4.2 billion records, approximately 3.2 billion more records than the previous all-time high exposed in 2013.
Many of the breaches involved 3rd party vendors and suppliers and this trend is continue to rise in 2017.
Fortune 500 companies typically have between 10,000 and 80,000 third party suppliers / vendors. It only takes one, like a mechanical contractor, to be compromised and allow the attackers to ride-in on a trusted connection
Even more, here are some common pain points when it comes to supplier assessment and vendor evaluation process:
Inefficient Vendor Evaluation Process: Emails, Spreadsheets and Manual Programs.
Ineffective Ongoing Supplier Assessment Program : After the initial vendor evaluation, there is no clear follow up in the set program.
Lack of Visibility or Insight – Hard to undertake supplier evaluation and vendor risk management at a glance and gain insights.
Poor User Experience – Clunky and complex solutions, no or limited adoption.
Why choose QuestionPro Assessments for Supplier Assessment, Vendor Risk Management and undertake Best Value Procurement?
QuestionPro's Assessment is the only online survey platform that is dedicatedly built for insightful supplier assessment, identifying and cutting down liabilities in vendor risk management.
With easy build-in workflow, automated scored assessments and simplified and ready made supplier evaluation form sets and distribution, you can now verify that your vendors are implementing the security controls and processes your organization requires and implement strict vendor risk management protocols.
QuestionPro Assessments replaces the manual, labor-intensive, time-consuming vendor audit process with a streamlined and automated system which allows you to conduct supplier assessment quickly, efficiently, and economically.
It's the only high value and lowest cost technology vendor evaluation platform that comes with people and process wrapped around it to ensure you get the right insights to make the best value procurement and the quickest ROI on your investment.
Here is a quick peak into how QuestionPro Assessment enables your business to get maximum insights into supplier selection process and undertake the best value procurement:
1. Risk Library - Supplier Evaluation Form
QuestionPro Assessments comes pre-packaged with several Supplier Evaluation Form based on the latest industry standard and usage. This is called the Risk Library which contains Supplier Evaluation Form sets including that of VSA Questionnaire, ISO_27001, PCI DSS 3.2 Questionnaire and Best Practices - Vendor Due Diligence.

Questionnaires from this form can then be added to My Assessments.
2. My Assessments - Personalized supplier evaluation form bank
In this section, you can fully customize your Vendor / Supplier Evaluation Form with branding, removing questions or adding new ones, customized branching and skip logic and standard & advanced question types.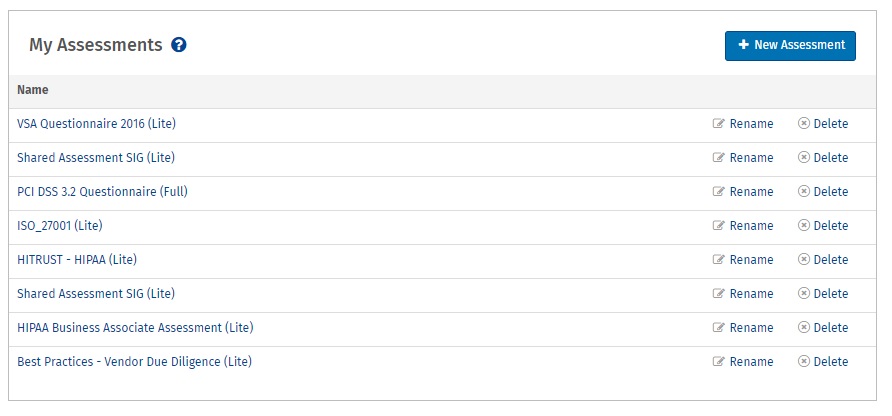 3. Portals - Create new project specific vendor evaluation portals
Portals allows you to create new portals where you can add questions from "My Assessments" bank and specific vendors can be invited to answer your vendor / supplier evaluation form sets in specific portals.
Personalizing
Once you enter this new vendor evaluation portal, you can now use the "Set Up" options to fully personalize your portal's experience and content.
Potential 3rd party vendors can now enter your personalized portal to answer the evaluation form/forms.
4. Vendor Evaluation Response Collection
Once vendors enter your portal to complete the supplier evaluation form, they can now either answer the survey themselves or can forward it to their colleagues who can answer them better.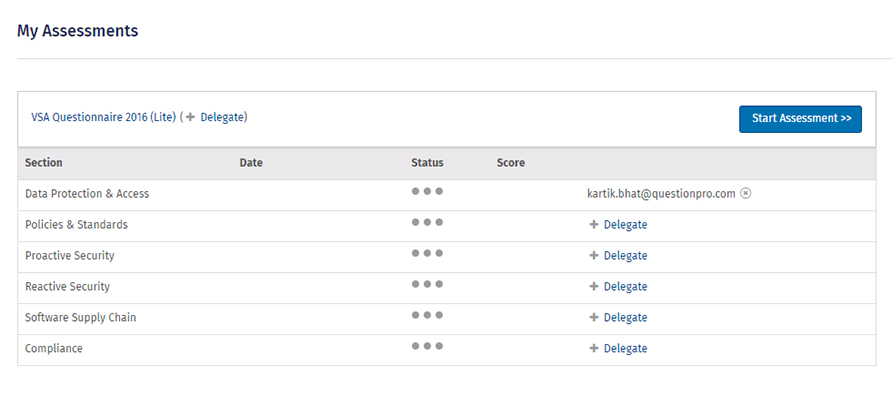 5. Dashboard
Vendor Assessment Completion Tracking
One of the most profound features that Assessments share with that of other powerful QuestionPro products is that of Completion Tracking.
This insightful feature allows you to remotely track the completion rate of individual respondents.
Vendor Risk Score Comparison
In order to make the best value procurement, one of the best methods of vendor evaluation is to simply compare their scores and QuestionPro Assessments lets you do exactly that.
You can set your own score parameters and judge suppliers based on whether they score up to the mark, and if so, how do they fare against each other!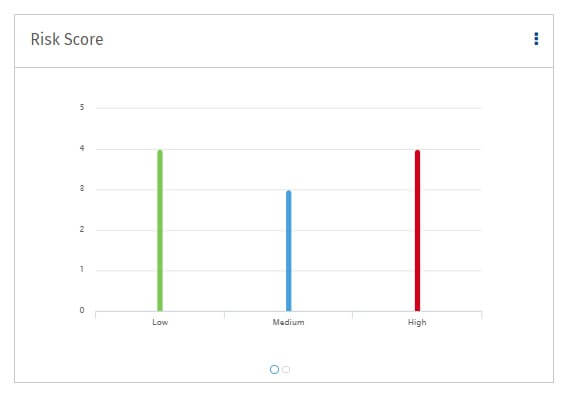 Section Wise Detailed Scoring for Vendor
Sometimes individual sections in your supplier evaluation form might hold more importance to your supplier selection and evaluation.
To make this process more scientific and detailed, Assessments lets you set section-wise scoring so you don't just get insights on how well vendors score overall, but also undertake supplier assessment based on individual sections.
Document Attachment and Verification
It is quite common to require documentation as verifiable proof when it comes to something as critical and supplier risk management. To do this, QuestionPro Assessments allows you to label questions where documentation is required and vendors can simply upload all the documents together for your verification.