What are InfoGraphics?
QuestionPro InfoGraphics or Information graphics are graphic visual representations of your survey data. These graphics present complex information quickly and clearly. For InfoGraphics go to:
Login » Surveys » Reports » Dashboard » InfoGraphic


You can share the InfoGraphic via the InfoGraphic Link. You can also embed it on your website, blog, or share on Facebook, Twitter, or LinkedIn. You can also create a QR code that will allow mobile users to snap the QR code with their mobile devices and directly access the infographic.
The Infographic includes:
Overall Participant Statistics
Distribution segmented by countries
Response Chart - Daily or Weekly or Monthly
Data for multiple select type questions
Example: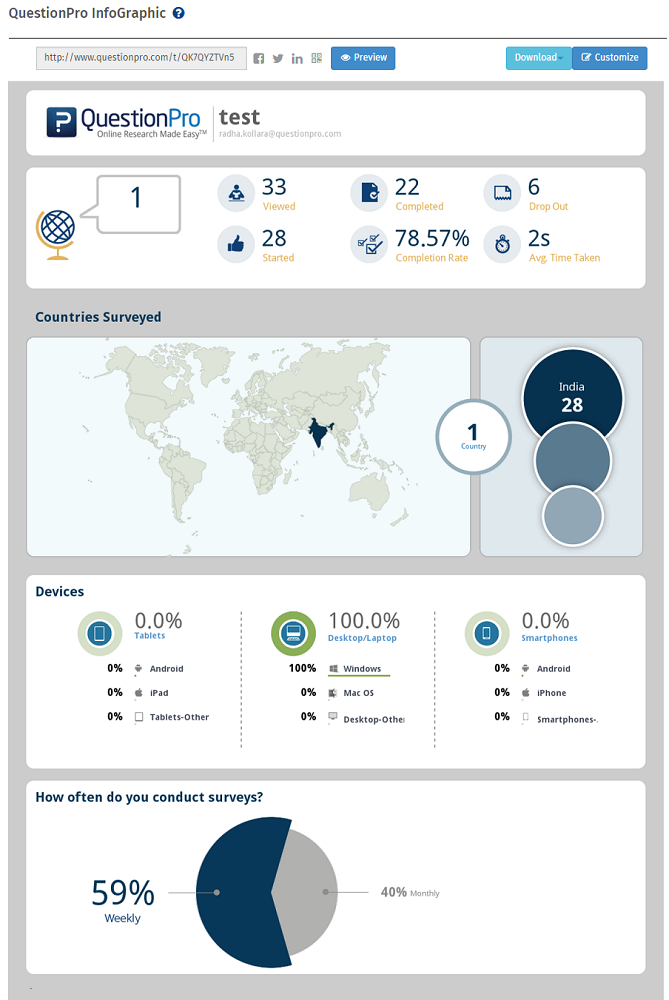 Open-ended text responses are not included in the InfoGraphic.
How can I customize the infographic?
Clicking on the Customize button will open the popup where you can customize:
Title
Subtitle
Logo - You can upload your logo. The logo should be 280 px X 50 px. If either width or height exceeds, the logo will be resized to fit.
Question Display - Select questions that you want to display on the InfoGraphic
Response Chart Start Date
Response Grouping - Daily, Weekly or Monthly
Show Device Data - Decide whether or not you want to show the device data which displays how respondents accessed your survey.
Show demographics - If you included demographic questions from the KnowledgeBank, they can be added to the Infographic.