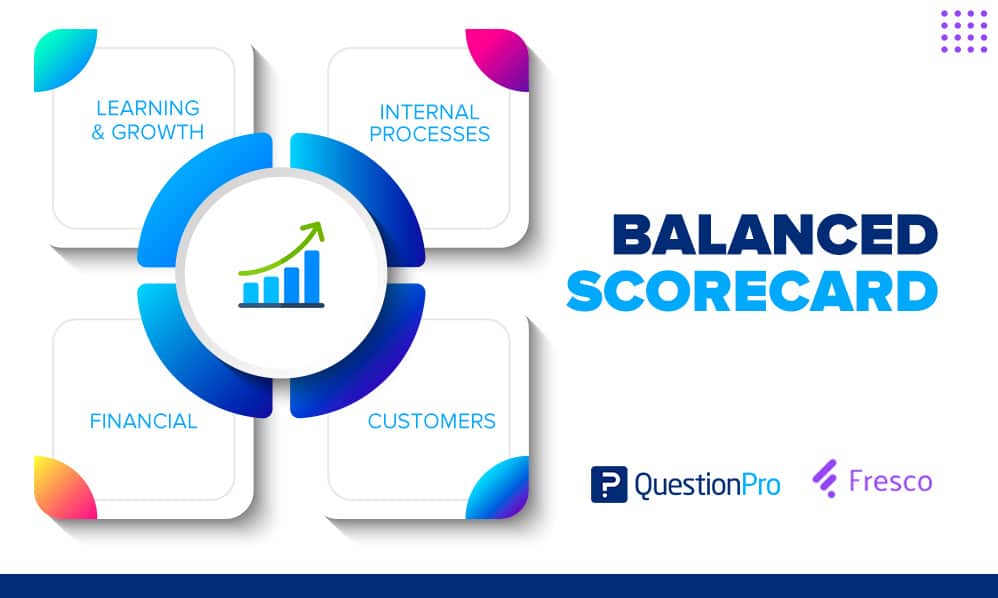 Especially when starting a company, it can be easy to judge success simply by the amount of money that comes into the business. While finances are a critical part of any successful endeavor, measuring the health of a business should consider more internal and external touchpoints to create a clearer image of what's going on.Creating a balanced scorecard helps identify essential metrics to track company health while also building actionable insights to improve in the future. Below, we'll discuss the breakdown and importance of creating a balanced scorecard for your business.
What Is a Balanced Scorecard?
A balanced scorecard is a holistic management structure that takes an organization's strategic targets and creates measurable outcomes to help find success.This strategic goal-setting model prioritizes an organization's overall health rather than tracking success primarily by the cash flow into the business. Tracking overall health allows growth both internally and externally and can help advance your organization on multiple fronts.First created in 1992 by Dr. Robert Kaplan and Dr. David Norton, the balanced scorecard was initially based on a study of 12 successful companies which adapted performance metrics to include information outside of financial success.Along with measuring health, the balanced scorecard allows a company to measure the upward trajectory of its internal processes, employees, and knowledge capital. This could involve training, adopting new skills, or creating innovative advantages in the competitive ecosystem. The balanced scorecard reinforces the importance of growth and best practices when analyzing future opportunities in each category. The four main categories of the balanced scorecard are:
Learning and growth

Internal processes

Financial

Customers
By analyzing your organization from these four perspectives, you can effectively measure the current health of your business and create actionable, balanced growth strategies in each department.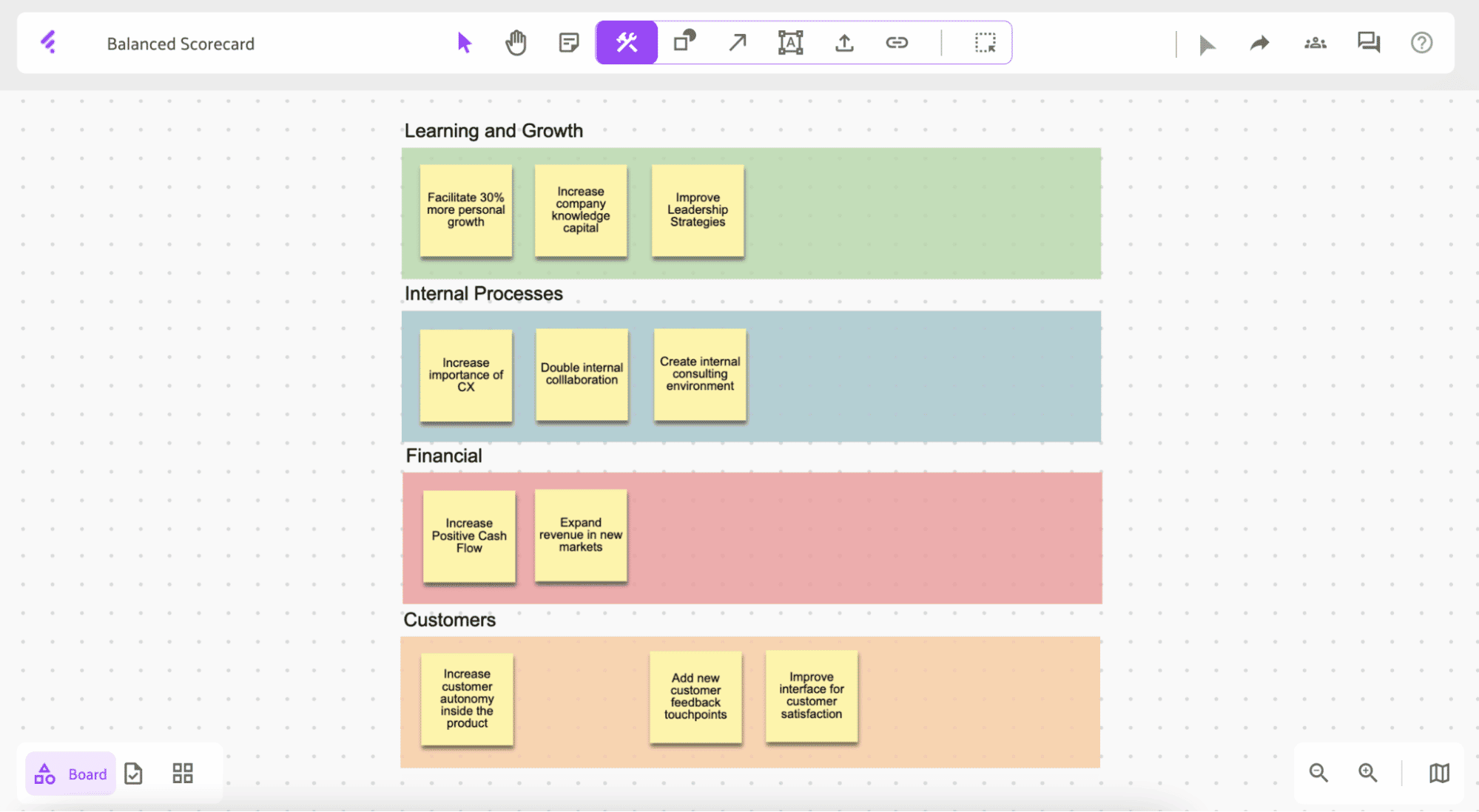 Create amazing boards and collaborate effectively with your team using Fresco, the ideal platform your team needs. LEARN MORE
Balanced Scorecard Template
Creating a balanced scorecard is reasonably simple, and there are four significant sections you need to focus on. Here are the sections of a balanced scorecard and the steps to creating one.
Learning and Growth
The learning and growth section focuses on your organization's internal culture and the amount of effort put into the growth of individuals and teams within your business.Think about what competitive advantages are being created through the increasing knowledge capital of your business and what growth processes are planned for employees.Questions to ask: Is there a regular flow of collaboration? How communicative are different teams and departments? Is there any access to growth and educational opportunities?
Internal Processes
Where the previous section is more focused on people, this section focuses on the operational processes within the organization. Focus on how smoothly your business is running and the various ways you promote efficiency internally.The key improvement to make here is finding bottlenecks, roadblocks, or waste that can be avoided through internal enhancements. This mainly focuses internally but can involve the business as a whole to incorporate a more comprehensive vision.Questions to ask: Are there any obstacles preventing future innovations? How can you eliminate waste? Are you still delivering the desired value to the customer? Can you adapt to new conditions quickly?
Financial
Financial performance is a key indicator of the health of your business and is calculated based on data such as cash flow, sales, expenses, CAC data, and more. These financial benchmarks will be shaped by the activity of your business in the competitive ecosystem and the targets you set for the organization in previous months. Financial health is key to predicting the future success of your business and shows vital signs of proper business management.Questions to ask: Is your business making money? How can it become more profitable? Are the shareholders content?
Customers
The customer section focuses on customer satisfaction with the existing product/service. Getting direct feedback will be critical here to ensure you're assumptions are correct. You can create misguided solutions without feedback that won't meet the customer's needs.Customer success is an important metric to focus on and is often an indicator of future success with a business. If the users are happy, they're much more likely to use the product/service long-term and create brand loyalty throughout their journey. Questions to ask: What do customers say about your product/service? Is your customer base growing? What is the general perception of your business?
Strategic Objectives
The goal of creating a balanced scorecard isn't just to develop an understanding of your organization; it's to improve it. After breaking down each section of your business, you must create some strategic objectives that match each section of your business. These strategic objectives will be key indicators of your future success and will allow you to evolve each area of your organization.Your strategic objectives must be concrete goals you can measure across your business. This must be done through collaboration with different leaders across your business so you can create a clear and aligned vision for the future. Additionally, these leaders will help make measurable goals relevant to their field, ensuring your solution is actionable and well-informed.Two things are vital for all of your strategic goals to have in common: they should be actionable and measurable.To reach your goals, you need to create an actionable plan. It can't be theoretical or dependent on other factors. Your team needs to be able to move on it through swift and direct actions. This creates a clear path between where you are and where you want to be, helping stimulate growth towards your goals.It doesn't help to set goals if the final destination is hazy. Creating an easily measurable goal ensures you can track progress along the way, develop projections about when you will reach your goal, and quickly compare your progress against other metrics. It will be challenging to understand when you've got your goal if it isn't quantifiable.When you finish creating strategic objectives, they should create a picture of the future and provide multiple avenues to reach those goals.
Metrics
Strategic objectives are critical, but they are still a bit theoretical without clear ways to measure them. The final step in building a balanced scorecard is formalizing metrics to track your success.Along with every strategic objective previously set, you should have a couple of concrete metrics that will measure your progress en route to the end goal. These metrics must be calculated regularly to understand how to optimize progress towards the overall goal.For example, if the objective is to "Increase visibility across college campuses," some metrics might be "accounts created with a student email" or "impressions on university ad campaigns." These metrics would directly relate to the overall strategic objective, and as they increase, you would get closer to your end goal.It's essential to consider how your organizational structure and strategic objectives trickle down into your chosen metrics. In the brainstorming process, consider how each metric is important to the business as a whole and the specific strategic objective at hand. This can help ensure you're tracking the correct statistics.
Benefits of a Balanced Scorecard
A balanced scorecard is one of the best ways to create a holistic overview of your business's health. Here are some of the main advantages of using this framework.
Incorporates more than finances: The key value of using a balanced scorecard is being able to track more than just the financial health of your business. Tracking internal processes, customer feedback, and employee growth is key to creating a sustainable

business model

.

Creates a communicable report:

Part of the importance of a balanced scorecard is being able to share it with other parties for their feedback, advice, and shared knowledge. This framework allows you to easily communicate your findings or collaborate to create your overall strategy.

Highlights efficiencies:

The balanced scorecard focuses on improving the efficiency of your business and eliminating any waste in the process. This is key for the business as a whole but also helps improve individual experiences.
Conclusion
By creating a single report that integrates your business's financial, individual, and collective health, the balanced scorecard is one of the best templates to use when analyzing your organization.
Typically, CX management software offers features such as omnichannel customer engagement, survey customer feedback collection, and CX analytics. QuestionPro includes customizable dashboards and reports, sentiment analysis, promoter amplification, detractor recovery, and API integration, the three loops: closed loop, inner loop, and outer loop systems, our proprietary NPS+ question, and reputation management, to name some!
As a full-service CEM, QuestionPro CX goes the extra mile to offer the best support to its customers. Learn more today!