What is the Forward to Friend finish option?
One way to increase response rates to your surveys is to enable your surveys with recursive invitations. The recursive invitation process allows end-users (respondents) to invite other users to take the surveys.
Log in >> Surveys (Select Survey) >> Edit >> Completion >> Finish Options
From the Select Finish Option drop-down, select Forward to Friend.
Click Save Changes.


How does it work?
When the Forward to Friend feature is turned on for a survey, after completing the survey, respondents are presented with a screen to enter in the email addresses of other users who they think should take the survey.
Respondents can enter up to 10 email addresses. QuestionPro will then automatically send a link to your survey to those users immediately.
Those users in turn can then further invite more users to take the survey.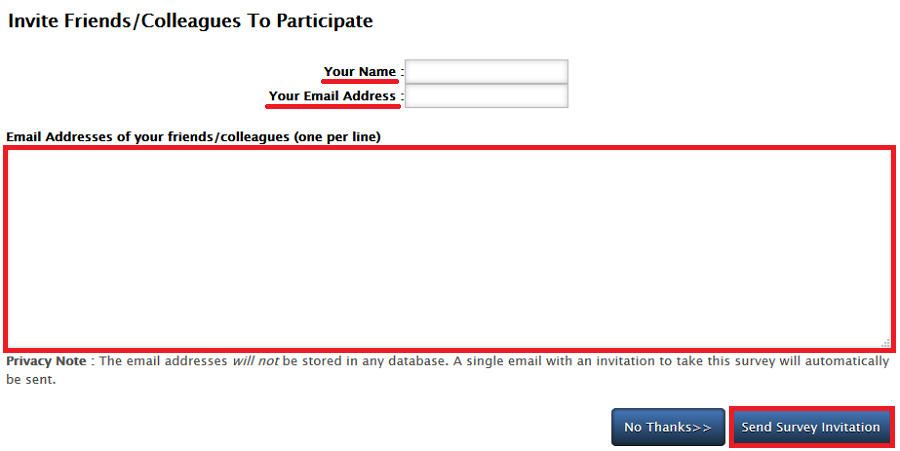 As a survey administrator, do I get a copy of all the email addresses that my respondents enter?
No. QuestionPro will NOT PROVIDE you with the email addresses. This is done primarily to protect the privacy of the end-users. QuestionPro will, however send one email invitation (and only one email) to the email addresses that respondents enter. QuestionPro will not store that email address for any other mailing or distribution.
Can I view the % of my responses that came through referrals vs. those that are direct?
No. Currently, this is not possible to report.
Can I change the email text that goes out as part of the invitation?
The email text that goes out is the same as the invitation to the survey. To edit/customize this:
Login »  Surveys »  Send Survey »  Send Email Invitation
Multi-Lingual and Internationalization Note :
This feature currently is ONLY AVAILABLE IN ENGLISH. Translation of this feature is not available in any other language.
License & Access Options
This feature/tools described here are available with the following license(s) :