What are Multi-tier Lookup Tables?
Multi-tier Lookup Tables are used to represent hierarchies of data. For example, if you needed users to select from a very large list, say the university/school they went to — the list can be up to 4000 items long. In such cases, Multi-tier lookup tables can be used to segment the data. For example, users could choose the state and then see a list of all universities in that state from which to select the university.
This can apply to any kind of hierarchical data — Product Category, Product, etc.
How do I create a Multi-tier lookup table?
Click on Login » Surveys (Select Survey) » Edit
Click the Add Question button to add a question.
From under Advanced, select Data Reference.
Select the Multi-tier Lookup Table option.

Enter in the Question text and answer options. Enter in the answer option text for the primary drop down menu and separate the options for the secondary drop down menu using commas as shown in the below screenshot.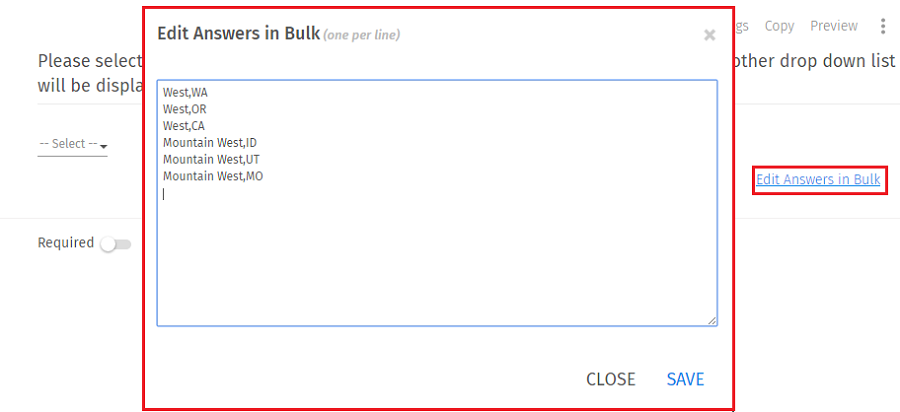 The Multi-tier lookup table cannot be edited due to technical limitations. If you want to make changes to the question, you will need to delete the question and add a new Multi-tier lookup table type question with the required changes.
Please note that if you delete a question, all data collected for that question will also be deleted.
On the survey, the question will be displayed as follows. Respondents can select an option from the first drop-down menu and based on the option selected, the next drop-down menu will be displayed.
On the survey, the primary drop-down select menu will have the options West and Mountain West.
Once you select an option for the primary drop-down list, the secondary drop-down list with corresponding options will be displayed.

I have a large list I am using in the Multi-tier lookup question and do not want to have to retype this every time I need to make delete and re-add this question back into my survey. What can I do to make this easier to change?
A best practice when using a Multi-tier lookup table in a survey is to have your question and answer list saved in a word or text document that you can use for making changes. Then, you can delete the old question and easily replace it with the new 2-tier lookup question.