How can I download the raw data in .CSV format?
The CSV format is the ASCII version of the data. This version can be imported into spreadsheet software for analysis. To download the file go to:
Login »  Surveys »  Manage Data »  Export »  Raw Data Export
Select CSV – Comma Separated Values (.csv) as the Output File Format.
Select whether you want to Display Answer Values. By default, answer options are saved in the database with their index value. Enabling this option downloads data with the answer text instead of the index value.
Select whether you want to Display Question Codes Instead of Text. In case you have long question text and you want to refer to questions using the question code associated, use this option.
Select the desired Data Filter.

Time Filter: Enter in the Start Date and the End Date to download the data only for a particular time period.

Response Status Filter: Filter data by response status: Started But Not Completed OR Completed OR Terminated Via Branching.

Click Download.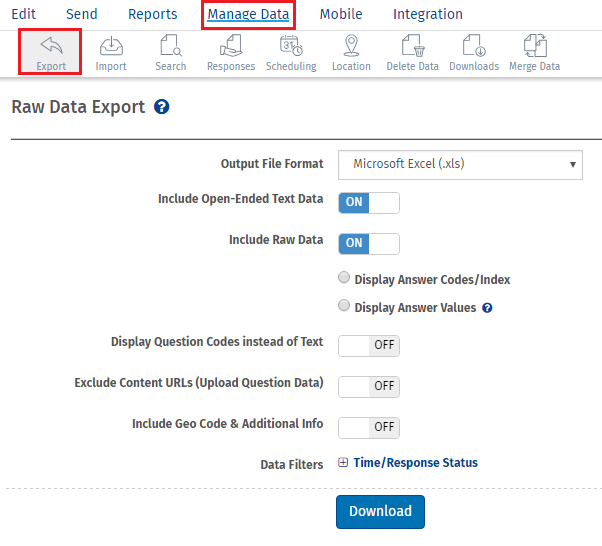 The report will be generated and a link to download the file will be provided; the report will also be emailed to the account email address. You can also download the report from under a title="seeing the download history Download History at any time.