Sharing surveys with sub-accounts
How can I share my surveys?
With the corporate and team edition licenses, you can share surveys with other users from your organization account. To add users to your account, please see the help files for sub-accounts and client dashboard accounts.
To share surveys, you can organize them in a folder and set permissions for the folder to allow access.
Go to: Login >> Surveys
Click on the folder with the survey you wish to share >> Click on Share Folder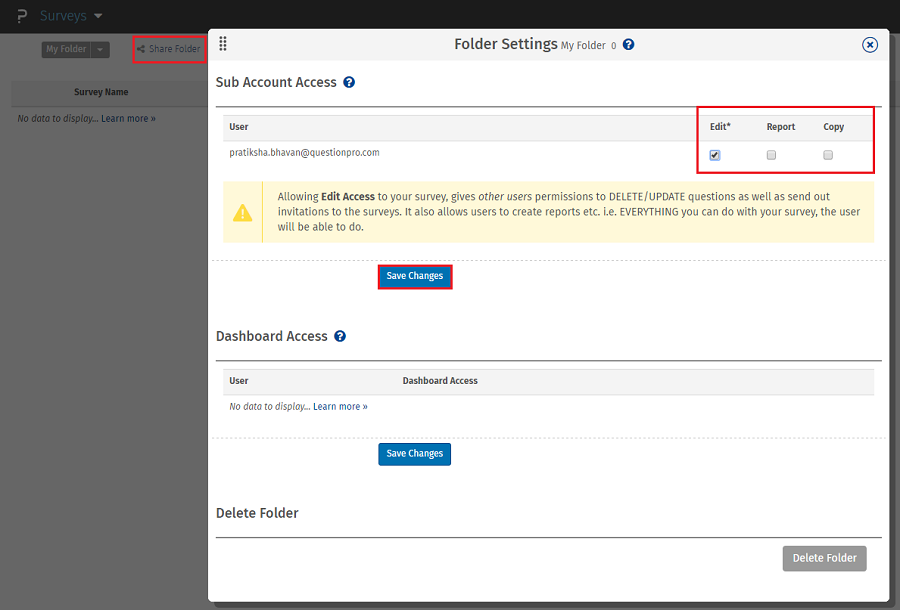 What is Survey Sharing?
If your account is part of a multi-user license, you will be able to share your surveys with others in your company as well as see the surveys that other users have created in your company. You can also see the results of the other surveys and share your results also.
I only have a single user account - does this apply to me?
No. This is only for Global Multi-User Accounts.
How can share my survey with others in my company?
The first step is to get a Multi-User account. Please contact sales for pricing on multi-user accounts.
Note: If you are accessing a shared survey, you will not be able to access their email list. Email lists are accessible only to their own account holders.
I cannot see a Share option on my Main folder? Why?
The main folder is unique for all individual accounts. You cannot share this folder with other sub accounts.
I want to share only the reports with my colleague. How can I do that?
You can add a Dashboard Account which gives you the ability to share only your reporting section with your colleague / client.