How can I upload images to my account?
To upload image and multimedia files go to:
Login » Surveys (Select Survey) » Edit » Images
Click Browse, or you can also drag and drop the required files into the provided space. Note: The drag and drop option is only available on browsers that support HTML 5.
Click on the Upload button to upload the selected files.
Once the images load, the My Image/File Library will appear under the Upload Files section of the page and will contain all uploaded files.
You will see the HTML code and the file URL as well as a preview of every uploaded file.
You will also see the uploaded files progress bar to the right of the My Image/File Library heading.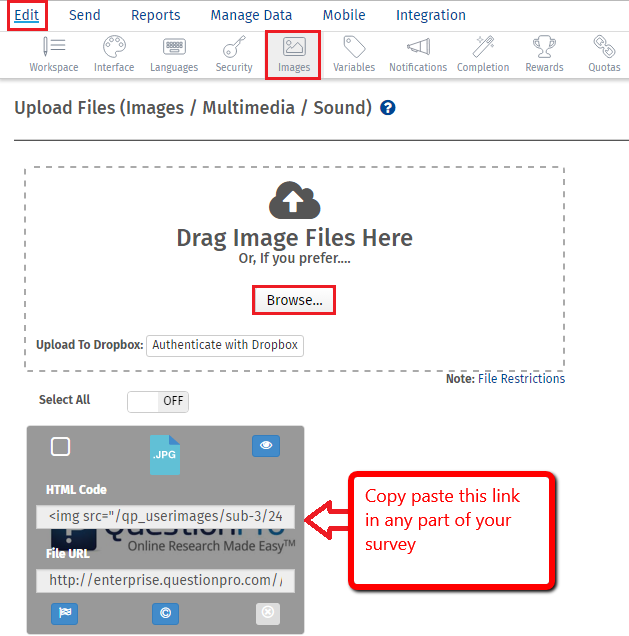 Are there any limitations while uploading images?
Yes, click here to view the limitations while uploading images.
Can I upload my company logo in email invitations?
Yes, upload the image under Add Images & Multimedia. You can use the HTML code for the image in the email invitation. Simply copy and paste the code in the email invitation and the image will display. Similarly, you can also upload files (Word, PDF, etc.) and use the URL for the uploaded file in the email invitation. This works similar to attachments and users can access/download the file using the URL.
What about the Intellectual Property Rights of the images/multimedia I upload?
You own them and you are responsible for them. We cannot and do not monitor the content of the images you upload. If your images infringe on someone's trademark, copyright, patent or trade secret, it is your responsibility and your liability.