How does custom panel integration work?
First, finalize a panel provider. If you have not finalized a panel provider, please request a quote for QuestionPro Panel.
If you have already finalized a panel provider, they will provide you with redirect URLs which you need to update in QuestionPro so that the panel provider can track respondents. Panel providers will distribute the survey. They will pass in tracking variables using the survey URL which need to be passed back to them via the redirect URLs. These variables can be passed back by QuestionPro using custom variables. The redirection URLs can be pasted under Finish Options.
Login »  Surveys »  (Select Survey) »  Edit »  Completion »  Finish Options
Select Custom Panel as the Finish Option.
Paste the redirect URLs for each response status: Completed, Terminated and Over-Quota.
Click Save Changes.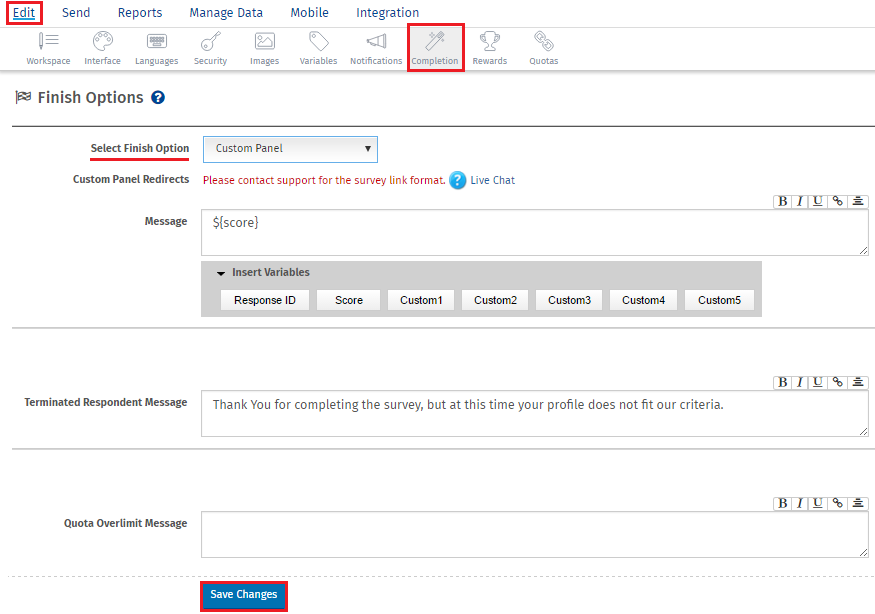 What link should I provide to the panel provider?
You will get the link for your survey under the Edit Survey tab. Tracking variables can be passed via the survey URL using Custom Variables. For help with Custom Variables, please see the setting up custom variables help file, or contact Support.
License & Access Options
This feature/tools described here are available with the following license(s) :
Unlimited Surveys, Questions, Responses
Advanced Toolset and Features
No Long Term Commitment