How can I set up time-based data filters?
You can create time based filters to segment your data. This way, you can segment your reports for a particular time frame when the survey was completed.
Go to:
Login » Surveys » Reports » Advanced » Data Segmentation
Click New Data Filter.

Click New Data Filter.

Enter the Name of the filter.
Select Time Based Criteria as the Data Segment Type.
Enter the Start Date and End Date desired. You can also enter Start Time and End Time. Leaving the time fields blank will count all completes during the entire days selected is the Start and End dates.
Click Finish to save the data filter.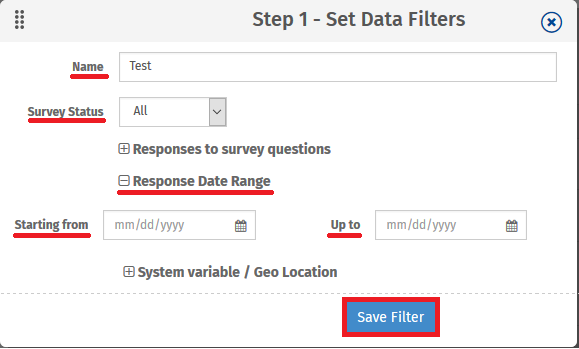 I have set up a time-based data filter, but I am in a different time zone. What do I do?
You can set time zone for your data. You will find this option under My Account.
What do I do after I create the Filter / segment?
After you've created the Filter / Group / Segment, you can do one of two things:
To view the results (Filtered or Comparison):

Login »  Surveys »  Reports
In the Real-Time Summary, select Saved Data Filters from the Data Filter drop-down. This will bring up a secondary drop-down from which you can select the filter you previously saved.

To view the filter as part of the Excel download, request the Excel report :

Login » Surveys » Reports » Advanced » Data Segmentation
Click Report Options to retrieve either a Summary Report or an Open-ended Text report.
Click Refresh at any time to refresh the report with the filter applied. This will result in a new report being generated and emailed to the email address associated with the account.