A survey is a research method used for collecting data from a predefined set of respondents to gain insights on various areas of interest.
Simply put, surveys help you target customers, employees, or students to get their opinions on different topics. They are created with various objectives and can be conducted through a number of ways.
Typically, surveys are a set of questions on a specific subject, domain, and industry. Before the widespread availability of technology, and namely the internet, surveys were created using pen and paper. Most individuals and businesses today use online tools, like a free survey creator, to create and send surveys.
Example: A smartphone company wants to launch a new model of a mobile phone. To better understand their target market, they use a free easy survey creator and send out an online survey. This survey helps them understand what features the users of the current model enjoy, what they don't like, and what they'd like to see on the next phone model. This data helps the company create a new model that matches what consumers want, increasing sales and customer retention.
There are many free survey creator tools that let you access basic survey functionalities. Some tools provide free lifetime access to create and send surveys. Other tools offer a free trial version of advanced survey software. The trial is free for a limited period of time. Once the trial expires, you'll have to buy a paid version of the software or tools. During the trial period you can try all premium features. The 3 basic steps to create an online survey are:
Design a survey
Distribute a survey
Analyze survey responses
You can design your survey using different types of questions provided by the survey software. Alternatively, you can use ready-made free survey creator templates that suit your business requirements. In either case, you can customize workflow.
How to create a survey
Login to your QuestionPro surveys account.
Enter the survey name.


Choose from different basic and advanced question types.



Design the survey with different types of questions so it helps extract the right answers from your audience. The goal of a survey is to collect answers that offer meaningful insights into ways you can improve your services. Question types such as Net Promoter Score (NPS), for example, help you identify promoters, passives, and detractors. This question type also helps define faults, blind spots, improvement areas, and concerns. Use this data to achieve long-term improvement and growth.
If you want to save time and effort when creating a questionnaire, use one of the 300+ free survey templates. Customize the logic to fit the requirements of your survey and give respondents the best survey experience. Our online survey creator free templates are prepared by seasoned professionals with experience in your unique industry. Because we work with industry experts to create survey templates, our templates are thoughtfully designed to help you get the data you need while reducing unfinished surveys.

Whether you design the survey on your own or use a free survey creator template, customize its theme to give a more professional image. Professional-looking surveys increase response rates and provide more reliable data. Any time you send a survey on behalf of your company, it's important to match your existing brand. Matching existing logos, color schemes, and fonts helps current and potential customers resonate with your brand voice.
Example: Bring your brand and culture to life by customizing the fonts, logo, text color, background, layout, images, final redirect page, and even the survey URL. You can also personalize a 'Thank You' page with a clear call to action. Branded calls to action encourage survey respondents to seek out your brand the next time they're in the market for your products or services.
Send your survey by email or SMS invitation, embed it on any page of your website, or share it on social media.
Your distribution channels depend on the type of survey and the target audience. Being able to reach your audience at the time and place they are most likely to respond helps you achieve increased response rates and improve customer engagement.
Example: If you're a retail e-commerce company and want to understand what people think about the latest fashion trend, you can run a survey on social media sites. But if you are an investment banking company who wants to know if your customers are satisfied with the quality of customer support, you should run a survey through email or call.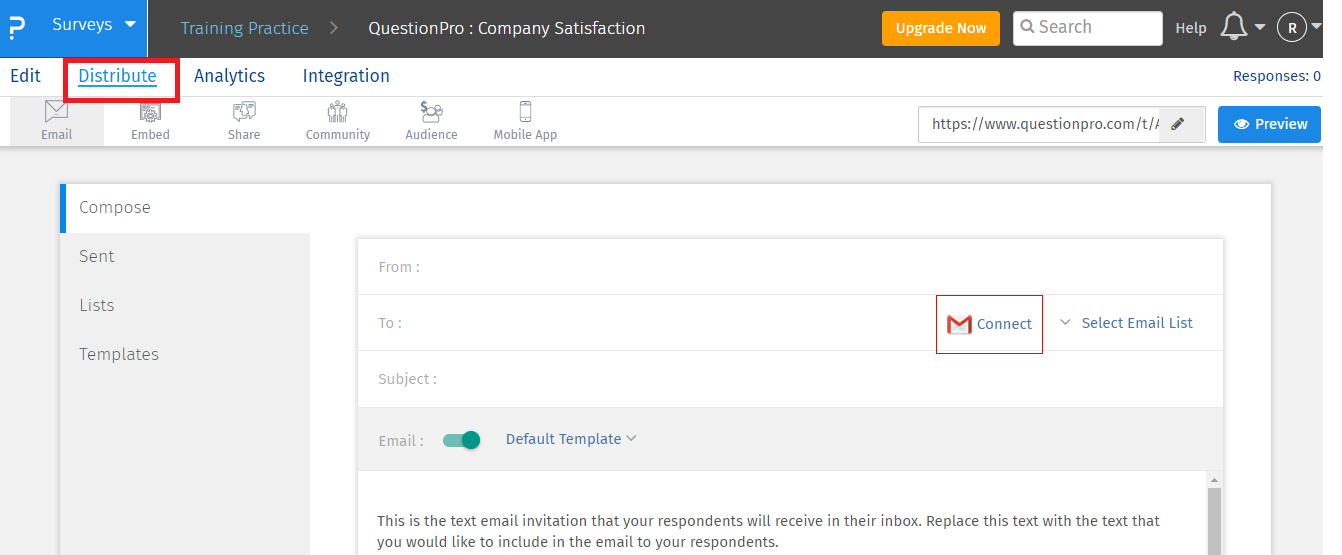 Real-time reports give you a quick view of the percentages each answer option received. You'll also get access to basic graphs, mean values, and how many respondents have completed or not completed the survey. Filter the results by a wide selection of segments and export reports on a daily, weekly, or monthly basis. Select the email addresses you want to receive the exported data with. Measure the survey results of different datasets to understand the relative performance of various combinations of product features.