Estatísticas Gerais dos Participantes
Onde posso encontrar as estatísticas dos participantes da minha pesquisa?
Você pode visualizar as estatísticas gerais dos participantes da sua pesquisa em: Login » Surveys » Reports » Dashboard » Participant Statistics .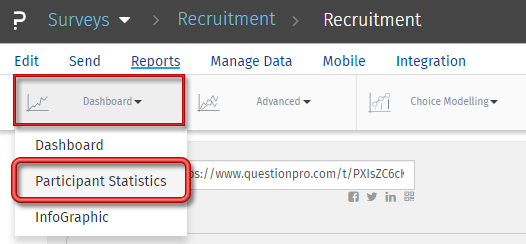 Clique no menu Estatísticas da participação no menu suspenso para ver os dados das Estatísticas gerais dos participantes da pesquisa.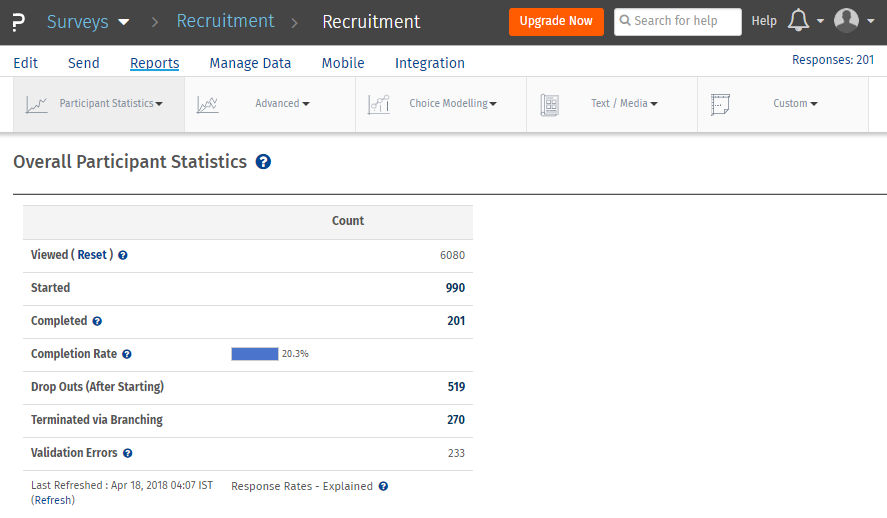 Os dados são capturados em cada clique do botão continuar / enviar para a pesquisa. É importante entender o que os diferentes números significam para realizar uma análise completa dos resultados da sua pesquisa.
Quais são as diferentes estatísticas?
Viewed : este é o número total de usuários que clicam no link da Pesquisa. Sempre que sua pesquisa é solicitada, a contagem de visualizações é incrementada e atualizada. O entrevistado não precisa necessariamente iniciar a pesquisa. Também inclui contagem iniciada e concluída.
Started : é o número total de entrevistados que iniciaram a pesquisa. Se sua pesquisa tiver ramificações ou quebras de página, uma resposta será registrada como "Iniciada" se clicar no botão "Continuar" na primeira página.
Completed : a contagem concluída é composta por todos os entrevistados que passaram por toda a pesquisa e a concluíram, que é clicada no botão Concluir na última página da pesquisa.
Completion Rate : é igual a Respostas de pesquisa concluídas dividido pelo número de Respostas de pesquisa iniciadas.
Drop Outs : Este é o número de respondentes que iniciam a pesquisa, mas não a concluem.
Terminated via Branching : Se você configurou a ramificação em suas perguntas para encerrar a pesquisa por um critério, o número de respondentes encerrados será exibido nesta coluna. Please note that this column will only be displayed if you have setup branching to termination.
Validation Errors: este é o número de vezes que alguém encontrou um erro de validação durante a pesquisa.
NOTA: As estatísticas da pesquisa são atualizadas mesmo quando você está testando a pesquisa. Certifique-se de excluir os dados da pesquisa de teste e redefinir as estatísticas antes de ativar a pesquisa.
Por que a resposta é contada como concluída, mesmo que os entrevistados não tenham respondido a todas as perguntas?
Por padrão, os entrevistados podem pular perguntas e prosseguir com a pesquisa e concluí-la sem responder a perguntas. A pesquisa é considerada concluída quando os entrevistados clicam no botão Concluir / Enviar na última página da pesquisa. Para evitar respostas em branco à pesquisa, você pode validar as perguntas e torná-las necessárias. Para mais informações, consulte o link de ajuda Forçar uma resposta abaixo.
Por que os dados estatísticos na guia Relatórios são diferentes dos dados na guia Enviar?
Na guia Relatórios, todas as estatísticas são capturadas, incluindo dados de teste, pesquisas repetidas, pesquisas acessadas via URL, etc. No entanto, na guia Enviar pesquisa, as estatísticas são capturadas apenas para os convites da pesquisa que foram entregues para as listas de e-mail.
Por que o total da minha análise de dados não corresponde ao total de pesquisas concluídas?
A análise de dados representa todos os usuários que optaram por responder a uma pergunta. Em alguns casos, os usuários não respondem a todas as perguntas. Nesses casos, a contagem total de usuários que completam as pesquisas será diferente da análise de dados.
Para pesquisas que not possuem quebras de página ou ramificação, a contagem iniciada deve ser igual à contagem concluída. Se a contagem iniciada for maior que a contagem concluída, esse número representará as "desistências" após o início da pesquisa.
Como é calculada a taxa de participação?
A participação é uma porcentagem relativa com base no número total de usuários que participaram de uma pesquisa em comparação com o tamanho atual do painel.
Por que o total de respostas para uma pergunta no meu Relatório de análise de frequência não corresponde?
O total de respostas a qualquer pergunta deve ser menor ou igual à contagem Iniciada, mas pode não ser igual à contagem concluída. Se os entrevistados optarem por não responder a essa pergunta, a contagem sempre será menor que a contagem Iniciada. Se você precisou de respostas para as perguntas da sua pesquisa e o total não corresponde à contagem "iniciada" ou "concluída", são as desistências em que os usuários optaram por não responder à pergunta após o início da pesquisa.
Licença
Esse recurso está disponível com as seguintes licenças: