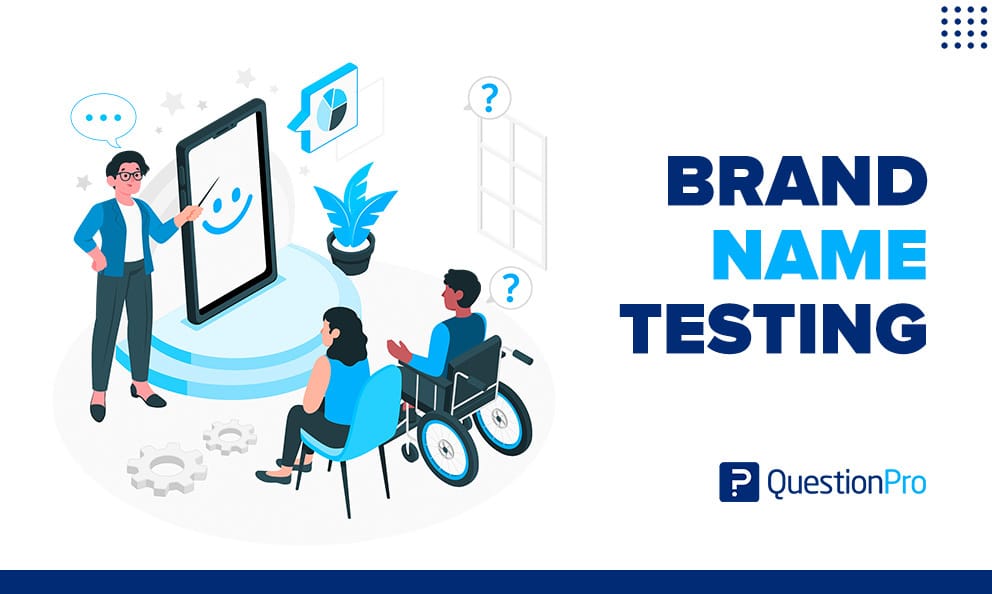 There are so many companies known for their name; just by hearing them, you know who they are and what they do. This is why a company brand's name plays a significant role. Not only by being an identifier that distinguishes your brand from competitors, but it also will play an essential role in shaping your company image. Let's talk about brand name testing.
When you launch a new brand, you have to choose a name that is relevant or more attractive to the product industry. Consequently, companies do market research to gather insights and feedback about the brand's name.
What is brand name testing?
Brand name testing is the process of presenting your target audience with different name options for your brand to choose from through a survey. After the survey, the next step is to collect their feedback. No one like your target audience and potential clients to choose a company name that talks to them. 
You can find your company's best and more appropriate name with brand name testing. If you want to learn more about and create your survey, keep reading this article.
The Importance of Brand Name Testing
The brand name itself usually helps companies in their marketing campaigns and attracts the end-user to buy/subscribe so it takes a lot of time to choose the right brand name before the launch of the product; you might have a very good product but not a right brand name then your revenue will not be healthy.
In QuestionPro, we can help you to have a clear picture of your brand name before using it to make sure you are on the right track.
How to test your brand name?
First of all, you have to make a shortlist of the proposed brand name. Then you can run a survey with end users to see if the proposed names are good enough to use for your product and then which one is really attractive and relevant to your brand, to go through this journey, you need a professional company.
QuestionPro has a great team that can be part of your business and requirement to write the right survey and helps you choose the right respondents and time to run your survey.
Advantages and disadvantages
In fact, testing your brand name is very important where in the world of business it can be a binary situation of zero or one so the advantage of testing your brand name is concluded in that you have chosen the right name for your product or not which will help you to increase your revenue but keep in mind that you might have a disadvantage if you are launching a small size company then you cannot afford the funding of this journey.
Conclusion
When you are evaluating your results from your brand name testing, it's important to understand why people choose it and what that name means to them, the advantages and disadvantages. 
QuestionPro is a friendly survey platform that allows you to easily test brand names, by connecting you with the right audience that best defines you and will allow you to learn what matters most. With accurate responses in minutes instead of days.
QuestionPro will add value by distributing surveys to end-users and collecting feedback about the proposed brand name. Skeptical? Explore a no-credit-card-required free trial of our research edition software! We know you'll be surprised.
Authors: Mariana and Moheeb