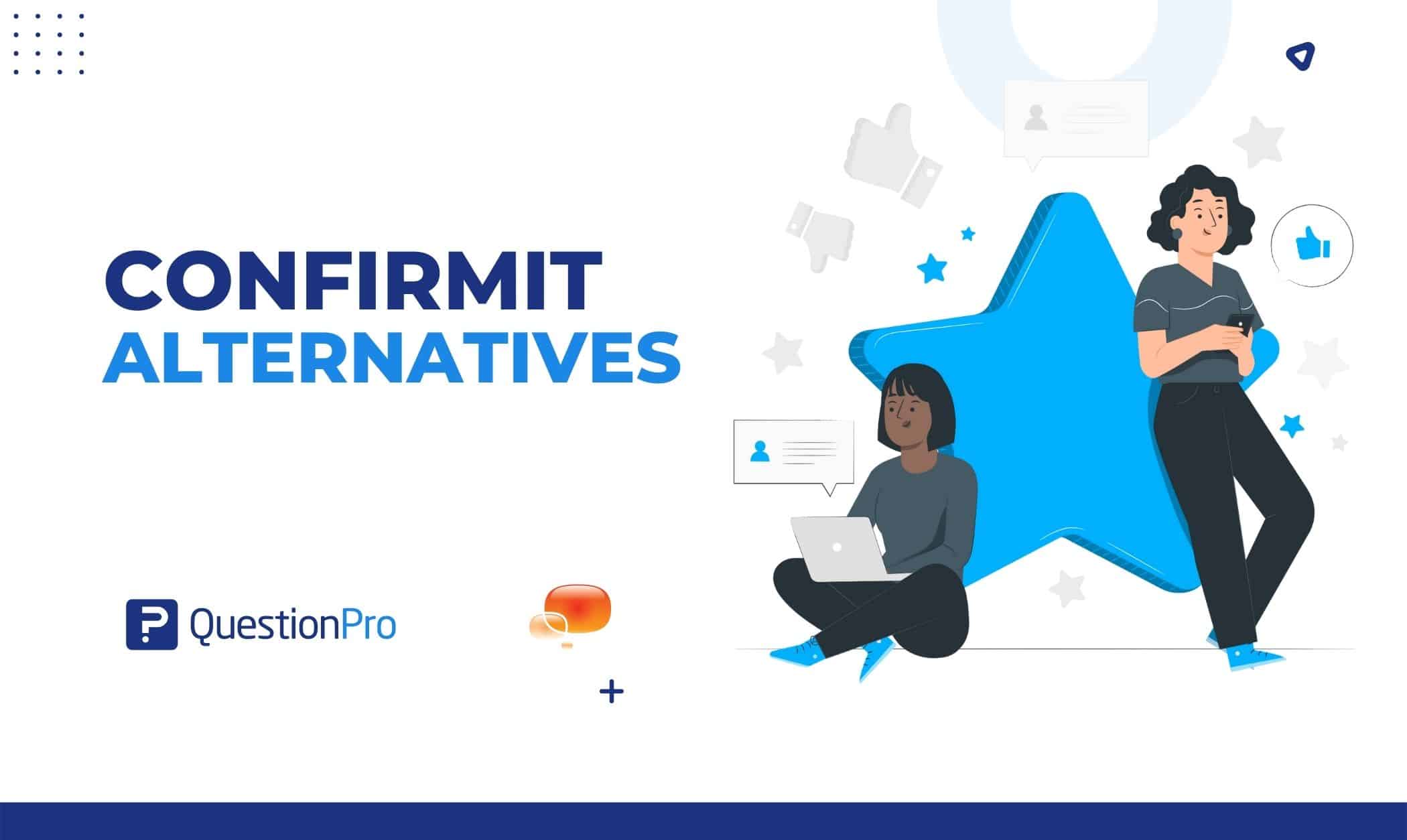 Most people use Confirmit as a data analysis tool, customer experience research, and surveys, but it may not be the right choice for you. Whether your top priority is easy to use, user ratings, or value for money, there are a lot of other tools out there that could be a good fit for your needs.   
Confirmit may not always meet your business's needs or your company's circumstances. In that case, you still have many other Survey Software options to look at.
You can find Confirmit alternatives and compare software with similar features right away. QuestionPro has a comprehensive comparison tool for Confirmit alternatives that lets you compare features, pricing, and user reviews for all kinds of software from other vendors and choose the best one for your business.
Check out these other top choices that are similar to Confirmit in terms of functionality, key features, and benefits based on the features they share.
What is Confirmit?
Confirmit was founded in 1996 and quickly became the top Software-as-a-Service (SaaS) provider for feedback and research solutions. Most of their customers are Global 5000 companies and Market Research agencies worldwide. 
Confirmit offers a scalable end-to-end platform that lets users create, deploy, manage, and analyze the results of research projects and feedback programs with anywhere from a few hundred to millions of respondents. 
Market research companies can standardize their processes and save money on their total cost of ownership by using a platform with a wide range of data collection methods and full panel management tools.
Why do you need Confirmit alternatives?
You are in the appropriate place if you are looking for Confirmit alternatives. Though Confirmit is a complete market research platform, it has some drawbacks too. For this, users sometimes look for alternatives. The alternatives might offer various resources, prices, or needs covering that Confirmit does not. But the purpose of this alternative is to assist in market research for businesses. There are some drawbacks of Confirmit below:
Not cost-effective:

Confirmit is an expensive platform. If your organization is from medium to enterprise level, then Confirmit is for you. But it is not suitable for small organizations. It is one of the primary reasons that many companies made the switch.

Limited support system:

Confirmit has limitations in its support system. They do not offer 24/7 live, phone, or email support. They only offer you customer support through chat.

It is not user-friendly:

The tool is not easy to use and is way too complicated to use for simple surveys. Setting up surveys is hard. Email invitations don't look good on mobile devices. There aren't any good templates, and manually coding open-ended answers takes a long time. There aren't many ways to make and design custom reports.
If you think those limitations will affect your business, you may choose alternatives for Confirmit.
Top Confirmit Alternatives & Competitors
Use the list below to find alternatives to Confirmit for your business or organization.
QuestionPro
QuestionPro is the most popular online survey software. More than 96% of reviewers across the Internet like it. With their easy-to-use software, you can create, distribute, and analyze online surveys, polls, forms, and quizzes. 
Using their advanced features, you can customize the survey experience and run sophisticated analyses. Let's have a look at their some advanced features:
Product version:

QuestionPro has 4 product versions. They are Essentials (which is a free version), Advanced (which is for single users), Team (which is for working together), and Research (with all premium features). 

Survey design:

QuestionPro has features to customize your survey design. You can change fonts and themes there. QuestionPro has hundreds of ready-made survey templates and more than 38 types of questions to help anyone make questionnaires and personalized surveys. Each QuestionPro template is ready for mobile use, so you can reach customers whenever and wherever you want.

Live chat:

If you need help, QuestionPro LiveChat is the best in the business and is available 24 hours a day, 7 days a week.

Contacting ways:

Email, integrated pop-ups, SMS, and social sharing are all ways to get in touch with QuestionPro respondents.
In a word, QuestionPro is a complete survey software. It can be your Confirmit alternative with these great advanced features. Also, you can get the free version with some limitations, and their premium plans start at $99 per month.
SurveyOL
SurveyOL is easy to use, professional, and effective. It gives small businesses access to cutting-edge communication and feedback technology that was once only available to big companies. 
There are more than 100 free survey templates you can use as a starting point for your own surveys. They have some great features you can utilize in your survey, such as:
SurveyOL has

flexible color themes

and makes it easy to change fonts and colors. 

SurveyOL provides so many

flexible sharing options

. You can get more people to fill out your surveys by sharing them on the web, through QR codes, on social media, via SMS text messages, email invitations, and by embedding them on your website. 

Its

real-time responses

and strong analytical tools will help you meet your timeline and budget goals. 
You can also export survey results easily to Excel, Word, PowerPoint, or PDF with SurveyOL.
CustomerGauge
CustomerGauge helps B2B companies use customer feedback and actions to align business initiatives, improve account retention, and grow revenue through upsells, cross-sells, and referrals.
The CustomerGauge Account Experience platform lets B2B companies track account engagement, get feedback from key stakeholders and real-time group results into custom dashboards, and link feedback to NPS score and revenue changes.
LEARN ABOUT: B2B Online Panels
Other features of the CustomerGauge Account Experience platform include:
Setting KPI targets

for closing the feedback loop.

Predicting how changes in the

NPS score

will affect sales.
With CustomerGauge, users can also track how often key stakeholders do things like fill out customer surveys, open marketing emails, attend business reviews, and so much more.
IdSurvey
IdSurvey is professional survey software that can be used to collect data through the phone (CATI), the web (CAWI), in person (CAPI), or a mix of all four (mixed mode). There are three ways to do a survey on Idsurvey. They're:
You can use the built-in Email and SMS Sender or connect third-party panels to send invitations for

web surveys.
You can add IdSurvey's IdTalk VoIP dialer, predictive dialing, and the Supervisor dashboard to your

phone surveys.
For offline surveys

, you can get an app for Android and iOS.
With IdSurvey, it's easy to write questionnaires, collect data, and analyze it all on the same platform. CATI, CAWI, and CAPI are all perfectly integrated and use a single administration interface.
Voxco Online
Voxco survey software is used by Global Brands, Top 50 MR firms, and Universities in 40+ countries to do 50M+ surveys. Voxco Online provides organizations and market researchers with a suite of survey management solutions. It includes:
A survey design tool, 

Multi-channel invitations, 

Response tracking, behavior reporting, real-time results,

Advanced reporting, and panel creation and maintenance.
Voxco Online is a cloud-based platform for professional market researchers to create and distribute online surveys. It also has scripting and design features that help design surveys for market research.
Qualtrics CoreXM
Qualtrics CoreXM is the best online survey platform. More than 8,500 brands and 99 of the top 100 business schools use and trust it. This flexible platform has tools that make it easy to drag and drop beautiful, complex surveys together. 
It has powerful survey flow logic options that let you customize the survey.

It also has 100+ question types and a best-in-class analysis and reporting system.
Mobile and offline support, multi-channel support, and many other advanced features.
With Qualtrics CoreXM, it's easy to get insights, look at them, and act on them.
The Survey System
The Survey System is the complete survey software available. It can be used for any kind of questionnaire or research project. It can be used on various systems: 
On the web, 

On a mobile device, 

Through CAPI( Computer-Assisted Personal Interviews)
This excellent survey software package is perfect for mixed-mode surveys using two or more methods. 
Comprehensive logic instructions help people answer the right questions, change questions to get better data, and ensure their answers are correct. The Survey System survey software can record any response. Our voice capture survey module can even record comments in the actual voices of respondents.
Conclusion
Sometimes it can be hard to find a reliable Survey Software app that fits your needs and stays within your budget. You may find a solution with all the features you need at a fair price with enough information. 
When comparing Confirmit competitors, you should consider pricing, customer support, mobile device support, and integrations. And also You need to explore Confirmit's most often compared features to choose the best alternative survey software for your research.
We recommended QuestionPro survey software, one of the best Confirmit alternatives. It is an excellent platform for market research with the features like collecting feedback and data, analyzing and reporting, and managing actions. 
Sign up now, and feel free to ask us questions if you want to discuss your research and survey needs.