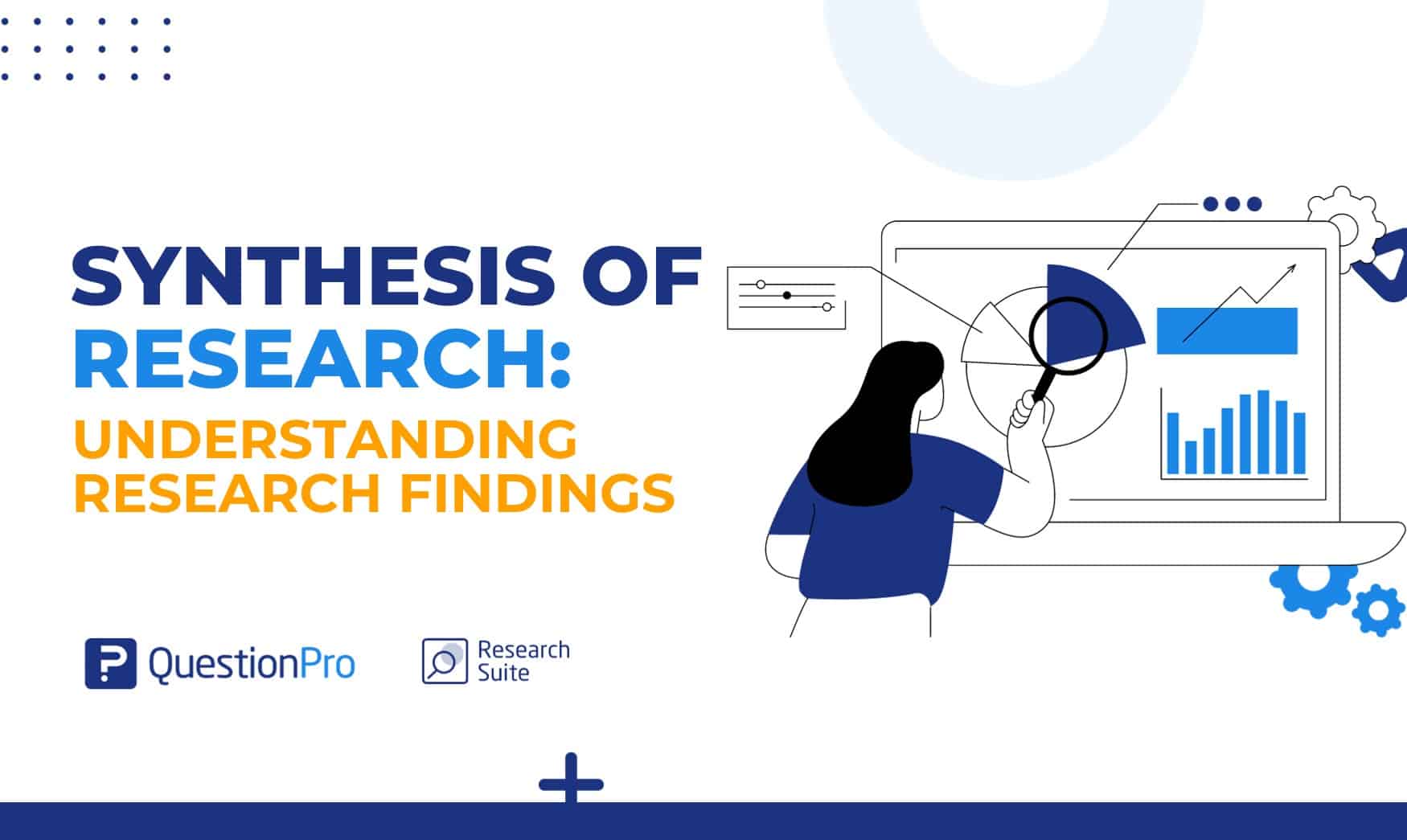 Synthesis of research is the process of combining pieces of information to understand the big picture in learning and decision-making. You should know how to do this whether you're a student, a research professional, or just curious.
In this blog, we'll look at what synthesis of research means, why it's important, and how you can use it to understand things better.
What is the Synthesis of Research?
The synthesis of research is the process of gathering and combining information, findings, and insights from multiple sources or research studies on a specific topic. This synthesis involves analyzing, summarizing, and combining major data, themes, and patterns from several studies to develop research findings and insights.
It is the process of combining support from more than one source for a single idea/argument while also understanding how the sources are related to one another and your main idea.
Researchers and scholars use research synthesis to gain a larger and more educated perspective on a subject. It helps them to make better-informed decisions and contribute to the existing knowledge.
The Difference Between Summarizing and Synthesis
Summarizing and synthesis are both techniques used in conveying information, but they serve different purposes and involve distinct approaches.
Summarizing is like making a short version of something big, like a book or a study. It's about picking out the most important parts and leaving out the less important stuff. Summaries are much shorter than the original. Summarizes are often used when people require a rapid overview of a topic without diving deeper.
Synthesis combines information from multiple sources or portions of a subject to develop a new understanding or insight. Synthesis can be more detailed than summaries because it aims to present a comprehensive and holistic understanding of a topic based on numerous sources or perspectives.
In short, summarizing makes information shorter and easy to understand quickly, whereas synthesis combines and analyzes information from many sources to make new research findings and insights.
Importance of Synthesizing Research Findings
Synthesizing research findings is essential because it helps us really understand a topic better. Let's explore why it's so important:
Knowledge Integration: When you synthesize research, you combine information from numerous sources to gain a thorough understanding of a topic. This comprehensive viewpoint is essential for making well-informed judgments and developing your understanding.
Informing Evidence-Based Practices: The synthesis of research findings is critical in establishing evidence-based practices in areas such as healthcare and education. It provides a solid foundation for you to base your decisions as an expert or policymaker on the best available evidence.
Decision-Making Support: Synthesized research findings provide useful insights to help in effective decision-making. Whether you work in industry, government, or educational institutions, synthesis can help you develop an in-depth understanding of complicated situations and make informed decisions.
Advancing Research: Research Synthesis can lead to the discovery of new insights and hypotheses, which drive additional research and innovation. It can motivate you to explore new areas and question existing ideas.
Enhancing Communication: Synthesizing research findings improves communication by simplifying complicated data. This is necessary if you want to effectively spread knowledge to a larger audience and promote a better grasp of complex subjects.
Understanding the Synthesis of Research Process
Let's explore the process that is required for a better understanding of what the synthesis means for research. Below, we will explore the 7 key steps for this process:
01. Defining Your Research Question
The first stage in the process of synthesizing research is to state the question or topic you are studying clearly. The topic should be specific and well-defined so that you know exactly what to look for in the research literature.
02. Source Selection and Literature Search
Once you've determined your research question, you'll need to conduct a thorough literature search. A literature review entails searching academic databases, libraries, and online resources for relevant research, publications, and reports. After finding these sources, you need to select those that are both closely relevant to your research subject and of high quality.
03. Organizing Your Sources
After collecting the required literature, you've got a lot of information to sort through and no clear idea how it all fits together. You can do this by developing a system, such as digital tools for citation management or creating a synthesis matrix. In this synthesis matrix chart, you can record your sources and main ideas based on the topic. The goal is to keep track of your sources efficiently.
04. Source Reading and Annotation
Now that you've organized your sources, it's time to dig into them. Read each source carefully and take notes as you go. Annotate or underline major findings, techniques, sample sizes, limits, and any other relevant information to help you understand the research.
05. Recognizing Recurring Themes and Patterns
Start looking for common themes, patterns, or trends in the research findings as you browse through your sources. Are there any areas of agreement or disagreement among the studies? This step involves identifying similarities and differences in order to provide a thorough picture. Consider why these patterns exist and how they contribute to your understanding.
06. Comparing and Contrasting Studies
Now, compare and contrast the studies you've read. Examine their similarities and contrasts. Is there any change in approach that could explain the differences in results? These insights can help you understand why different research generates different results. Determine each study's strengths and weaknesses.
07. Creating an Organized Framework
Finally, create an organized framework that categorizes and classifies the studies based on your analysis. This framework will assist you in structuring your synthesis and provide a clear path for how you will gather information from various sources.
Synthesizing Research Findings
Synthesizing research findings involves combining information and insights from multiple sources into a single and comprehensive whole. Use the organized framework you created previously to categorize and group your sources based on their primary findings, topics, or any other relevant criteria, and then proceed with the following steps:
01. Summarizing Key Findings
Begin by highlighting the most significant findings from each of your sources. To synthesize sources, group them around a specific theme, and compare and contrast the work of other scholars to generate new insights. Focus on the most significant points, statistics, or results. This stage will assist you in extracting the key points of each study.
02. Discussing Implications
After summarizing, it is time to discuss the implications of these findings. Ask yourself, What do these findings mean in the broader context? Consider any discoveries, practical uses, or policy consequences. This is the stage at which you begin to connect the dots between various research.
03. Identifying Research Gaps
Look for any gaps or areas that require additional research when you review the findings. Finding these gaps is essential for knowledge advancement because they are like unexplored territory.
04. Generate New Insights
Your synthesis should not only summarize previous research but also generate fresh ideas. Look for patterns, correlations, or overarching themes in the collected information that may not have been apparent in individual research. This is where you will add to the academic discussion by producing new ideas.
05. Provide Evidence and Support
Always back up your conclusions with evidence from the original sources to strengthen your synthesis. Refer to specific studies and mention relevant facts or research to support your claims. This not only increases the credibility of your synthesis of research but also allows others to follow in your steps.
06. Write Your Synthesis Report
Finally, compile your findings into a clear report. Begin with an introduction that sets the tone and describes your strategy. Then, explain your summary findings, analyze the consequences, and identify any research gaps. Write each paragraph with a topic sentence. Finish by summarizing the main points of your synthesis.
How QuestionPro Enhances Synthesis of Research
A synthesis of research is a type of analysis that includes comparison and contrast, classification, and division. On the basic level, synthesis entails combining two or more sources and searching for themes in each. In synthesis, you look for connections between different resources to explain your point.
QuestionPro survey software can be a valuable tool in the synthesis of research by facilitating data collection, analysis, and organization. Here's how QuestionPro can assist in the research synthesis process:
Efficient Data Collection
QuestionPro allows researchers to design and distribute surveys easily. You can create customized surveys with various question types, including multiple-choice, open-ended, and Likert scale questions. This flexibility enables you to collect specific data from participants relevant to your research synthesis.
Integration of Multiple Data Sources
When conducting a synthesis of research, you may need to gather data from diverse sources. QuestionPro allows you to integrate data from surveys, online forms, and other sources into a centralized platform, making it easier to manage and analyze information from various studies.
QuestionPro offers robust data analysis tools that enable you to examine survey responses thoroughly. You can generate real-time reports, analyze trends, and identify patterns or common themes in the data. This is invaluable when synthesizing findings from multiple sources.
Advanced Filtering and Segmentation
To compare and contrast findings from different subsets of your survey participants, QuestionPro allows you to apply advanced filters and segmentation. This feature is useful when categorizing responses based on demographics, behaviors, or other criteria relevant to your synthesis.
Visual representation, such as charts and graphs, can help researchers understand their findings more rapidly. QuestionPro offers visualization tools that can help you present your synthesized data clearly and engagingly.
Export and Reporting Options
QuestionPro allows you to export survey data in various formats, making it easy to integrate the data into your synthesis report or academic paper. You can also generate professional reports directly within the platform.
Security and Privacy Compliance
Research often involves sensitive data. QuestionPro takes data security and privacy seriously. It offers features like secure data storage and compliance with data protection regulations, which ensure the confidentiality of your research data.
Efficiency is essential in today's fast-paced world of research. As a result, smart researchers are relying on cutting-edge solutions such as QuestionPro Research Suite to streamline their data collecting, analysis, and management processes.
With this powerful software, researchers can quickly gather data from various sources and smoothly synthesize it into useful insights. So, if you're seeking a reliable and user-friendly solution to improve your research synthesis, try QuestionPro.