I love blogging
Every time I blog, I make sure to collect consumer insights so that I can enhance my craft. I have been blogging at QuestionPro for the past few years, and typically, I'd manually distribute surveys to respondents. I have received great customer feedback, but I've always looked for an easier way to collect consumer insights.  Well, today I am proud to announce that QuestionPro has released a new feature called CX Feedback Tab. The QuestionPro CX  Feedback Tab enables me to embed a survey in my blog for the readers to provide their inputs.  This is exactly what I needed, but is also scalable to collect consumer insights in so many more industries, such as hospitality, customer service, health care, and human resources.
What is CX, and how does the feedback tab work?
CX stands for Customer Experience. Using the CX Feedback Tab, you can create a feedback tab which you can embed in your website or blog and can be used to collect feedback from the visitors on your site. This feedback tab will appear as a tab on the side of your web page. The visitor will be able to view the survey only when they click on this tab.
That sounds great, how can I create a feedback tab?
To create feedback tab, go to CX >> Add Touchpoint >> Intercept. Enter the name of the feedback tab and the website URL where you wish to embed the feedback tab. Once you enter all the details, a pre-defined survey will appear. You may add or delete the questions, whatever best enhances your survey.

Aha, this sounds easy! How can I embed this in my blog or website?
To add the feedback tab in your website or blog, copy the javascript code next to the preview button and paste into the HTML of your website.
Can I change the background color and the text of the feedback tab?
Yes, it is very easy to customize the Feedback Tab. Once you prepare your survey, click on Intercept >> Tab Look and Feel, and you may customize the tab alignment to left or right of the webpage, tab text and even the background color.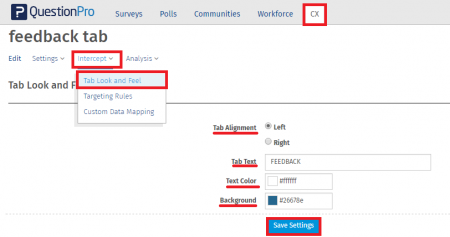 This looks amazing, now I won't have to go around asking people how was my blog, I can just add the feedback tab on my blog and my viewers can provide their valuable inputs right away! What are you waiting for, go ahead and try out this new feature? Sign-Up for your free QuestionPro Account and access our latest and greatest feature.
Looking to deliver an exceptional customer experience with QuestionPro CX? Discover more about how to delight your customer at every touchpoint and turn them into brand advocates.