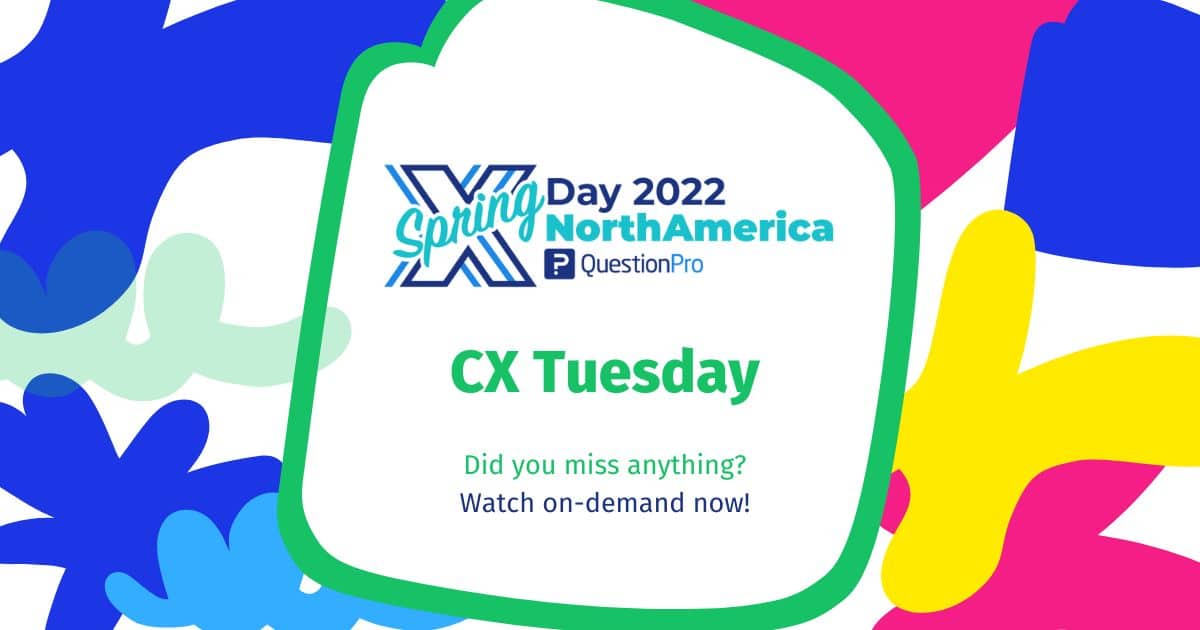 QuestionPro hosted a 3-day online conference – Spring XDay 2022, for our customers in North America, starting on Monday, June 6, 2022. The event started with a Research Monday, a keynote presentation and panel discussions focused on the Research Suite and followed by CX Tuesday, with our guests and experts talking about the customer experience in the future. The event was live-streamed on YouTube, LinkedIn, Twitter and Facebook.
Here's a quick recap in case you missed it!
Watch the complete recording here.
Kicking off the day at 9:45 am, Crystal Wiese, Director of Marketing at QuestionPro, and Jayleen Suliveres Lead Key Accounts & Partnerships of QuestionPro CX introduced the day's schedule and agenda.
Keynote speaker Dana Alvarenga, VP of Customer Experience at SlapFive – a customer marketing advocacy software platform for driving customer-led growth – kicked off the morning with a riveting presentation with practical tips on 'Leading Futuristic CX Now'. Dana also runs a podcast called CustomerX Therapy, where she talks about launching successful programs, challenges faced by the sales teams, and more.
Dana started with her perspective on the role of customer experience today and what we could expect from it in the future. While most of the CX revolves around static surveys, CX in the future would mean not just talking to them, but also taking action on customers' feedback and letting them know. She thinks that given the impact CX has on a business, the customer-oriented approach will continue to be adopted by many organizations, today and in the years to come.
Dana shared some of the interesting CX statistics, such as 67% of their customers saying their standard for a good customer experience is higher than ever. According to word-of-mouth marketing statistics, 96% of unhappy customers don't complain to the company about a bad experience. And 87% of customers share their good experiences with others.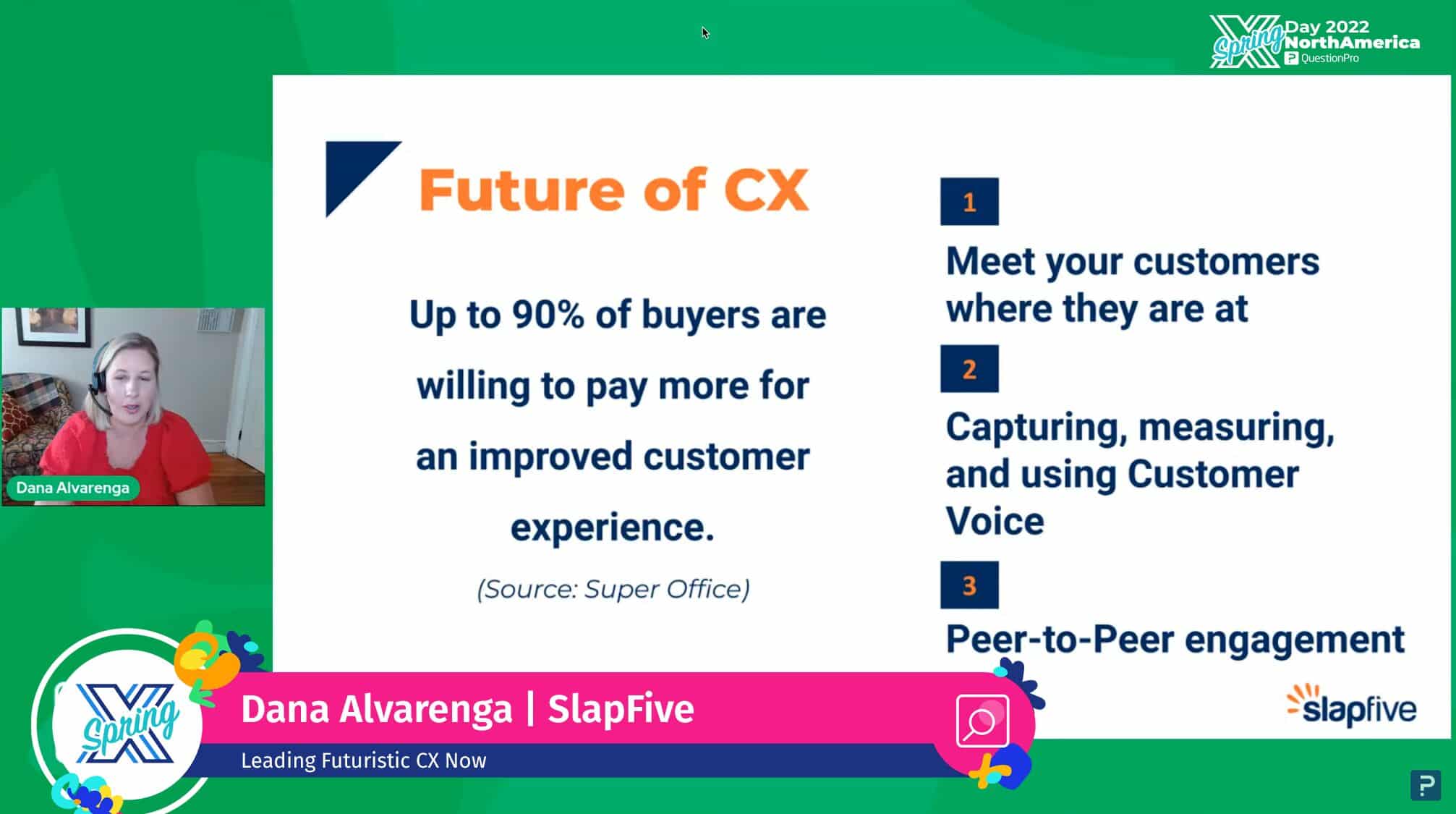 According to Dana, below are the three steps to keep your customers engaged and offer them a great experience.
Define what's in it for them

Give to get (engagement)

2-Way exchange of value
Adding further, she said that the goal for all B2B professionals in the CX space should be less time on tactical and more time on strategic work with your customers. Towards the end, she emphasized the importance of microprograms and how they can help organizations stay aligned with their customers' needs so that they offer a good CX at the end.
Watch the complete video of Dana's presentation here.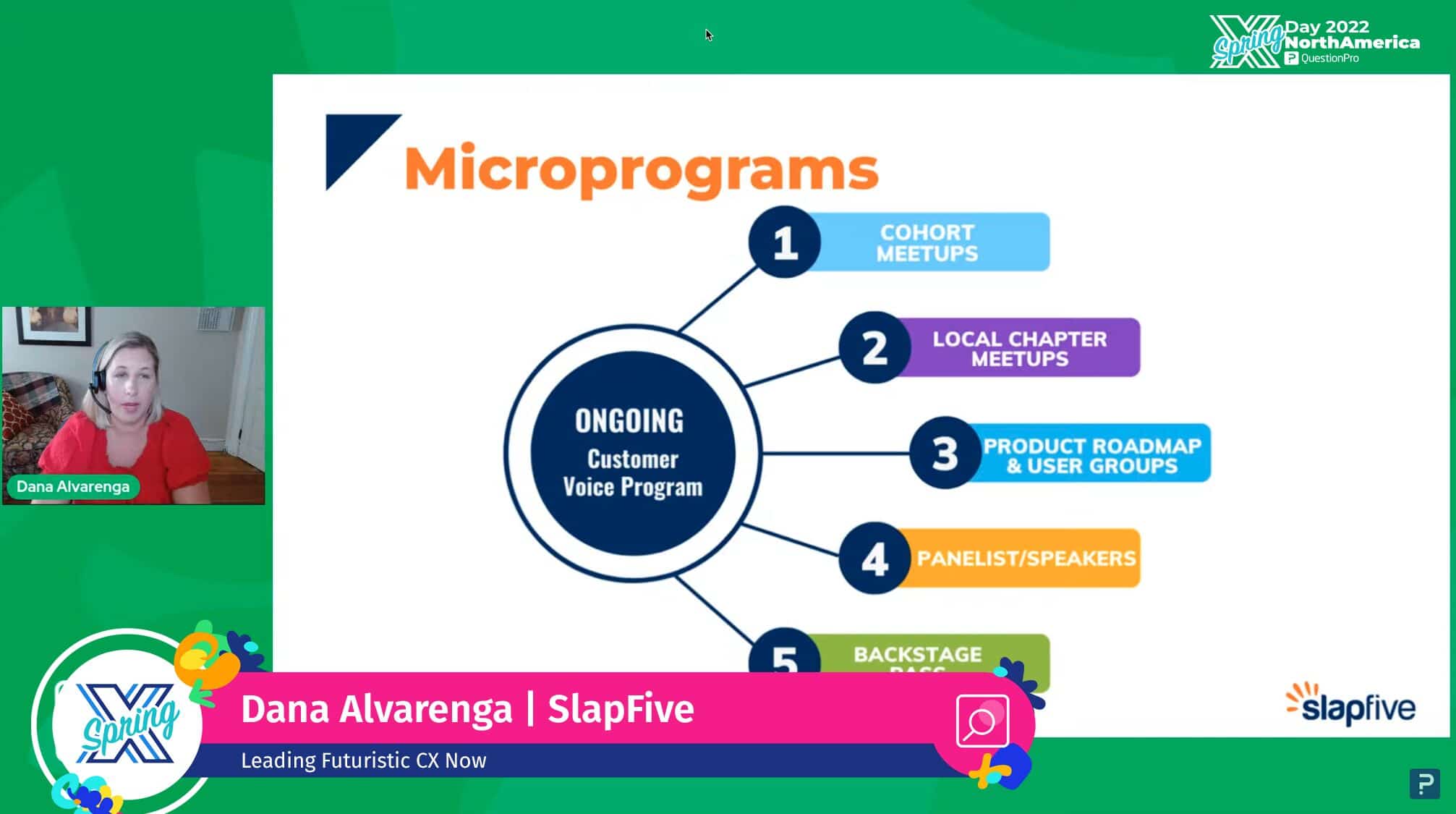 At 11 am, we had a panel discussion among our CX experts joining from the US, APAC, LATAM, and Europe, and talk about customer experience from a global perspective.
Ken Peterson, President of QuestionPro CX, believes that the brands and organizations in North America realize the importance of customer experience and insights in business transformation, and so there was quite some momentum towards the beginning of 2020. But then the pandemic hit and it altered the path of their programs. So we need to get them back on track and it might take a while. However, the business transformation must come from within the organization rather than from consultants or vendors.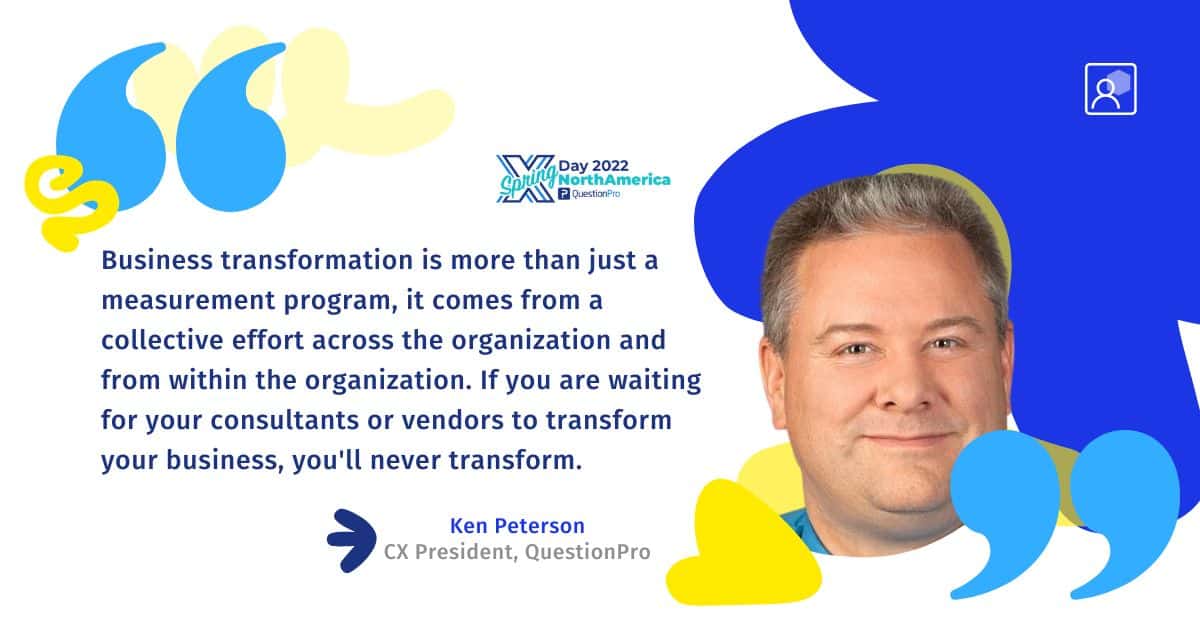 Shibani Maria Philip, Director of QuestionPro APAC, highlighted the change in perspective towards the CX in the APAC region saying, "The customers have realized you can't just provide exceptional service at one or two key touchpoints, – the Experience needs to be great across the customer's entire journey with a company, and this needs to happen at scale."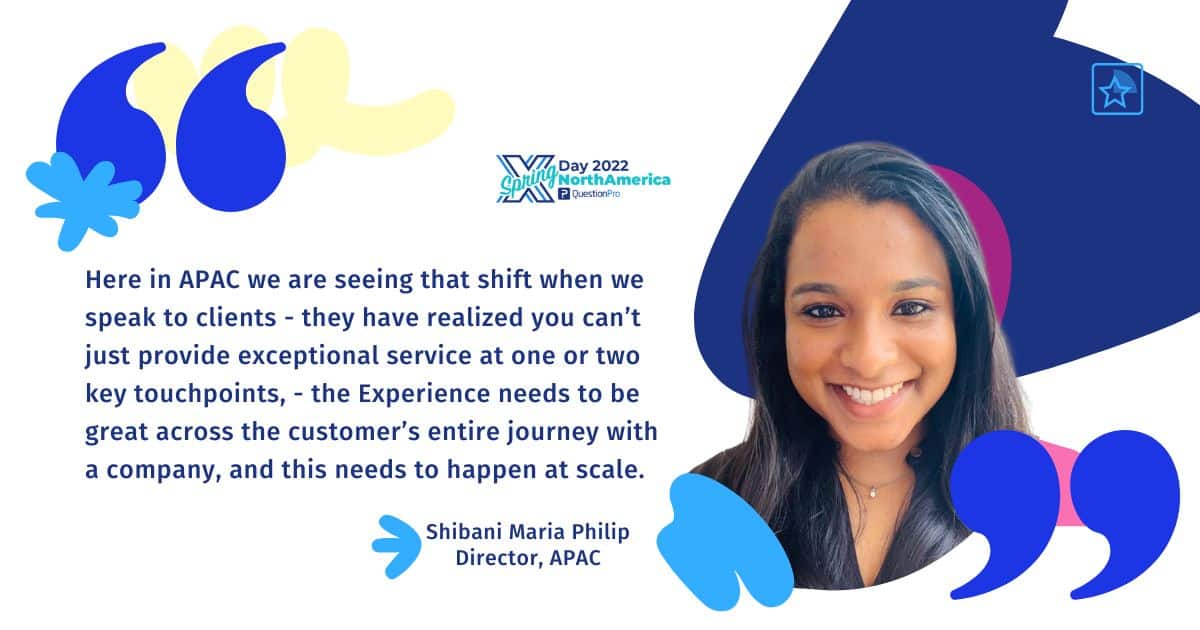 Raul Rodriguez, Director of CX at QuestionPro LATAM, believes that Customer Experience is a mindset that companies need to embrace in order to become real customer-centric, so the first step for senior leadership would be to acknowledge that delighting customers must be the focus of all strategies, not product, not cost.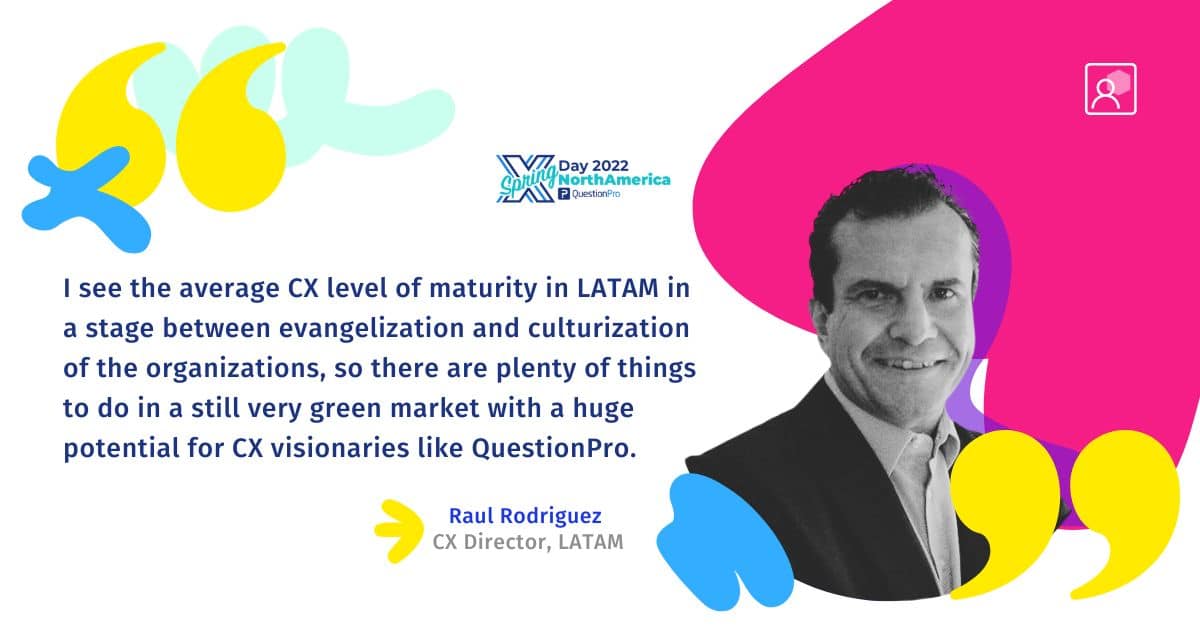 Thomas Maiwald-Immer, Head of Sales at QuestionPro Europe, noticed that these days it's no longer about just conducting yearly customer satisfaction surveys. Today, businesses understand that they need to implement CX at every touchpoint of the customer journey and so run different types of surveys like NPS surveys, transactional experience surveys, and many more. And insights can play an important role in impacting the experience. Earlier market research and customer experience departments used to work separately, but now they work hand in hand and have merged into a unified entity called customer experience insights.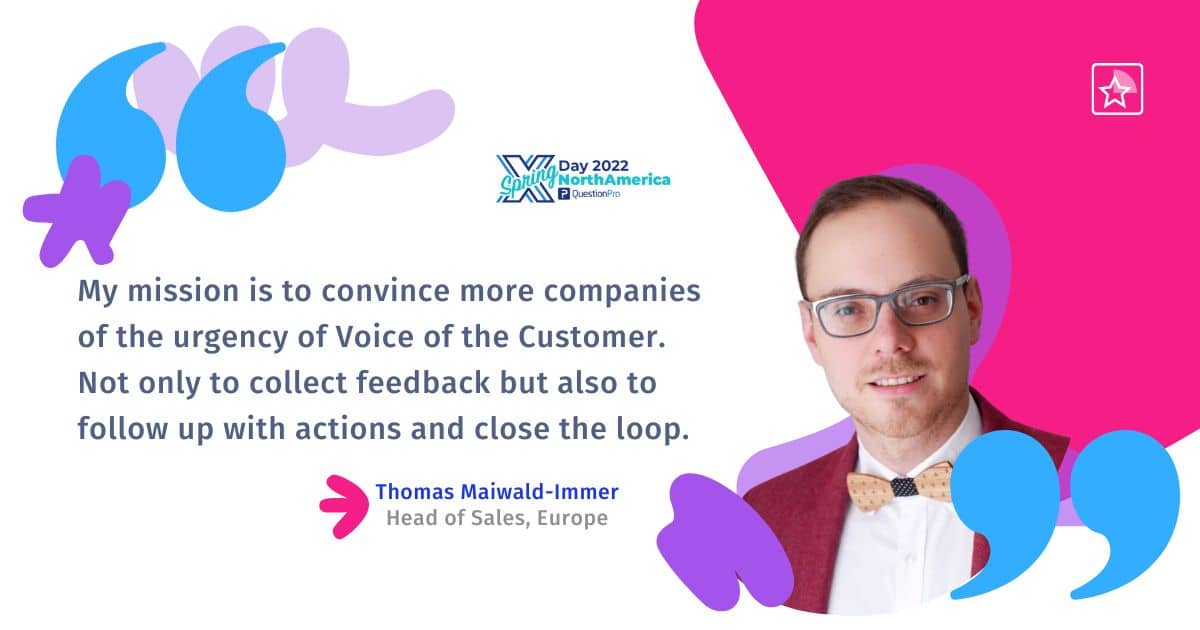 The panel also discussed how insights can actually influence decision-making and the CX trends influencing businesses across the world.
Watch the Panel Discussion here.
At 12 pm, we had a CX product showcase by Ken and Jayleen. They talked about the latest features released in the past couple of quarters and the new features coming up soon in the near future.
Ken started by highlighting the outer loop approach and how it's better than the closed-loop feedback system. The outer loop digs into the root cause of customer satisfaction and improves the efficacy of the CX program. It also improves employee engagement as they get to be involved and see how their effort impacts the end customer. The closed-loop feedback approach, on the other hand, alerts managers of potential detractors and prompts them to take action.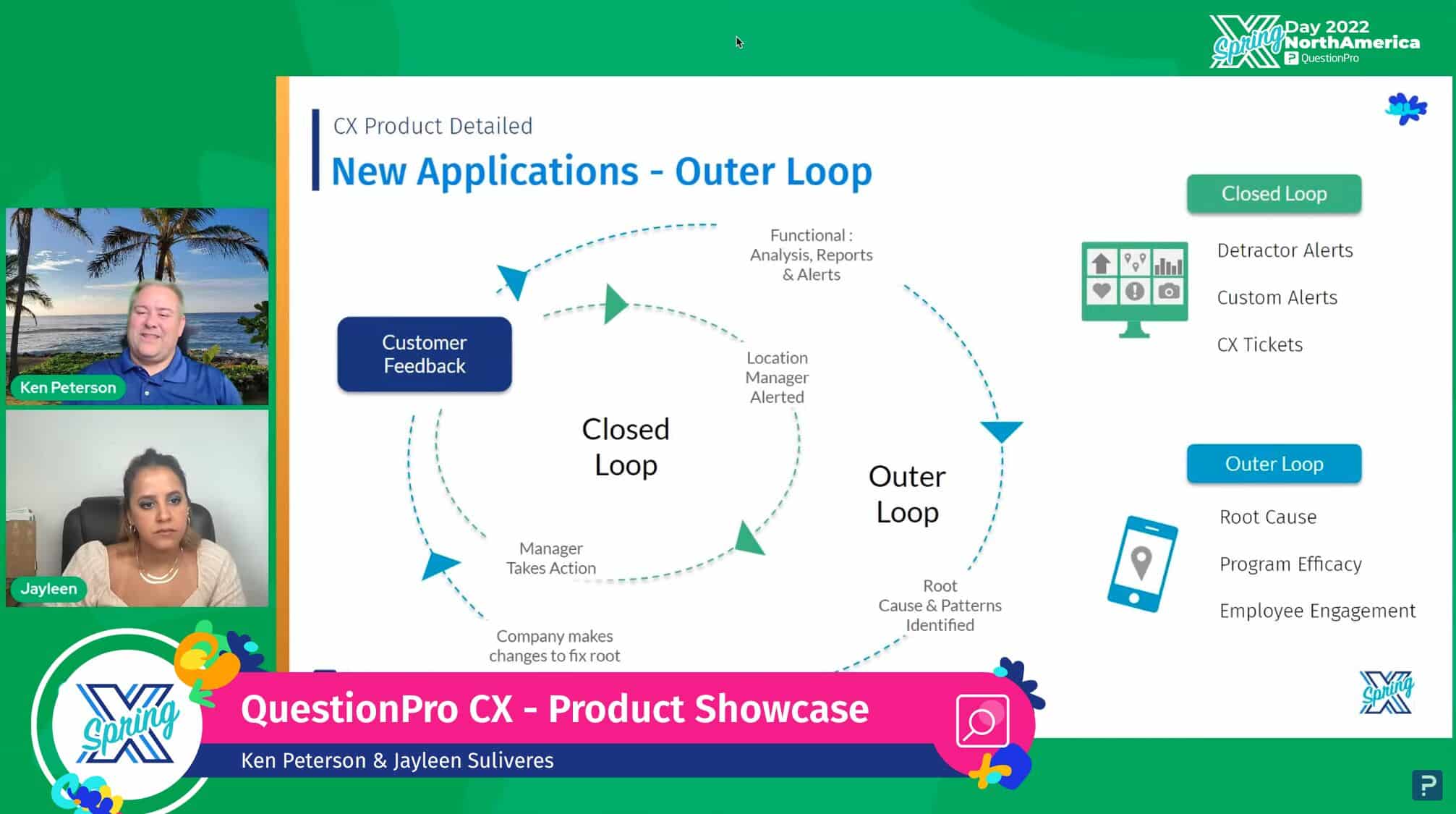 Another interesting feature we released is Reputation Management. You can now supervise and take action from the reviews and ratings of your consumers. We have developed the below functions so that you can always keep an eye on your online reputation and act before it's too late.
– Single Platform for Reputation Management
– Reply to Reviews
– Real-time Analysis
– AI Sentiment Analysis
– Action Alerts
Next, Ken talked about our one-of-its-kind NPS+ in QuestionPro CX. It's a step ahead of NPS and dives deeper into customer feedback. It not only asks the respondent to rate on a scale of 0-10 (like the NPS question), but asks an open-ended question too to elaborate on their experience.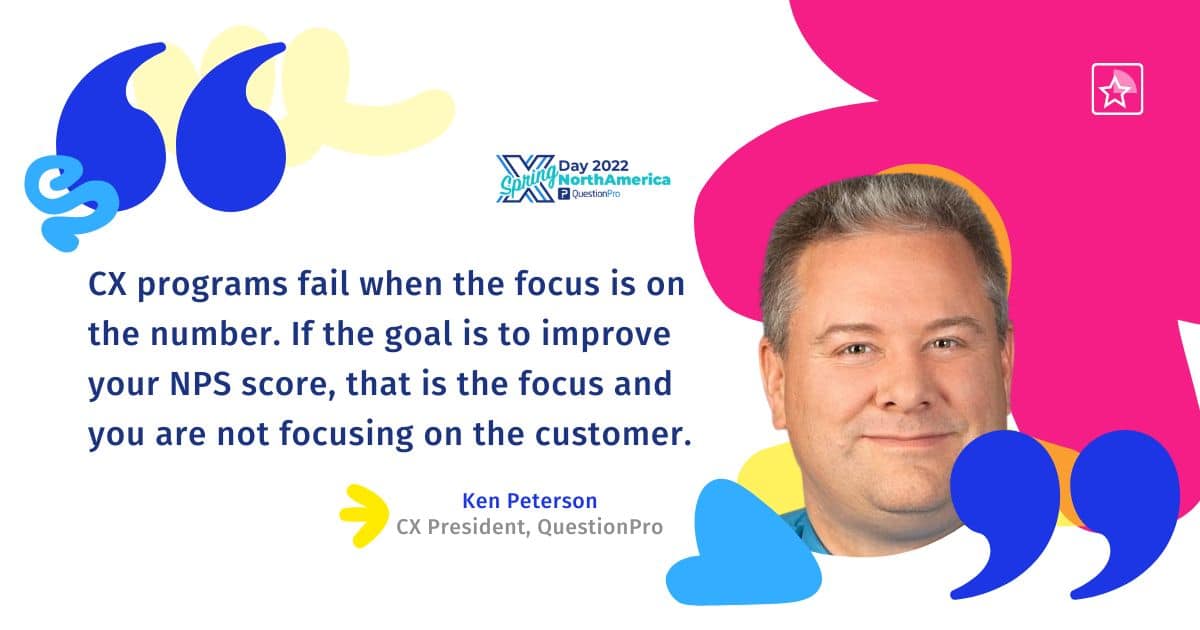 The product showcase ended with a demo and questions by the attendees.
Watch the Product Showcase video here.
Our Spring XDay 2022 wasn't just about presentations and chats!
The day was filled with lots of interesting insights, fun, and interaction! All attendees received a free Starbucks coffee. Selected attendees got Airbnb card, Obé Fitness anual membership and a MasterClass pass to our livepolls winner. Watch live polls in action here.
If you couldn't attend the CX Tuesday on Spring XDay 2022 North America, watch it here.
And don't forget to register for our Fall XDay coming up on October 26th, 2022!