Here at QuestionPro, we're always working to give you the best resources to help you gain the insights you need. We've expanded our Multi-Point Scale Matrix Table question type by introducing the new Bipolar Matrix question type!
Matrix Questions Overview
A matrix table can be used when asking about the same set of characteristics for multiple items, such as how often a respondent uses a set of products. The questions are arranged in a table or a grid to consolidate the information for the respondent.
There are several variations on the Matrix Table question. Each variation has unique options and a unique format. The Likert scale was the original option for our multi-scale matrix question type, and we've now added the Bipolar Matrix question type.
Variations
Likert
The Likert Scale variation uses a table format to display a list of statements (rows) and scale points (columns). Question options can be Single Answer, Multiple Answer, Dropdown List or Drag and Drop.
Bipolar
A Bipolar matrix table displays two extremes of a scale with the extremes set by the survey admin. Respondents select a point between the two. Those points can also be labeled to help guide respondents through the scale.

How to Set Up a Bipolar Matrix Question
After selecting the Multi-Point Scale matrix question, open the settings in the question.

In the settings tab, select "Bipolar" in the Type section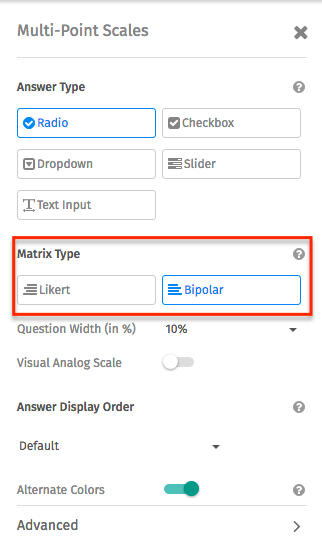 Add your question in the "question text" area at the top.
You can then configure the scale for your question using opposite terms on each side of the scale. This is also where you can add columns and rows in the scale, and add headers to the columns.
Our Multi-Scale Matrix Table question type— including Bipolar Matrix Question Type,  is included in all licenses with QuestionPro. Sign up for FREE here or login into your account to start using it today!