Think about the last time you visited a doctor's office— were you filling out a patient survey by pen and paper or digitally? Now, imagine a visit where you are spending more time with the doctor than in the waiting room, in and out of the office in a jiffy, and engaging with the doctor on more than just the symptoms and treatments. This isn't too good to be true and surprisingly, the patient's office visit experience begins with a patient engagement survey.
With the full office visit experience in mind, one of our recent QuestionPro survey updates—the Homunculus question—was built with the purpose of improving efficiency and the doctor-patient relationship.
What is the QuestionPro Homunculus question type?
The Homunculus question type captures visual patient data, based on patients choosing the area of discomfort felt in the body.
While still being part of short patient engagement surveys, this single question type can pinpoint 24 pain locations on the front and 29 locations on the back of the human body, allowing healthcare professionals to gain a preliminary, but clear idea of patient status. As a result, this leads the exam room conversations in greater detail and creates a more efficient and improved experience for those involved.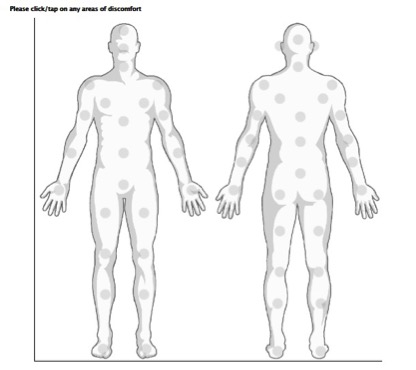 Adding the Homunculus Question to Your Survey
Just as with all QuestionPro question types, the Homunculus survey question is supported on mobile devices, and can be taken offline with the QuestionPro Offline Mobile app.
Homunculus question types can be added simply by going into the "Advanced Question Types" list, and then selecting the "Healthcare" questions category.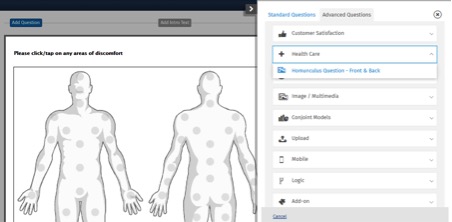 Why It's Useful
Many of QuestionPro's healthcare clients have found this question type to change the way they work with patients by using it in one of two ways:
1.)  On-Premise: Personal physical data is collected from the patient with a short survey by way of a tablet and the QuestionPro Offline Mobile App. Often, these surveys are taken while patients are in the waiting room, before meeting with the doctor, so that each appointment can be more productive and focused on building the doctor-patient relationship.
2.) Remote Assistance: Because the development of technology has generated a new lifestyle around the world, remote doctor assistance has also become increasingly common. As remote doctors, several QuestionPro users send email surveys to patients with the intent to gain an initial understanding of the patient's condition prior to starting a video conference.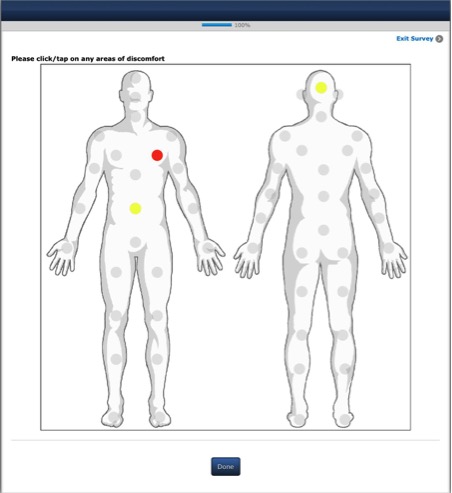 Discovering Patient History
To improve the healthcare experience even more, QuestionPro's API integration also allows doctors and medical institutions to retrieve patient history and past medical records, requiring less work from the patient and giving doctors the most accurate patient insight to personalize and ask the most appropriate questions.
Learn More: Fitness Class Survey Questions Template