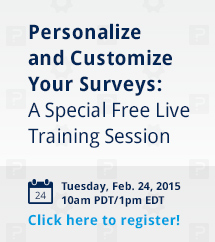 During this special free training session on Tuesday Feb 24th, we are combining all of the ways to personalize and customize your surveys.
This session is going to be ACTION PACKED with powerful techniques to completely personalize the survey experience for you and your respondents.
In this session we'll show you how to use QuestionPro features to:
Increase your brand recognition with customization
Increase response rates with personalization
The agenda includes:
Best Practices
We will discuss relevant best practices, including:
How to use these powers for good and not for evil;
when too much is too much.
Personalization
We will show you (not just hint at, not just show screencaptures, but actually show you) how to:
Use custom variables to personalize! Custom variables are very powerful! Use them for:

URL appending
Uploading excel files
Customizing the invitation
Customizing the survey itself

Extract data from one question into another question (makes the questions super duper relevant)
Pipe text (enter your data, then pipe that as a custom variable to the rest of the survey)
Customization
Send custom notifications to survey administrators and stakeholders
Use pre-built themes to give your survey some color
Create a custom URL for your survey
Use totally custom CSS control to give your survey your full brand treatment
Change the thank you page to do everything from show your respondents a custom link to redirecting them to your own website.
Even More
Learn how to uploade images for rating scales.
Use the Push to Social question (get notified of issues; request social sharing of positive feedback)
Add rewards – self-fulfilled, Starbucks/Amazon/Tango cards, and even custom coupons
The session will run for 30 minutes with an additional 15 minutes for Q&A. So bring your questions, get logged into your QuestionPro account so you can follow along, and LET'S GET PERSONAL!