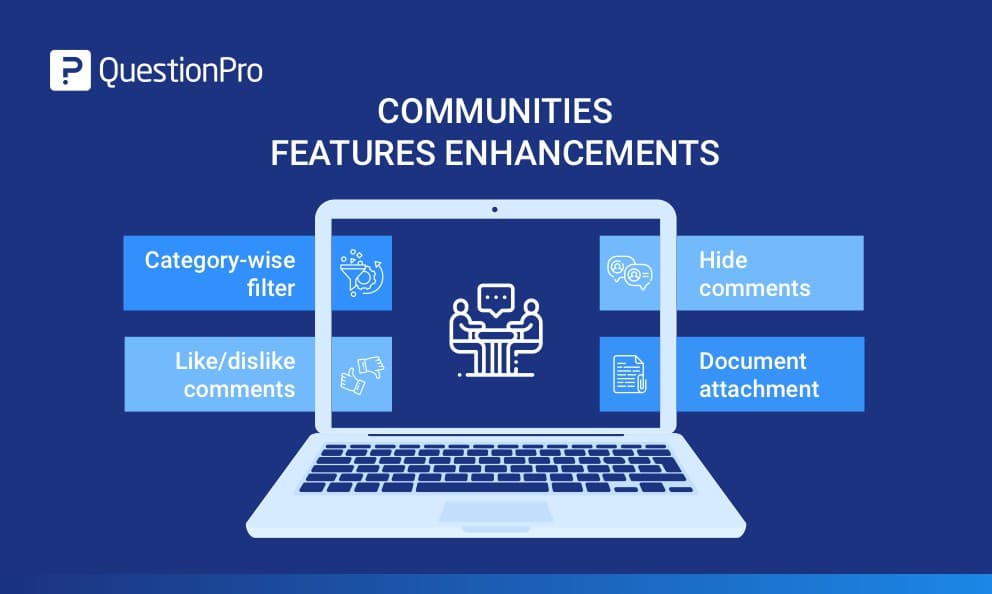 Engaging community members and keeping them involved in participating in community discussions is what differentiates a strong community from a weak one. A community with maximum participation from its members paints the whole picture and will get you more actionable and realistic insights. 
We at QuestionPro Communities have made changes to our topics module to make it both fun and informative. These changes are bound to attract more members and increase their participation levels, helping you gather deeper insights from the community members.
Topics is the most used community feature. Because of its interactive interface and user-friendliness, people can communicate and co-create, hassle-free. Topics also allow collecting rich media like images and videos – aiding greater community interaction.
Community feature updates – what's new in topics?
After listening to the needs of our customers, we've got you four new updates in the topics module. These robust features are sure to attract more participation from your community members.
Here are the updates:
Category-wise filter

Like/dislike comments

Hide comments

Document attachment
Let's look at these updates closely.
Category-wise filter
Filter out topics to be displayed based on categories. Also, deploy topics to members with pre-scripted variables in a category.
The problem: Currently community managers are not able to apply a filter on the categories. There is no way to apply the same filter to all the topics associated with the same category.
The solution: We've now enabled community managers and administrators to select a filter while creating a category. The Filter applied to the category will be applied to all the topics under that category. In this way, community administrators and managers can apply filters to the categories and filter out topics belonging to that category only, for further analysis and deployment.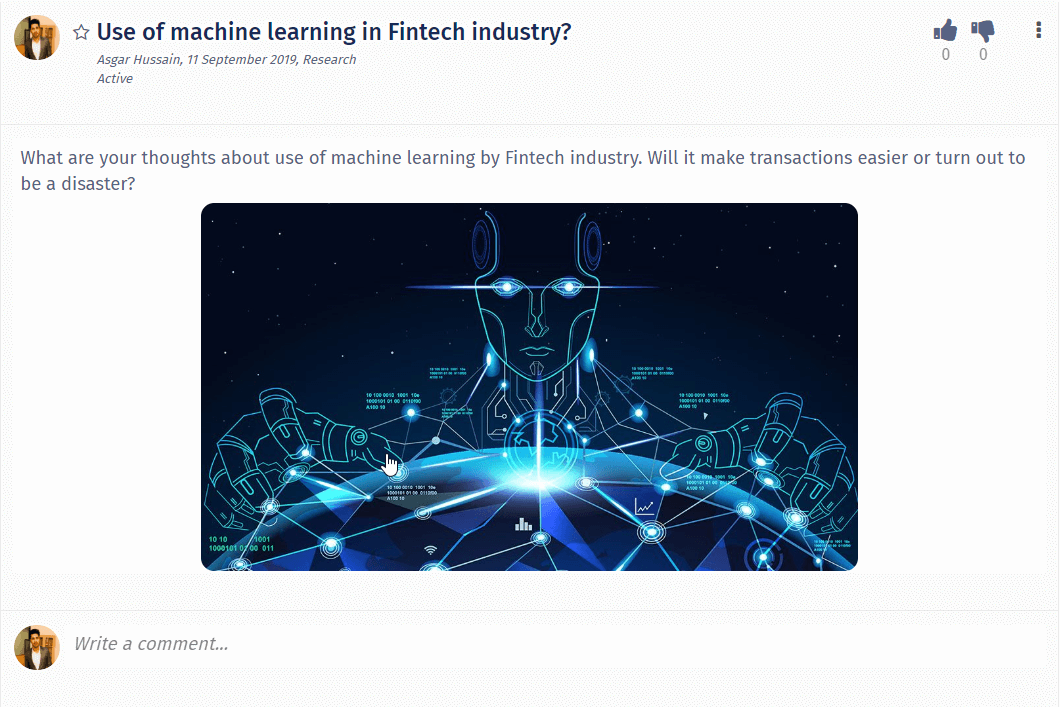 Like/dislike comments
Now enable members to like/dislike comments on discussions.
The problem: Community members aren't able to like/dislike comments on a topic. Community managers have to read all the replies on the comment to understand the sentiment of the members.
The solution: We've now added the option for community members to like/dislike comments on topics. The platform displays the count of likes and dislikes on the comment so that the community manager can instantly gauge the views of the members, only by looking at the count of likes and dislikes.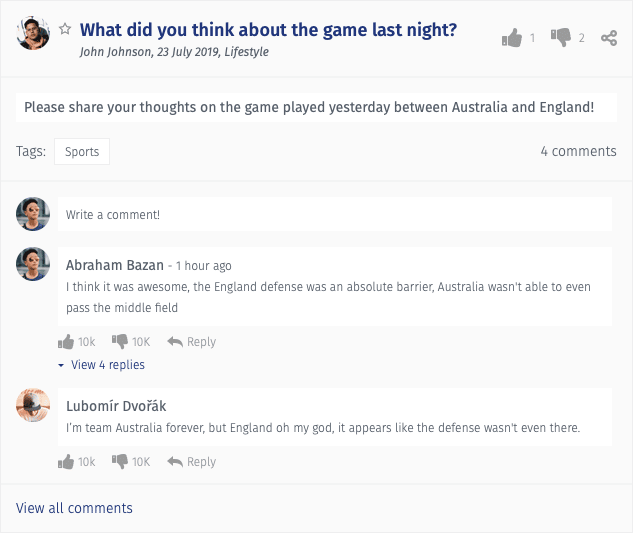 Hide comments
Enable members to see comments from other members only after they have submitted their comments to avoid comment bias.
The problem: Currently, all the comments are displayed to the members. This influences the comments and opinions of the other members too, leaving no room for unique ideas.
The solution: We've provided a toggle to show/hide the comments section to the members who have not added a comment. This toggle can be enabled or disabled as the community manager wishes. Comments on the post will be hidden until the member comments on that specific post. A message will be displayed to the members that they have to input their comments first before being able to view other's comments.
Toggle option to hide comments: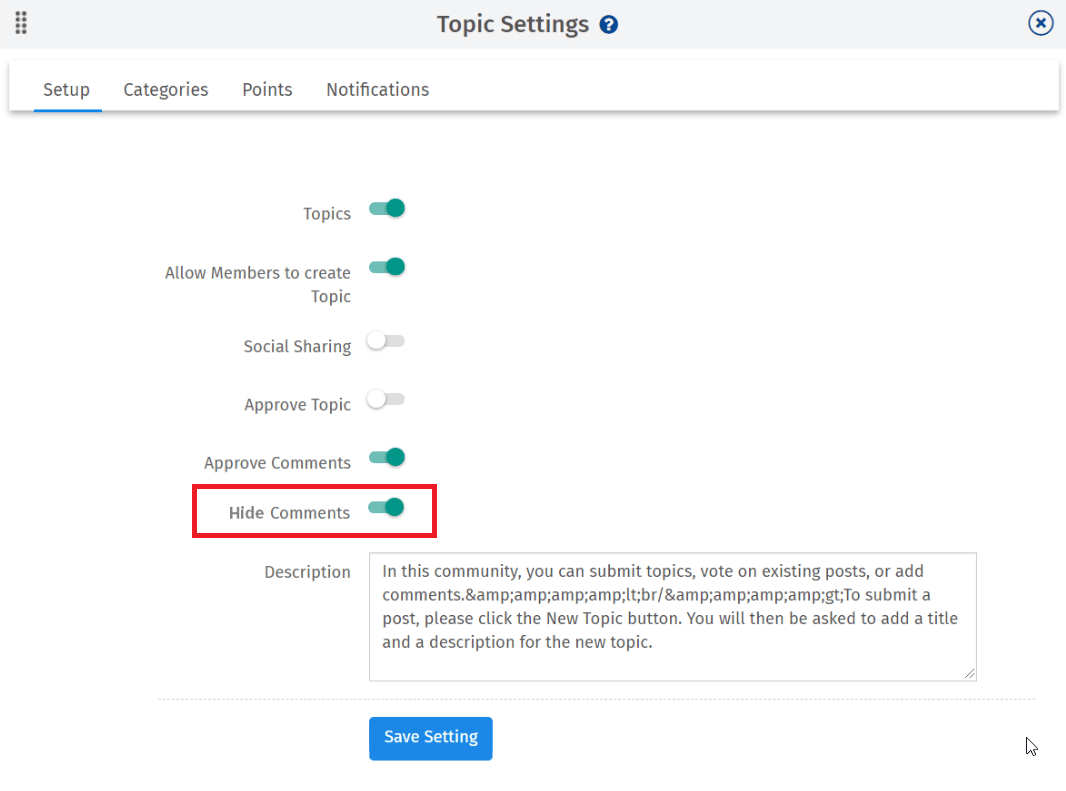 Write a comment to see the entire conversation: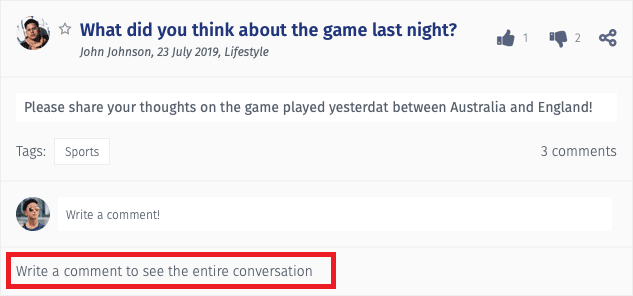 Document attachment
Enable members to attach documents and rich media to share additional information related to the topic.
The problem: Currently, the members are not able to attach a document with a topic. Additional information related to the topic cannot be shared in a document. There is a need for community managers and members to add documents, and rich media to capture more meaningful insights and increase the participation of members.
The solution: You can now attach documents and rich media like videos and images to topics to attract and engage more community members. Community members can now select an attachment while creating a topic and the document icon will be displayed on the topic. Community managers too can attach documents while creating topics.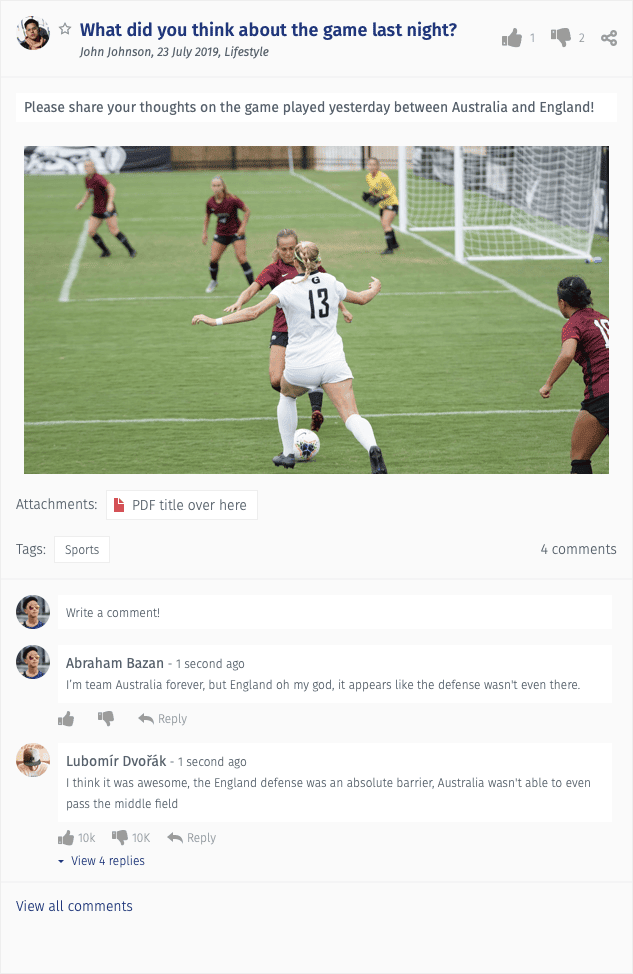 All these four new features are now available for all existing Communities license holders. Let us know what else you need to fully engage your community and we'll be sure to support you on that.