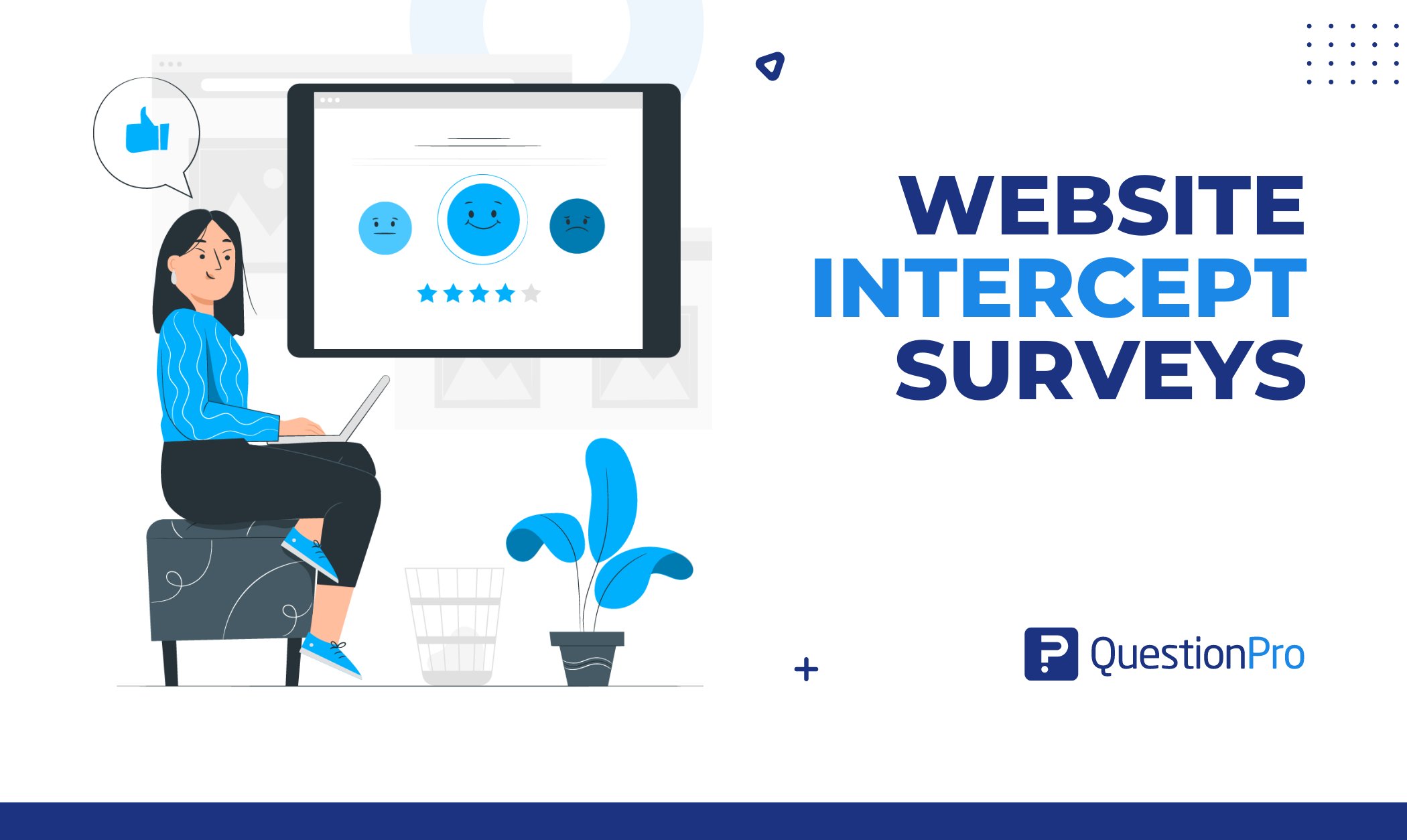 In today's digital landscape, user experience (UX) holds the key to attracting and retaining customers. As businesses strive to provide seamless online interactions, they turn to innovative tools like website intercept surveys.
These surveys have emerged as a powerful strategy for understanding user preferences, pain points, and needs in real time. In this blog, we'll delve into the world of website intercept surveys and explore how they can significantly enhance user experience.
What are website intercept surveys?
Website intercept surveys are online surveys that appear to visitors while active users actively engage with a website. These surveys are strategically positioned to capture real-time customer feedback from users about their experiences, preferences, and opinions.
By intercepting users during their browsing sessions, businesses and website owners can gather valuable insights to understand user behavior, identify pain points, and improve the overall user experience.
This approach allows for timely data collection and enables organizations to make informed decisions to enhance their websites, products, and services based on direct user input.
To make the most of website intercept surveys:
Strategic Placement: Determine the right moments to trigger the surveys. For example, you might target users who have spent a certain amount of time on a page or have engaged with specific features.
Clear and Concise Questions: Craft questions that are easy to understand and require concise answers. Avoid overwhelming users with lengthy surveys.
Mix of Question Types: Use a mix of question types to gather both quantitative and qualitative data. This can include rating scales, multiple-choice questions, and open-ended prompts.
Timely and Limited: Keep surveys short and relevant. Users are more likely to participate if they know it won't take much of their time.
Data Analysis: Regularly analyze the collected data to identify patterns, trends, and common feedback themes. Use this information to drive improvements.
Feedback Loop: Consider closing the loop with users by sharing how their feedback led to changes. This shows transparency and can encourage more users to participate in future surveys.
Continuous Iteration: Implement a continuous cycle of collecting feedback, making improvements, and then re-evaluating the impact of those changes through further surveys.
Importance of website intercept surveys
Website intercept surveys are essential for businesses and organizations looking to gather valuable insights from their website visitors. These surveys pop up or appear as overlays while a user is interacting with a website, prompting them to answer specific questions. The importance of website intercept surveys lies in several key benefits:
Website intercept survey provides an opportunity to capture real-time feedback from visitors while they are actively engaging with your website. This immediate feedback can help you understand user behavior, preferences, and pain points at the moment of interaction.
User Experience Improvement
By collecting feedback on user experience (UX), navigation, design, and overall satisfaction, you can identify areas of your website that need improvement. This can lead to better user engagement, longer visit durations, and increased conversions.
Intercept survey helps you gather insights into your customers' needs, preferences, and expectations. This data can inform product development, marketing strategies, and customer support efforts.
Users might encounter technical issues or bugs while navigating your website. An intercept survey can act as a quick way for users to report these problems, allowing you to address them promptly and ensure a smoother online experience.
Segmentation and Personalization
Intercept surveys can include questions that help you segment your audience based on their preferences and behaviors. This data can then be used for personalized marketing campaigns and targeted content delivery.
If you have hypotheses about user behavior or preferences, intercept survey questions can provide data to validate or refute these hypotheses. This data-driven approach is crucial for making informed decisions.
Conversion Rate Optimization
Understanding why users might abandon a shopping cart or exit a certain page can help optimize conversion rates. An intercept survey can shed light on the factors influencing these actions.
You can use surveys to collect customer feedback on how your website compares to your competitors. This information can highlight areas where you're excelling and areas that need improvement in relation to the competition.
Customer Engagement and Relationship Building
When users feel that their opinions are valued and considered, it can enhance their connection with your brand. This engagement can foster customer loyalty and long-term relationships.
Data-Driven Decision Making
The insights gained from the website intercept survey provide a data-driven foundation for making strategic decisions related to website design, content creation, marketing, and more.
A/B Testing and Iterative Improvements
An intercept survey can help you validate the results of A/B tests and iterative changes on your website by understanding how these modifications impact user perception and behavior.
Common uses for a website intercept surveys
Website intercept surveys are valuable for gathering feedback and insights directly from website visitors. They involve presenting survey questions to users while they are actively engaging with your website's content. Here are some common uses for websites such as surveys:
User Experience Improvement
Gathering website feedback on the user experience can help identify pain points, navigation issues, or areas where visitors might be getting confused. This data can guide website design and functionality improvements.
Customer Satisfaction Measurement
Website intercept surveys can gauge how satisfied visitors are with their website experience on your site, allowing you to identify areas of strength and weakness and make adjustments accordingly.
Product or Service Feedback
If you're an e-commerce site, you can use such surveys to collect feedback on specific products or services. This can help you understand what customers like or dislike and make necessary adjustments.
Exit Intent Surveys
These surveys are triggered when a user is about to leave your website (move their mouse towards the browser's close button). They can help you understand why users are leaving and whether there's anything you can do to retain them.
Visitor Demographics and Preferences
Intercept surveys can be used to collect information about your visitors' demographics, interests, and preferences. This data can be useful for tailoring your content and marketing strategies.
Market Research
You can use these surveys to gather information about visitors' brand awareness, perceptions of your industry, or preferences for certain products or features.
NPS (Net Promoter Score) Surveys
You can use such surveys to calculate your NPS by asking visitors how likely they are to recommend your website to others. This helps gauge overall satisfaction and loyalty.
A/B Testing Feedback
When running A/B tests to compare different versions of your website traffic, intercept surveys can help you understand users' preferences and opinions on the changes.
Collecting Testimonials and Reviews
If you have a product or service that customers are happy with, you can use intercept surveys to prompt satisfied customers to provide testimonials or reviews.
Benefits of website intercept surveys
Intercept surveys capture users' impressions and opinions while they are still on the website, providing immediate insights into their experiences. This helps in identifying issues as they occur and addressing them promptly.
By seeking input directly from users, you demonstrate that you value their opinions and are committed to improving customer experience. This can foster a stronger connection between users and your brand.
Intercept website surveys are delivered in the context of users' interactions, enabling you to understand their feedback within the framework of their browsing behavior. This context can lead to more accurate feedback and actionable insights.
Intercept surveys can help identify pain points, friction areas, or confusion that users may encounter during the customer journey on the website. This information is critical for making targeted improvements.
These surveys can act as a form of ongoing usability testing, allowing you to test new features, designs, or updates before fully implementing them. This can prevent potential negative impacts on user experience.
Personalization Opportunities
Based on the information collected, you can tailor the user experience more effectively, providing content, features, and solutions that align with users' preferences and needs.
Prioritizing Improvements
The data collected from intercept surveys can help you prioritize improvements based on user feedback. This data-driven approach ensures that your efforts are focused on addressing the most pressing issues.
Quantitative and Qualitative Insights
Intercept surveys can provide both quantitative data (rating scales, multiple-choice questions) and qualitative data (open-ended questions), giving you a comprehensive view of user sentiment and the reasons behind their feedback.
How QuestionPro can help in website intercept surveys
QuestionPro is a survey and research platform that offers various tools and features to help businesses and researchers collect, analyze, and make decisions based on data obtained through surveys. Website intercept surveys are one of the methods QuestionPro can assist with. Here's how QuestionPro can help with website intercept surveys:
Targeted Audience Engagement
QuestionPro allows you to set up website intercept surveys to engage with specific segments of your website visitors. You can create custom targeting rules based on factors such as time spent on the site, pages visited, location, referral source, and more. This enables you to reach the right audience with relevant survey questions.
Customizable Survey Design
The platform provides a range of survey question types and templates that you can use to design your intercept surveys. You can customize the look and feel of the survey to match your website's branding, ensuring a seamless user experience.
Exit-Intent Popups
With QuestionPro, you can create exit-intent popups that trigger when a visitor is about to leave your website. These popups can contain survey feedback questions aimed at capturing feedback about their browsing experience, reasons for leaving, or any other relevant insights.
Feedback Collection
Intercept surveys on QuestionPro can gather feedback about your website's various aspects, such as usability, design, content, and functionality. This feedback can help you identify areas for improvement and make data-driven decisions to enhance the user experience.
Real-time Analytics
QuestionPro offers real-time reporting and analytics for the data collected through your website intercept surveys. This allows you to monitor survey responses as they come in, identify trends, and quickly make informed decisions based on the data.
Survey Routing and Logic
You can use advanced survey routing and logic features to tailor the survey experience based on respondents' answers. This helps create a more personalized and engaging survey flow.
Data Security
QuestionPro takes data security seriously, offering features like secure data storage and compliance with privacy regulations like GDPR.
QuestionPro can help you effectively implement website intercept surveys to gather valuable feedback from your website visitors. This feedback can provide insights into user behavior, preferences, and areas for improvement, ultimately contributing to a better user experience and increased customer satisfaction.