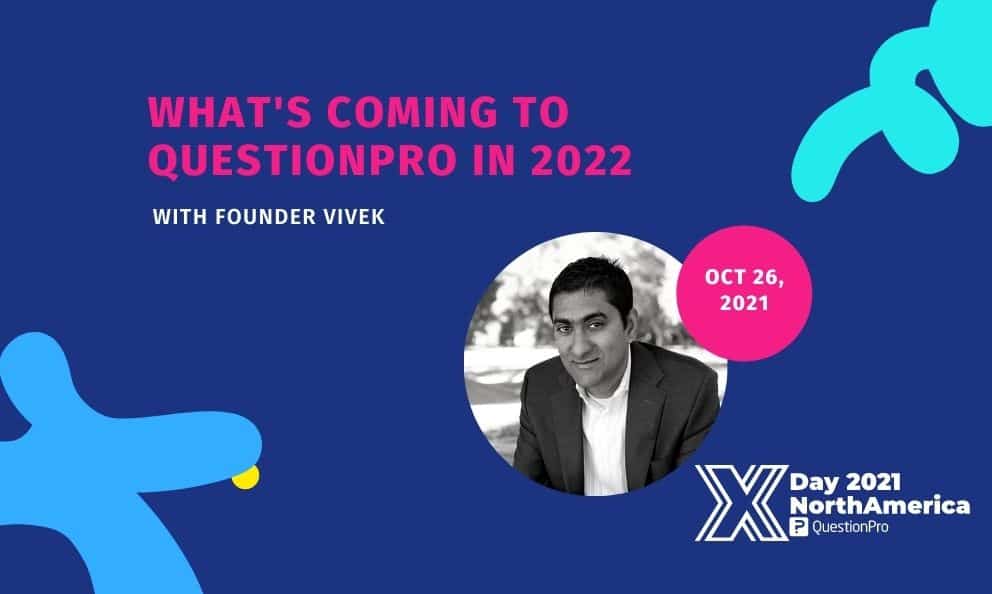 Our virtual customer conference – XDay Fall 2021 North America – started with a bang on Oct 26, 2021, with a coffee session by Crystal Wiese, Director of Marketing and Dan Fleetwood, President, Research and Insights.
XDay officially started with the session titled 'What's coming to QuestionPro in 2022',  kicked off by Vivek Bhaskaran, Founder and CEO of QuestionPro. With a quick introduction about himself and the company, he moved on to talk about the latest products developed and released for our customers.
Here's a quick recap in case you missed it. Watch the full video here.
Vivek gave an overview of QuestionPro's experience transformation platform and categorized our products into research and insights, customer experience and employee experience. He spoke about what new products and features will be launched in 2022 under these categories.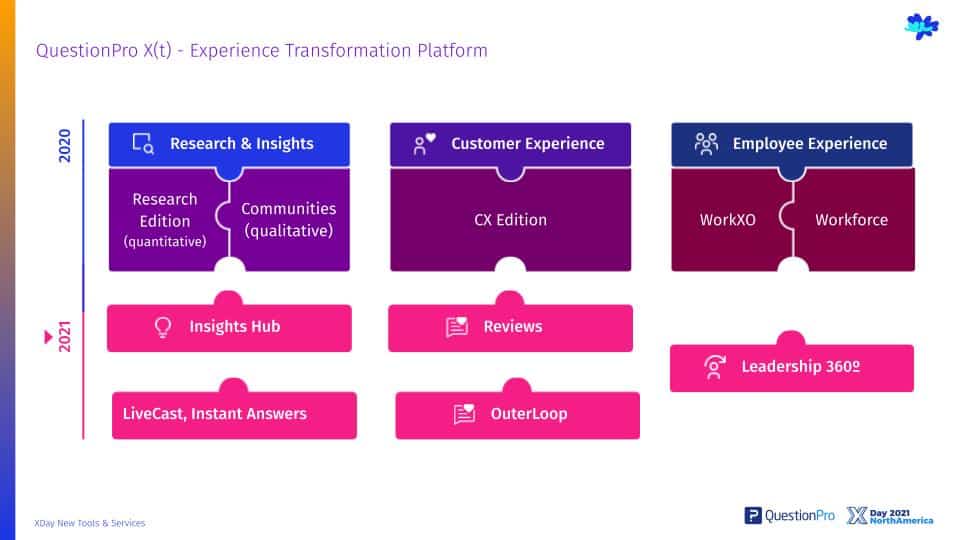 But before diving into the details, Vivek went back in time and reflected on the past two years. Thinking about how research has evolved in these times, he believes that the two themes that have emerged are agility and time to insights, and are likely to continue in 2022 as well. He thinks that the speed at which we generate insights and the ability to adapt our research strategy and efforts are more important than ever. Consumer preferences are changing fast and if the research methods don't evolve to keep pace with them, then it will affect the decision-making process.
Starting off with the latest product showcase, he introduced everyone to the InsightsHub. Typically, the research teams have already done the research on what is being asked for. However, the results are scattered all over the SharePoint folder, Google drive, PowerPoint deck, etc. At times, they are not easily accessible or searchable. We saw a clear need to merge the knowledge and insights gained from various sources and offer a one-stop for all things research.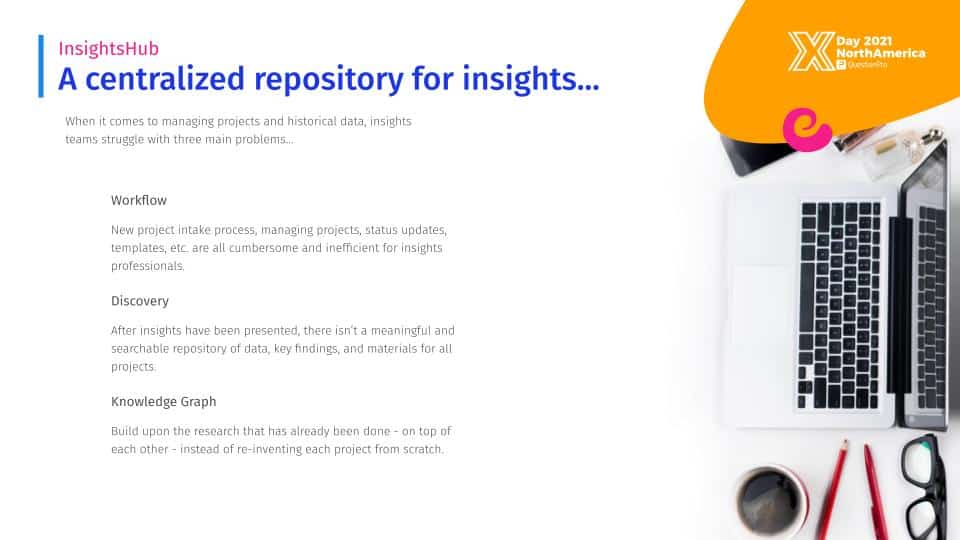 InsightsHub is a platform to organize, search and discover all your research data in a single repository. It democratizes the data collected from different sources like surveys and focus groups, and makes it available to all within the organization. We are running an InsightsHub plot program with a few of our customers. With a tool called Knowledge graph, we can tag researchers, create a parent-child relationship and do a lot more to not just gain interesting insights, but make it accessible to all.
LiveCast is another interesting research edition feature, currently in beta. It enables researchers to collect real time video feedback and generate reports with machine learning and natural language processing to identify the emotions.
At a time when we are going through a pandemic, it becomes imperative to collect video feedback and analyze the underlying feelings. LiveCast offers a viable solution to collect feedback while following the safety guidelines.
Next, Vivek introduced the attendees to a concept in customer experience called 'Outer Loop'. While many of us would have heard of the term – Closed Loop – which means taking action on the customer feedback and amplifying the number of promoters, Outer Loop is one step ahead. It implies many groups within an organization come together to work collaboratively. Our platform lets different teams follow a process and solve problems together. This gives you visibility into how to improve the customer experience by changing the organizational behavior.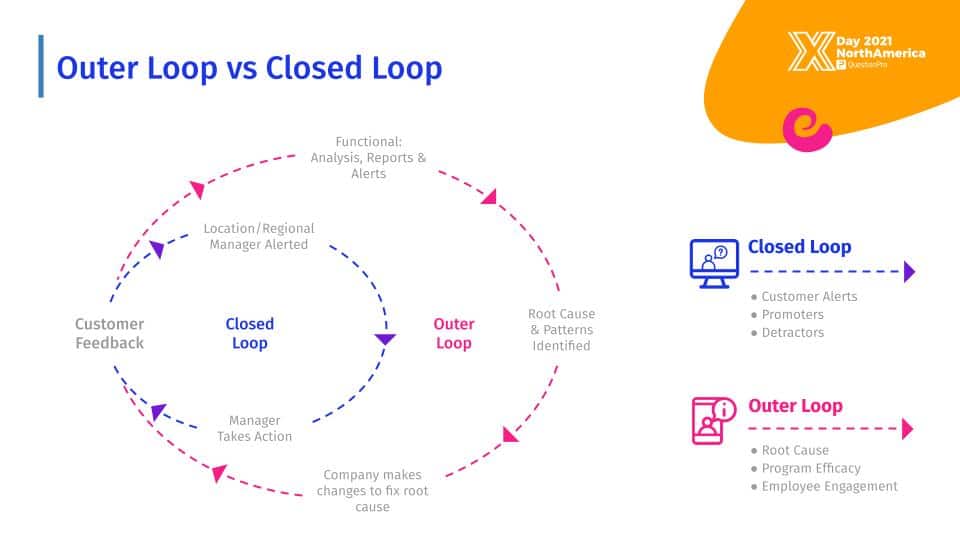 Vivek also took this opportunity to announce that QuestionPro has acquired Bryght AI. 
Bryght AI is a conversational intelligence and scoring platform to help you drive customer retention, satisfaction, and conversion while also protecting your brand. Using AI, we analyze and score the effectiveness of millions of messages between your chatbots or human agents and your customers. It will roll out in our systems by early 2022.
And last but not least, Vivek announced to give away 1000 respondents for free to every customer. These respondents are census balanced across the general population from 40+ countries. To add to it, our customers who have been using QuestionPro for five years, will get 1000 respondents for free per year for five years!
While answering questions, Vivek said that unstructured data is going to be our focus in the coming year. It's one of the reasons we acquired Bryght as they have many tools to give us insights from unstructured data. We have had the best tools to collect structured data using surveys, but it's now time to mix them with the unstructured data based on the industry level lexicons.
Watch the full video here.