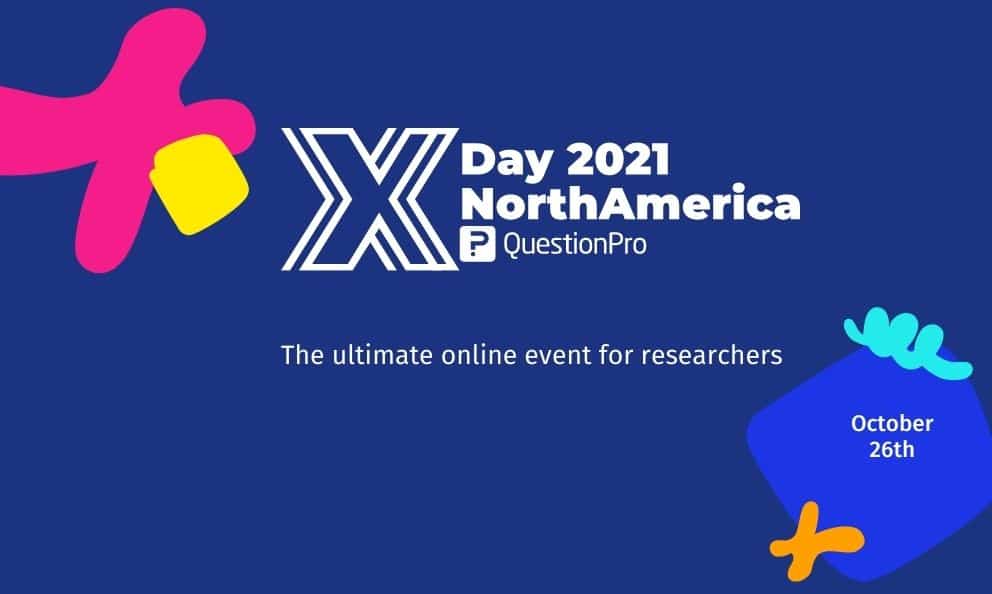 QuestionPro hosted an online conference – XDay Fall 2021, for our customers in North America on Tuesday, October 26, 2021. It was an entirely digital event on InEvent, with our customers and teams spread all over the US, Canada, and India. Here's a quick recap in case you missed it!
Kicking off the day with coffee, Crystal Wiese, Director of Marketing and Dan Fleetwood, President of Research and Insights at QuestionPro, welcomed all attendees.
 Vivek Bhaskaran, CEO and Founder, started off with a presentation on what's coming up to QuestionPro in 2022. The talk gave insights into what researchers can expect in our products and how it will help them advance research. He believes the primary themes in market research will be agility and time to insights in the coming year and will define the outcomes.
He spoke about our recently launched tool – Insights Hub. It is a consolidated platform to organize, explore, search and discover all your research data in an organized repository. This tool will democratize the data collected from various sources like surveys and focus groups, and make it available to all within the organization.
He threw some light on our much awaited feature of the research platform, called Live Cast. It collects video feedback in real time and analyzes emotions using machine learning and natural language processing. This feature was the need of the hour considering the restrictions on in-person events and gatherings. Another striking feature called Outer Loop analyzes customer data and digs into the root causes to improve on the efficacy of the program.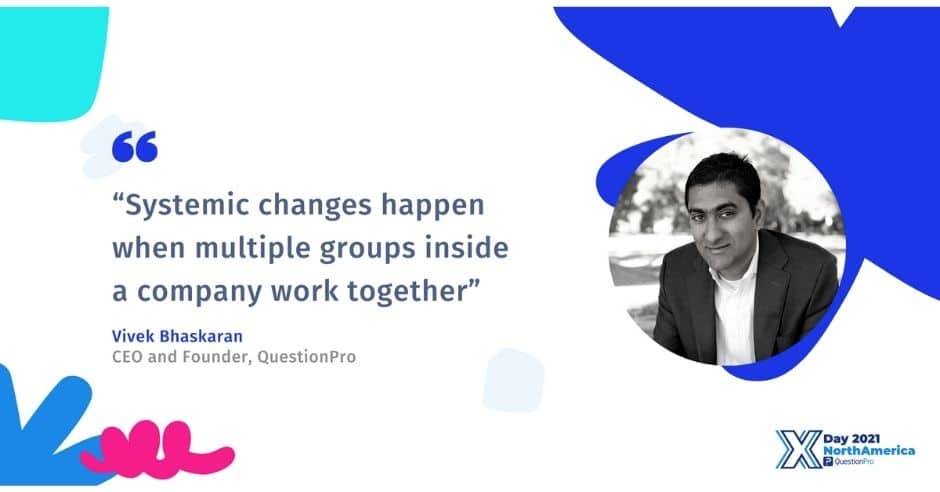 Vivek also announced the acquisition of Bright AI by QuestionPro. Bright AI is a conversational and scoring platform to help you drive customer retention, satisfaction and conversion while also protecting your brand. Using AI, we analyze and score the effectiveness of messages between chatbots or human agents and customers.
Romi Mahajan, CMO, HouseAmp, spoke about contextual business in the age of AI, machine learning, automation, and digital transformation. He emphasized that one cannot build new business paradigms by relying on old methodologies. He believes business and success depends largely on the context they are placed in.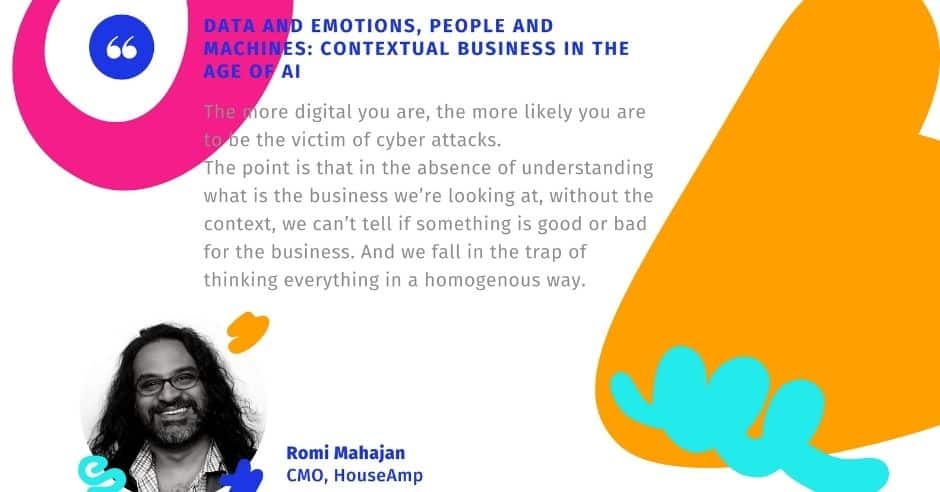 Next we had Dan and Ray Poynter, Founder, NewMR, talk about the good, the bad and uncertainty of democratizing research. Ray started off with the trends in market research. What he doesn't like is sometimes there is a lack of connection between the research and insights team. Ray believes that today you can get answers at the speed of business and so the speed of answers is massively important.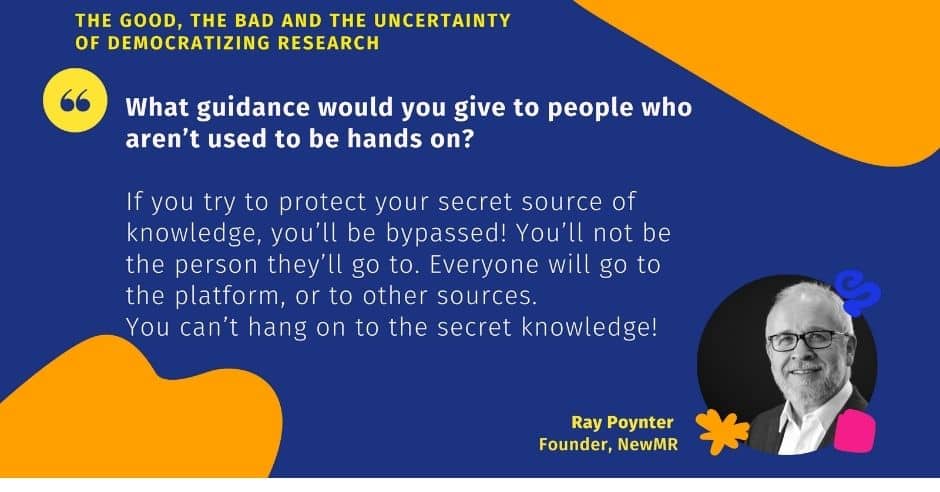 At 12 pm, we had an amazing talk titled – Getting to Yes:  Using Research and Data to tell the right story to the right people – by Lilah Jones, Head of Corporate Sales, Google. While emphasizing the importance of data, Lilah said that it is important because it changes our behavior. Customers must be the core of everything we do and so we must use all sources of data to tell a story. However, facts are only one part of the story. Our story must align with the emotions, mind and actions of the people. And finally, once we tell the story, we must take concrete action to make a difference.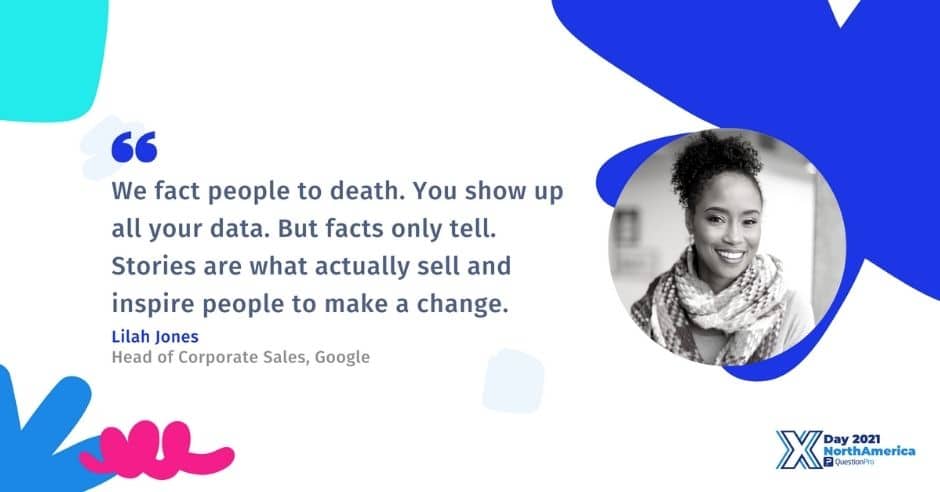 At 1 pm, we had Al Adamsen, Founder, People Analytics | Future of Work and Sanja Licina, Ph.D, President, QuestionPro Workforce, talking on 'Making Everyone Leaders: New Approaches to Scaling Desired Behaviors Throughout an Organization'. Talking about leadership, Al said, "We need to accurately define what great leadership looks like and ensure that we're developing, nurturing and celebrating it." Some of the qualities he thinks leaders must have are insatiable curiosity, willingness to learn and clarity of purpose and values.
Next we had an insightful discussion on customer experience between Ken Peterson, President, QuestionPro CX and Timothy Keiningham, PhD., Donald Kennedy Endowed Chair in E-Commerce, St. John's University. The chat was centered around the CX strategy, titled "Frictionless vs. Memorable: What Is the Right CX Strategy?" Tim spoke about how it is so important to offer a memorable experience after customers having a bad experience. It becomes even more important to offer a great experience to wipe out the memory of previous experiences.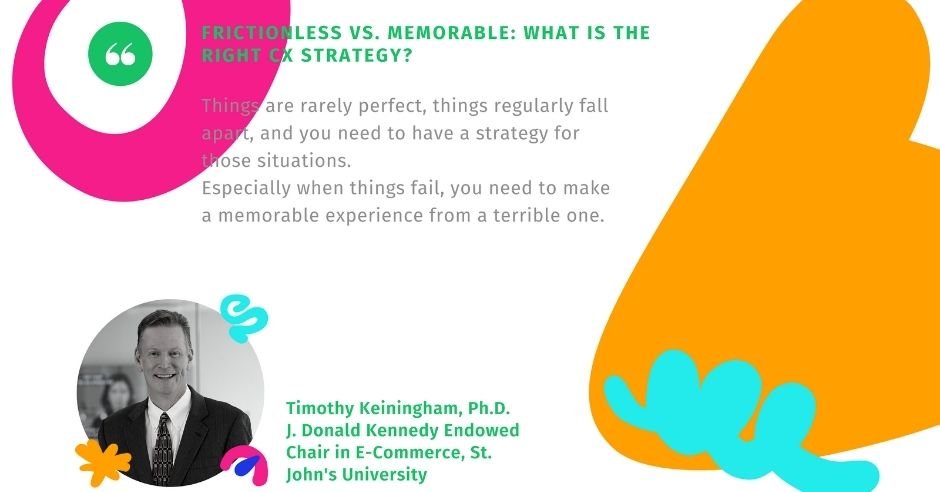 In parallel, we also had a chat going on "Future of Insights: Choice-modeling and more for experience transformation leaders!" between Dan Fleetwood, President, QuestionPro Research and Insights, Stephanie Leung, Manager, Strategic Advisory, Riot Games, and Marissa Sison, PhD., Manager, Market Research and Insights, Verizon.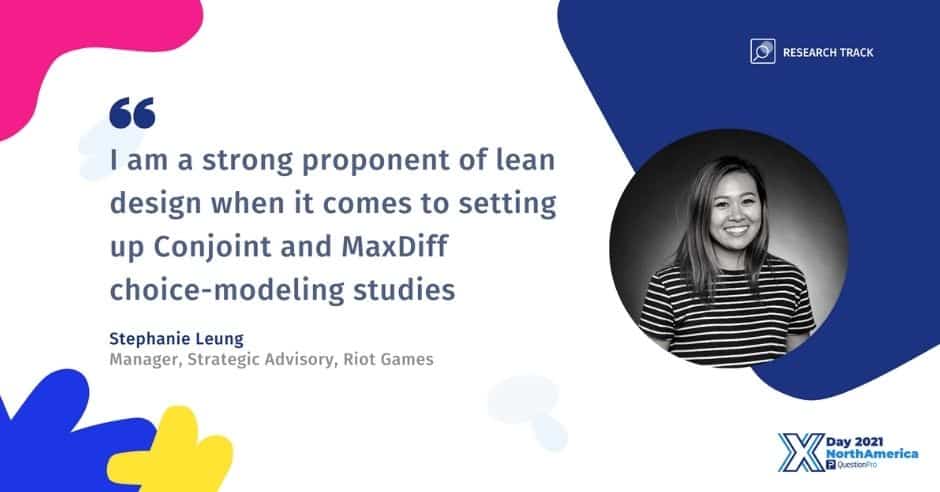 They talked about how researchers can leverage advanced research modeling techniques to derive meaningful insights. They also took a deep dive into choice-modeling and more to support their customers and employees.
It was followed by another chat and Q&A round between CX experts Ken Peterson, President, QuestionPro CX, Manjiri Patwardhan, Head of Client Success, NEPA, and Nune Hovhannisyan, Director, Lux Insights. Though the session was titled "CX: Stories from the Field"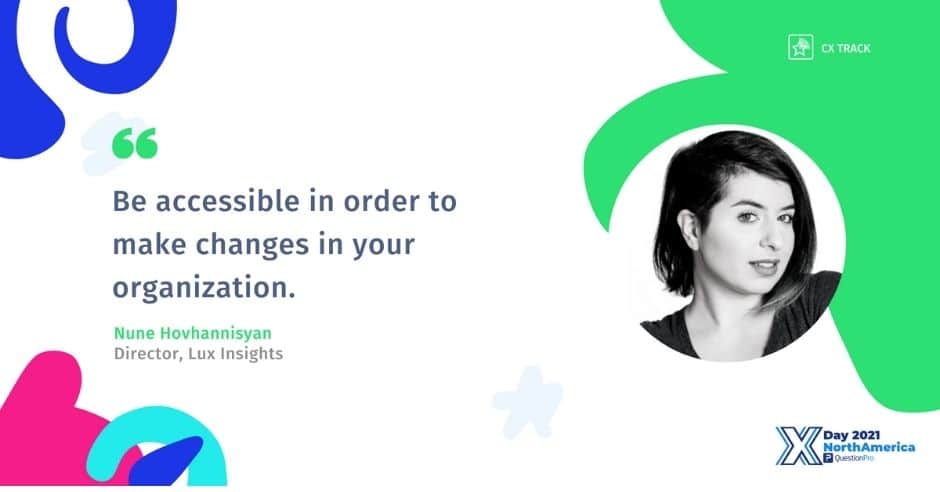 These leaders took everyone through lessons learned from CX initiatives that succeeded, failed, or were just a little crazy. They also answered questions asked by the attendees on how they can offer CX to their customers. Nune thinks we need to be flexible and creative with our approach because every client's needs are different. Whereas Manjiri feels that building expertise takes time. One shouldn't ignore the learnings and that everything stacks at the end.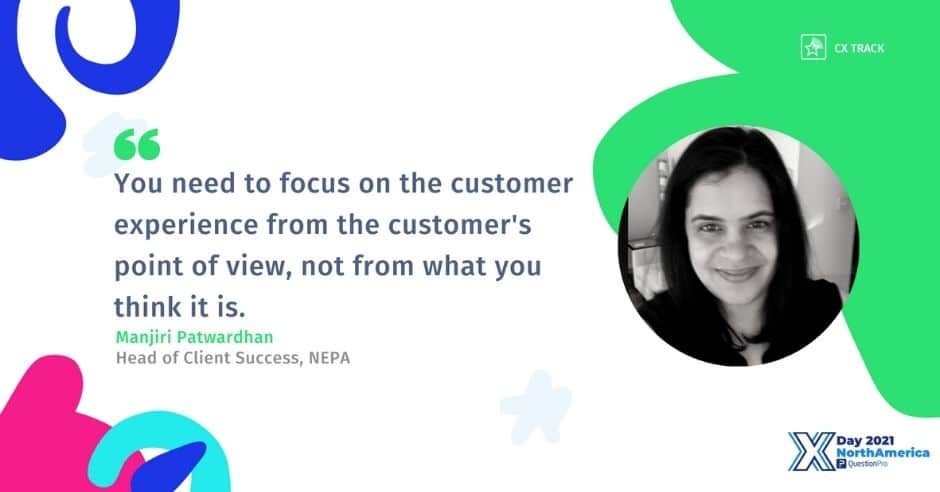 Towards the end of the day, we had Sanja Live Tapping for Work@Life Podcast along with Maddie Grant, Culture designer, PROPEL and Arti Pullins, Founder & CEO, Pundit Consultantz. The all-women group explored the grey areas between work and life as they shared data on relevant workplace, engagement and culture topics.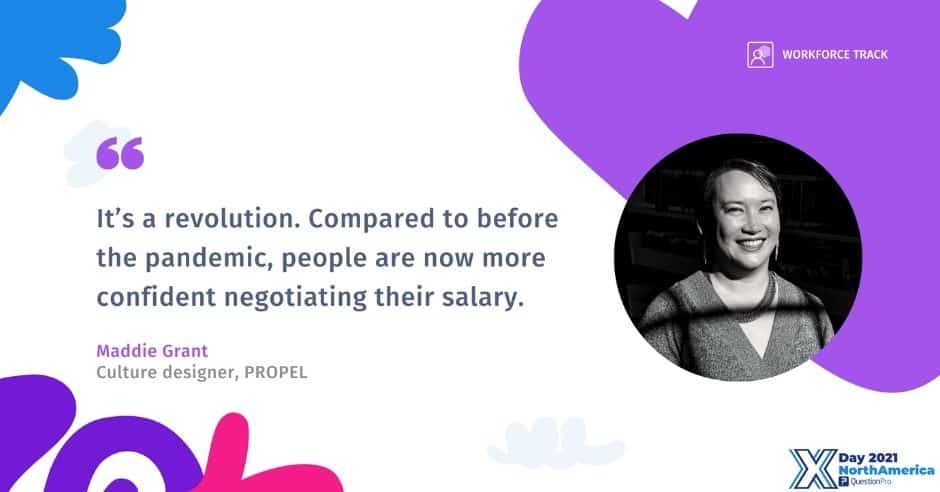 Maddie believes that the pandemic has revolutionized the way people talk about their salaries. They are now more confident negotiating their salaries. Arti, on the other hand, feels that post pandemic the priorities of the people have changed and will continue to change in the future.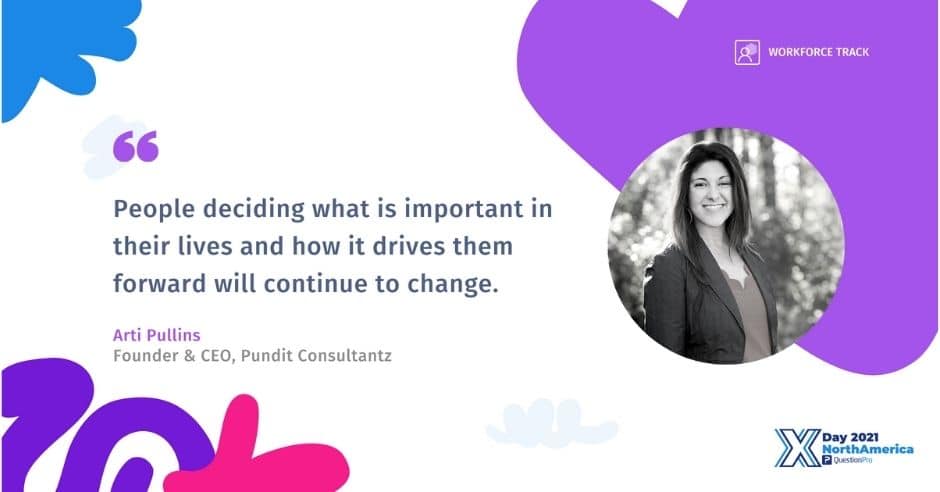 Throughout the day we also had product showcases of QuestionPro Surveys, WorkForce, Research Suite and CX. It walked our users through the latest developments and what to expect in the coming year.
However, our XDay wasn't just about surveys and research!
We also had a trivia quiz on random fun facts using LivePolls with the winner getting an attractive prize. The day was filled with lots of interesting insights, fun, interaction, and gifts!
If you couldn't attend the XDay Fall 2021 North America, catch all the action here.