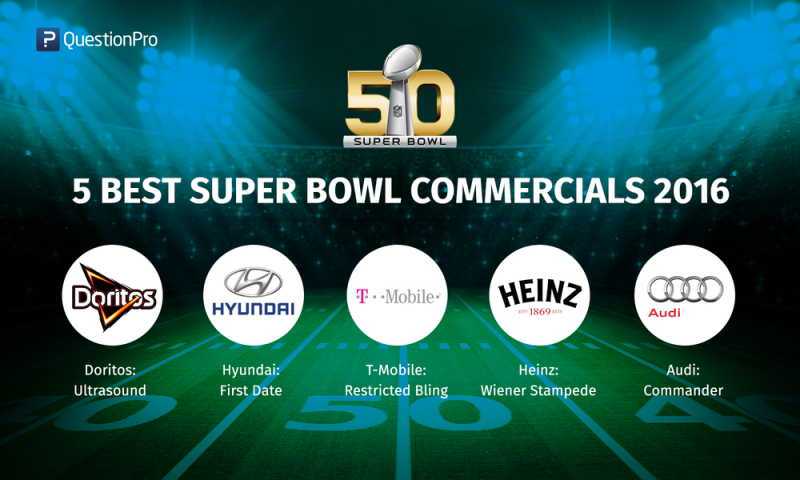 Ah, Super Bowl Sunday is over. Beer, chicken wings, nachos, pizza…oh, all the yummy food and drinks have been drunk and eaten, yet we still have a few things to chew on. Like the Best Super Bowl commercials 2016. QuestionPro is the insights platform, and yes, we are the best at asking questions and doing surveys. So naturally, we love using our own tool to ask questions to our colleagues for such important matters like this one. Here, try yourself how easy it is and create your own online survey.
We surveyed everyone at QuestionPro, asking which Super Bowl commercial they liked the most this year, and while our criteria for judgement remains rigidly unscientific and completely biased – this will still give you a popular opinion, and a great overview of which brands took it home last night.
1. Doritos: Ultrasound
I heard so many Ooooowwwws at the party I watching the Super Bowl at. While it is yet another ad with a sloppy husband and pain in the ass wife, what makes this ad great, is the babies image in the womb. So hungry for the Dorito that he makes an early exit. I feel for the Mom though…
2. Hyundai: First Date
Because, who has not met a dad like this. And show me a dad that would not be concerned about his little girl going on the first date. Kevin Hart sure makes a hilarious stalker in this ad. We do live in the land where we are watched 24/7, so much for the privacy anyways. Horrible invasion. But I guess it's alright as long as it is your dad…
3. T-Mobile: Restricted Bling
We heard a lot about Drake's Hotline Bling in 2015, it being one of the most talked-about music videos of 2015, and T-Mobile has scored with this one, already being one of the funniest Super Bowl ads of 2016. Restriction on data are a pain and often it's not easy to call someone on their cell phone.
4. Heinz: Wiener Stampede
So simple and absurd, but yet we can't stop watching it. Mariah Carey's – "Without You" goes so well with the bunch of wiener dogs in hot dog suits and the slow-mot run into the loving arms of people dressed as ketchup and mustard. Brilliant.
5. Audi: Commander


Audi trying to appeal to the inner astronaut that in all of us. Yet Comparing driving an Audi to a moon shot- maybe reaching a bit too far. And using David Bowie's "Starman" to tie it together…Mh, not convinced, but sure it resonated with many.
So that is what we did this weekend here at QuestionPro. Write great surveys questions and ask your colleagues how their Super Bowl experience was.