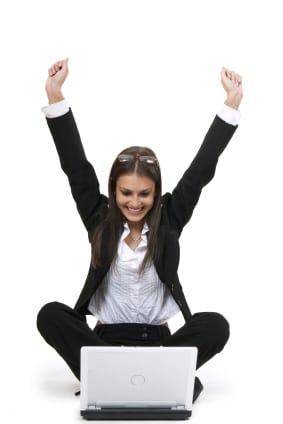 If you've ever wondered how you're going to build your brand using social media, then pay attention to our our guest columnist today.  Staci J. Shelton is a social media expert and blogger who specializes in building and maximizing online relationships.
There is a great benefit to being active as a business in Social Media.  As a business, there are amazing opportunities to create a Global Network and control more of your marketing activity, and for a great deal less than traditional marketing and PR.
Social Media is a great place to engage, promote your brand and even build relationships. But the "hows" of engagement can be a little sticky. There are a lot of people talking, but what makes a brand great is getting people to listen.  There is a difference between just being on Social Media and being great at Social Media.  Here are some tips to help you move along from just being part of the chatter and being part of the conversation.
Be Relevant- You're a Brand
There are lots of applications on Facebook and Twitter.  No matter how much you're tempted, you are not allowed to poke, prod, give gifts there, if you're interacting as a brand or trying to build a brand image.  If you give gifts of any kind, be sure that they tie into an overall promotional strategy.
Consider your content before you post.  Does what you're saying fit into your overall brand strategy?  Be sure that grammar and spelling are correct.  You want to be taken seriously.  Provide great content.  Talk about what you "are" about.  If you are a business related to green living, talk, blog and post strategies on that initiative.  There is no substitute for great content.
Creativity gets attention.  Be creative in your word usage be a good copywriter.  There's a great difference between saying:  "Getting ready to survey our customers to find out what is important to them" and "Want to be in charge of our company for the day?  Give us your feedback and tell us what we need to be doing!!!" Use creative contests and give-aways to encourage people to interact with and even promote for your brand.
If you're married or in a relationship, you would never go a day without talking to each other at all (hopefully).  Remember, that followers and friends of your brand are real people.  Build great relationships by showing up consistently.  If you blog, post regularly.  Post statuses daily or a few times during the day. Whatever you do, don't start to engage then walk away from the relationship.
Although we need to be consistent, we don't want to overwhelm our readers.  Make posts and updates brief and easy to digest.  If you're on Facebook, update sparingly.  Some companies and people update every hour on the hour, which burns people out, or worse, causes them to tune out.
If you like talking a lot or have lots of links/content to share – Twitter is your playground.  It's a great place to talk, engage and share information quickly without overwhelming people.  But still be sure not to over post.
In most cases, even outside of Twitter, keep it to 140 characters or less.  If you have a lot more to say, place the content in a note, not a status update.
Talk with people.  Listen and comment on content other people post.  Show interest in what people are talking about and join the conversation.  Nothing makes brands shine more than listening and interacting in meaningful ways with customers.  By watching your friends and followers, you find out what is important to them, which gives you a great opportunity to do market research of some sort.
Once you've engaged and listened, you're now in a great position to meet the needs of your friends and fans.  Post things that are of value or interest to your readers.  Create and or tweak products to meet the needs that you've discovered.
It can be tempting in Social Media to feel like you know people much better than you do.  While it is very possible to learn about people, get to know their personalities, likes and dislikes, until you've met, you don't truly know them.  Move into relationships using good etiquette.  Talk to people publicly in the stream when the information is relevant, supports your overall brand or is applicable to more than one person.  When your content, conversations or questions are not relevant to the entire community or if information you want to applies only to one person, consider a direct message, e-mail, phone call or in person conversation.  Don't ask overly personal questions.
Using these simple but effective ways to engage, interact and promote on Social Media, you'll not only be GREAT, you'll be FABULOUS!