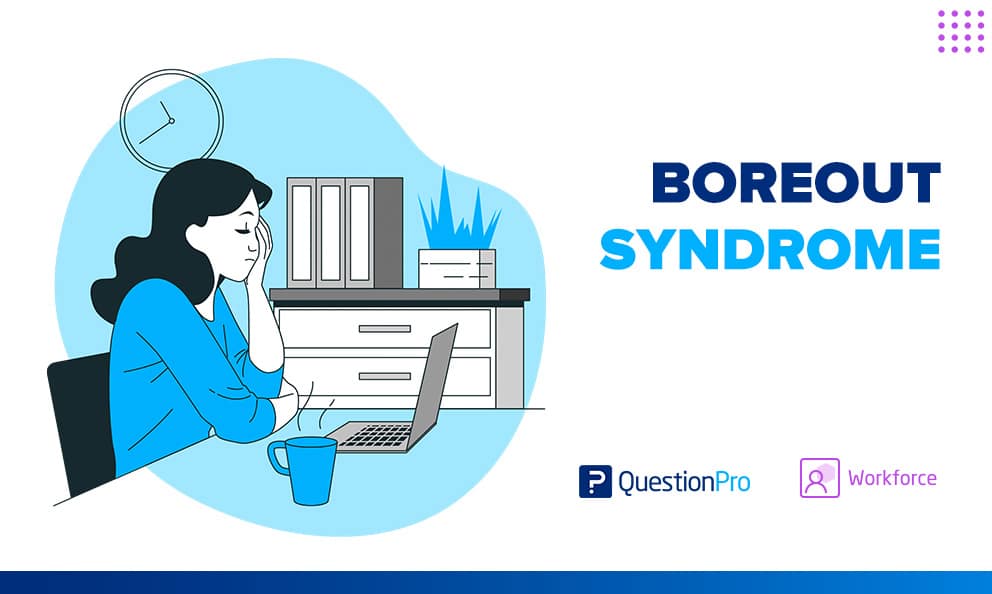 Have you noticed a lack of interest, motivation or energy in some of your employees? Beware, they may be suffering from boreout syndrome, which affects not only them on a personal level, but also the income of their company.
In this article, we will introduce you to what this condition consists of and how you can prevent and avoid it to keep work teams productive, happy and committed to the success of your organization, bettering the workplace culture.
What is boreout syndrome?
The boreout syndrome is a profound and continuous lack of work motivation experienced as boredom.
In short, we can understand it as a pattern of chronic boredom at the workplace, which means employees are bored and dissatisfied due to a lack of tasks or feeling like their tasks are challenging.
At first glance, boreout syndrome resembles the symptoms of overwork. However, it is not caused by overwork but by a lack of intellectual stimulation.
The boreout syndrome is not an official clinical label but an expression used in occupational well-being.
Importance of fighting boreout syndrome at work
For Human Resources teams, promptly detecting boreout syndrome is vital to avoid a negative impact on the company since a bored, unmotivated or dissatisfied employee can transmit their emotions to other employees and transform the climate and organizational behavior.
In addition to not giving the best of their abilities in their specific tasks, employees with boreout syndrome who deal directly with external clients can generate poor customer service, affecting sales and brand reputation.
Causes of boreout syndrome
Many aspects can cause boreout syndrome, but some of the most frequent are the following:
The absence of new tasks in the daily life
Repetition of specific tasks in a job can quickly become tedious. If this is not offset by learning new things or getting better stimulus, it can lead to employee burnout and disengagement.
Being overqualified for the position
Some employees find positions that do not make the most of their skills. If their situation hinders their career progression, they risk becoming easily bored, increasing the likelihood of staff turnover.
Lack of responsibility and new challenges
Like the lack of new tasks, the shortage of challenges and intellectual stimulation goes hand in hand with boreout.
Of course, the causes of this condition are often more profound and complex than those mentioned above, leading to long-term harmful effects. Sometimes employees are not even aware of their psychological state, as they have become too used to unsatisfactory day-to-day.
Symptoms of boreout syndrome
These are some of the psychological signs that can warn us that an employee is suffering from boreout syndrome:
Irritability:

manifest itself through outbursts of aggression and anger.

Anxiety:

usually manifests itself in the form of occasional crises.

Social withdrawal:

distancing yourself from peers, colleagues, and even loved ones.
Symptoms indicative of depression may also occur in cases of extreme boreout. The physical symptoms of this type of condition can be the following:
Frequent headaches.

Weak immune system and chronic health problems.

Difficulty sleeping and attacks of insomnia.
How can you help your employees overcome boreout syndrome?
Now that you know what boreout syndrome is, it is essential to know some recommendations to prevent and avoid it, helping your employees increase their job satisfaction.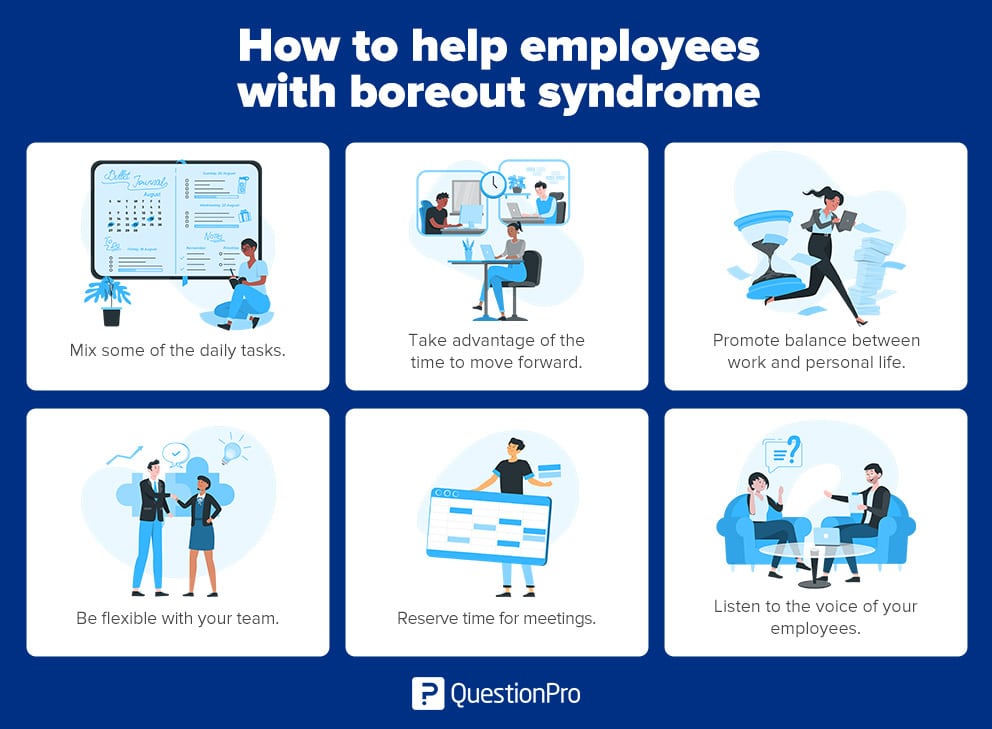 How to help employees with boreout syndrome:
1. Mix the tasks
To prevent your employees from getting bored with repetitive tasks, you can spread them out among the team as much as possible.
For example, employees could work in weekly rotations to deal with new projects regularly. It may also be that other teams in your company need support, so be open with your collaborators and encourage them to work as a team.
2. Take advantage of the time to move forward
Just because the workload is calmer at a given time doesn't mean it will stay that way. If your team has free time, consider how you can use it productively, not only to stay engaged but to help the company in the future.
In many cases, this will look outside of your daily role, in which case it's essential to try to choose tasks that suit your strengths.
3. Promote a balance between work and personal life
It is vital to promote a positive balance between work and private life, both for your team's mental health and for your well-being. You can encourage this balance in a few simple ways:
Make sure your team doesn't work more hours than necessary.

Set clear and challenging tasks for them to complete.

Please encourage them to unplug after the workday.
4. Be flexible with your team
You have to be sensitive; if your team feels fatigued or experiences boredom, work with them to find a flexible solution that works for both of you. It can be a dynamic work schedule or a Home Office productivity system that reflects a reduced workload.
Here it will be necessary to approach it individually, case by case. Remember that a more straightforward working day can help your employees spend more time on their individual projects, increasing motivation.
5. Reserve time for meetings
Many organizations have adapted well to working from home in recent months. Even though we don't meet face-to-face, technology has allowed us to hold regular virtual meetings with our team.
Maintaining regular contact with colleagues can positively impact their overall well-being, so it's essential to set aside time for regular check-ins with each member of your team.
Make sure you ask your colleagues how they are doing and that the workload is right. Regular updates should help you spot any signs that your team may have health problems.
6. Listen to the voice of your employees
Overlooking employee needs can hurt job performance, even for your best talent.
To avoid this, you can request continuous employee feedback to determine how they currently perceive their work and what you could do to help them grow and feel motivated day by day.
Avoid boreout syndrome in your company!
The boreout syndrome results from a lack of care and attention to the employee experience, leaving severe consequences for the company's growth.
To avoid boreout, it is crucial to take actions that help guarantee employee satisfaction, such as those mentioned above.
Remember that at QuestionPro, we have various tools that you can take advantage of to achieve this, from free employee surveys to our powerful QuestionPro Workforce platform, specialized in performance evaluation and work environment specialized in human capital management.
Would you like to learn more? Please request a free demo or share your needs with us in our online chat!