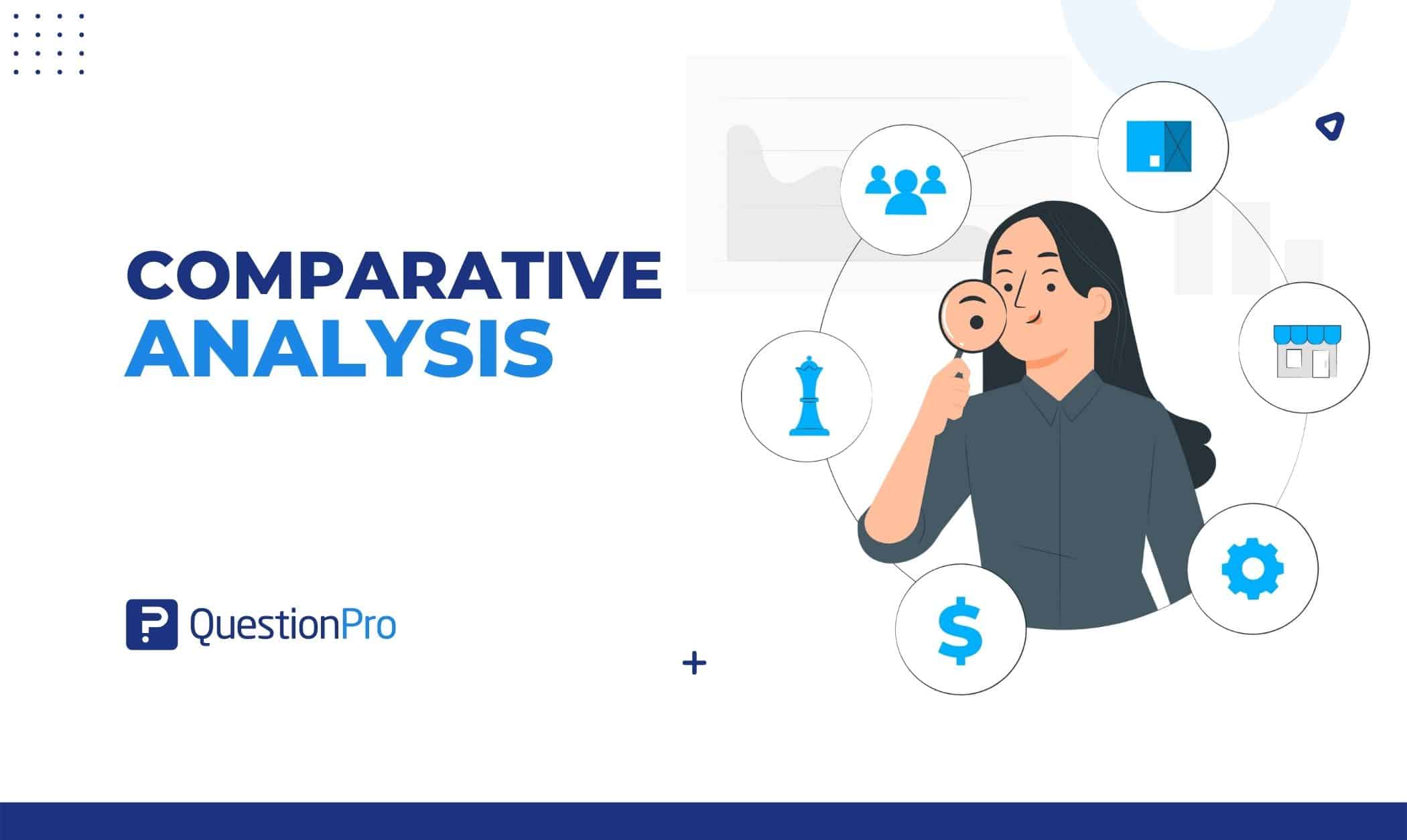 When a business wants to start a marketing campaign or grow, a comparative analysis can give them information that helps them make crucial decisions. This analysis gathers different data sets to compare different options so a business can make good decisions for its customers and itself. If you or your business want to make good decisions, learning about comparative analyses could be helpful. 
In this article, we'll explain the comparative analysis and its importance. We'll also learn how to do a good in-depth analysis.
What is comparative analysis?
Comparative analysis is a way to look at two or more similar things to see how they are different and what they have in common. 
It is used in many ways and fields to help people understand the similarities and differences between products better. It can help businesses make good decisions about key issues.
One meaningful way it's used is when applied to scientific data. Scientific data is information that has been gathered through scientific research and will be used for a certain purpose.
When it is used on scientific data, it determines how consistent and reliable the data is. It also helps scientists make sure their data is accurate and valid.
Importance of comparative analysis 
Comparative analyses are important if you want to understand a problem better or find answers to important questions. Here are the main goals businesses want to reach through comparative analysis.
It is a part of the diagnostic phase of business analytics. It can answer many of the most important questions a company may have and help you figure out how to fix problems at the company's core to improve performance and even make more money.

It encourages a deep understanding of the opportunities that apply to specific processes, departments, or business units. This analysis also ensures that we're addressing the real reasons for performance gaps.
It is used a lot because it helps people understand the challenges an organization has faced in the past and the ones it faces now. This method gives objective, fact-based information about performance and ways to improve it.
How to successfully conduct it
Consider using the advice below to carry out a successful comparative analysis:
Conduct research
Before doing an analysis, it's important to do a lot of research. Research not only gives you evidence to back up your conclusions, but it might also show you something you hadn't thought of before.
Research could also tell you how your competitors might handle a problem.
Make a list of what's different and what's the same.
When comparing two things in a comparative analysis, you need to make a detailed list of the similarities and differences.
Try to figure out how a change to one thing might affect another. Such as how increasing the number of vacation days affects sales, production, or costs. 
A comparative analysis can also help you find outside causes, such as economic conditions or environmental analysis problems.
Describe both sides
Comparative analysis may try to show that one argument or idea is better, but the analysis must cover both sides equally. The analysis shows both sides of the main arguments and claims. 
For example, to compare the benefits and drawbacks of starting a recycling program, one might examine both the positive effects, such as corporate responsibility and the potential negative effects, such as high implementation costs, to make wise, practical decisions or come up with alternate solutions.
Include variables
A thorough comparison unit of analysis is usually more than just a list of pros and cons because it usually considers factors that affect both sides.
Variables can be both things that can't be changed, like how the weather in the summer affects shipping speeds, and things that can be changed, like when to work with a local shipper.
Do analyses regularly
Comparative analyses are important for any business practice. Consider the different areas and factors that a comparative analysis looks at:
Competitors

Inventory

How well do stocks

Financial position

Profitability

Dividends and revenue

Development and research

Sales
Because a comparative analysis can help more than one department in a company, doing them often can help you keep up with market changes and stay relevant.
Conclusion
We've talked about how good a comparative analysis is for your business. But things always have two sides. It is a good workaround, but still do your own user interviews or user tests if you can. 
We hope you have fun doing comparative analyses! Comparative analysis is always a method you like to use, and the point of learning from competitors is to add your own ideas. In this way, you are not just following but also learning and making.
QuestionPro can help you with your analysis process, create and design a survey to meet your goals, and analyze data for your business's comparative analysis.
At QuestionPro, we give researchers tools for collecting data, like our survey software and a library of insights for all kinds of long-term research. If you want to book a demo or learn more about our platform, just click here.