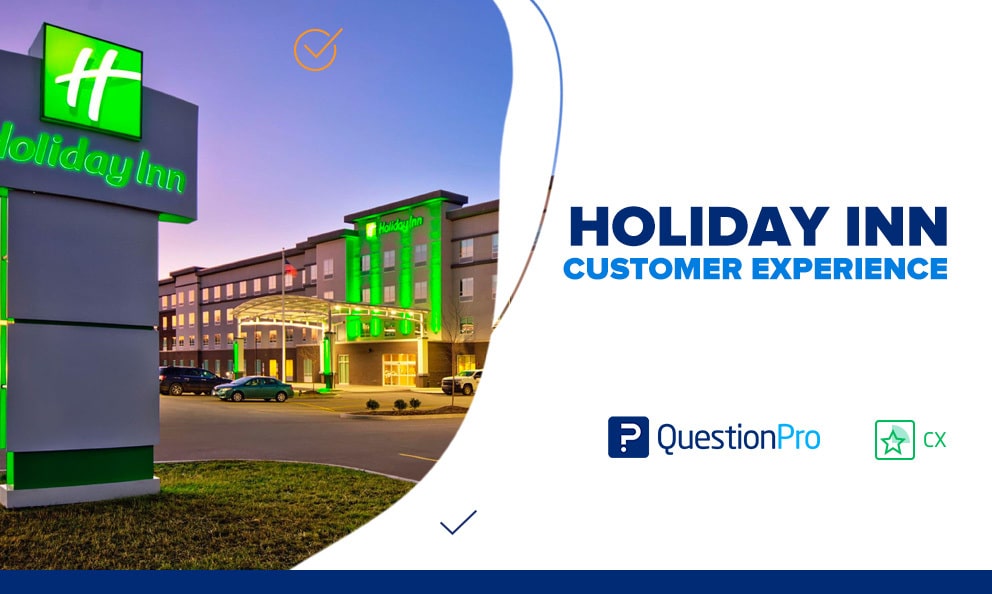 Customer care is the heartbeat of any successful business. It's the art of understanding and meeting the needs and expectations of customers. While many companies strive to excel in this arena, Holiday Inn stands out as a paragon of customer care in the hospitality industry.
In this article, we'll explore the concepts and importance of the Holiday Inn customer experience and care strategies and what other companies across various industries can learn from their exceptional approach.
Understanding Customer Care
Customer care is more than just polite greetings and smiles; it's a comprehensive approach to ensuring customer satisfaction and loyalty. Holiday Inn has mastered this art by implementing a range of strategies and principles that make its guests feel valued and respected.
Through customer care, Holiday Inn cultivates customer loyalty, maintains a positive industry reputation, increases revenue, and saves on potential costs. These lessons from Holiday Inn's approach to customer care serve as a valuable model for businesses in various industries, emphasizing the universal significance of prioritizing and nurturing customer relationships to achieve sustained success.
A concept that perfectly reflects the philosophy of the Holiday Inn customer experience is encompassed under the term 'True hospitality,' which means that everyone is made to feel welcome, cared for, recognized, and respected, regardless of who they are or where they come from. This commitment is brought to life by incorporating responsible and ethical business practices into all aspects of their work.
Elements that Constitute a Great Customer Experience
To provide an excellent customer experience, a wide range of factors and elements must converge, and taking care of each one is the key to delighting guests and customers.
Some of the strategies and points where the Holiday Inn customer experience excels include:
The Social Hub Strategy
The Social Hub at Holiday Inn is a customer experience strategy that aims to redefine the traditional hotel stay. It's about providing guests with a flexible and all-encompassing experience within the hotel itself. Rather than just offering accommodation and dining, the Social Hub focuses on fun, relaxation, and connection. Guests can seamlessly transition between dining, socializing, and leisure activities without having to leave the hotel. It's a place where guests can be themselves and find everything they want in one place.
Small Details
You don't need to invest large sums of money or think of extravagant things to delight your guests. Often, small details make a big difference. A great example of this can be found at Doubletree by Hilton, which welcomes guests with a delightful signature chocolate chip cookie upon arrival. This small but memorable gesture often prompts guests to share their positive experiences with others. Similarly, Holiday Inn Express goes beyond the ordinary hotel breakfast, delighting guests each morning with their signature cinnamon rolls, which keep them coming back for more. These thoughtful gestures create lasting impressions and foster guest loyalty.
"Guest Love" Score and Technology
The company employs a data-driven approach to enhance customer satisfaction, using "Guest Love" scores to gauge customer experience. Collaborating with technological solutions, they continually refine their surveys, leveraging A/B testing to ensure survey effectiveness. This solution's AI-powered Text Analytics analyzes customer data, identifies key issues, and gauges real-time guest sentiment, guiding optimization efforts. Combining these insights with internal analysis, the company implements new processes and training initiatives, ultimately boosting Guest Love scores.
Customer Journey Map
A Customer Journey Map is a very useful tool for visualizing all the touchpoints and stages that customers go through during their business relationship with a brand or company. This includes everything from the discovery stage to post-purchase steps after having completed a service or product purchase.
This type of methodology allows everyone to be in sync and standardizes many of the interactions that users perform. Each of these interactions is a touchpoint where providing a good experience can be very beneficial, as it allows users to complete the entire customer journey without stress and with a pleasant experience, which, as you know, brings multiple benefits to any business.
To better illustrate what a customer journey map looks like, we have decided to create one using Holiday Inn as an example and the most common points present in the hospitality industry. This will give you a clear idea of what these maps look like and what their purpose is.
Example of a Customer Journey Map for Holiday Inn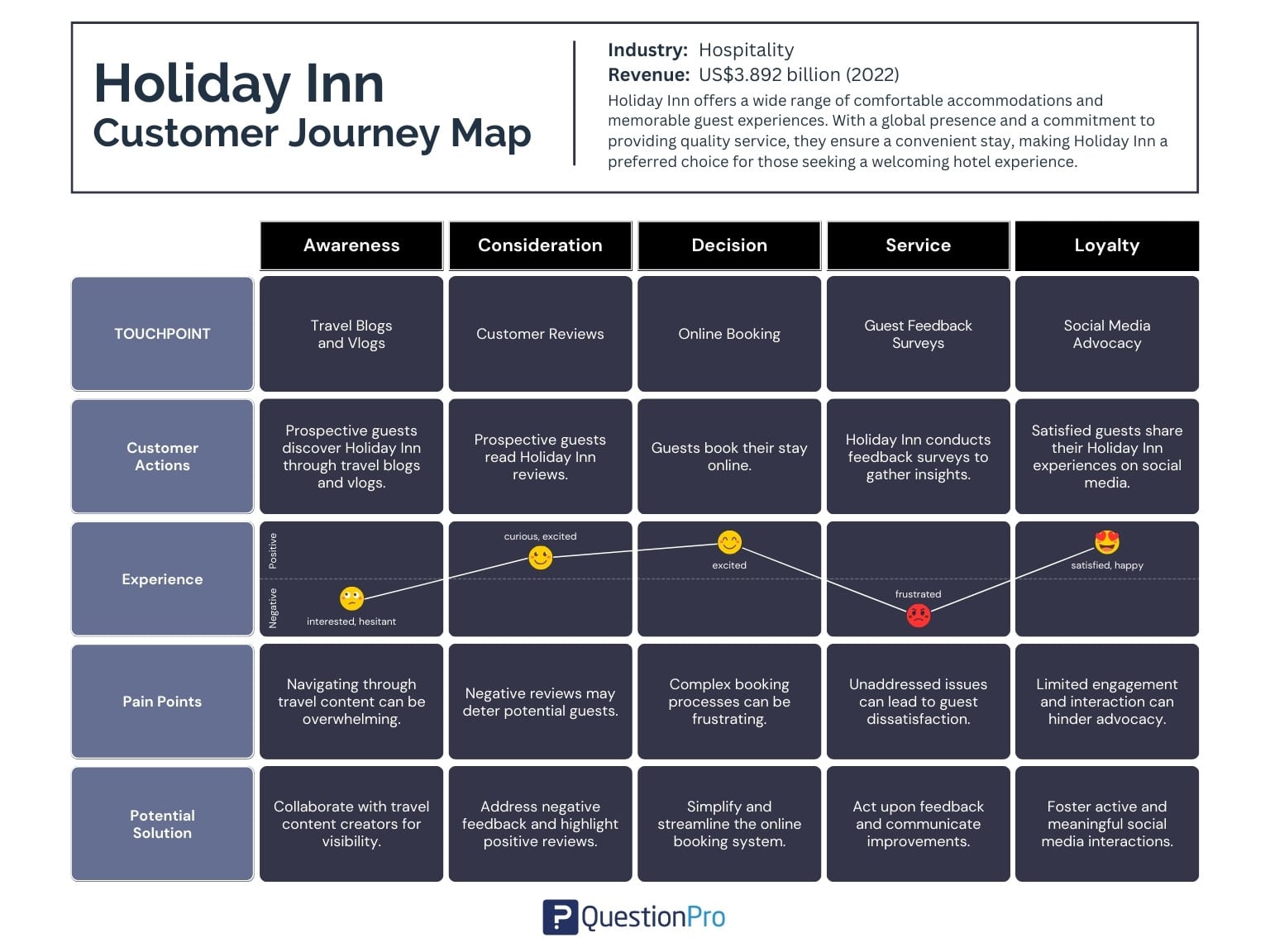 Stage 01: AWARENESS
| | | | |
| --- | --- | --- | --- |
| Touchpoint | Activity | Pain Point | Solution |
| Local Events Sponsorship | Potential guests see Holiday Inn's sponsorship at local events. | Establishing initial brand presence can be challenging. | Actively participate in local events and sponsorships. |
| Influencer Partnerships | Holiday Inn collaborates with local influencers on social media. | Building awareness in specific markets can be difficult. | Partner with local influencers to reach targeted audiences. |
| Travel Blogs and Vlogs | Prospective guests discover Holiday Inn through travel blogs and vlogs. | Navigating through travel content can be overwhelming. | Collaborate with travel content creators for visibility. |
Stage 02: CONSIDERATION
| | | | |
| --- | --- | --- | --- |
| Touchpoint | Activity | Pain Point | Solution |
| Interactive Website | Travelers visit the Holiday Inn website for booking. | Complex booking processes can be frustrating. | Ensure a user-friendly website with easy booking steps. |
| Virtual Concierge Service | Guests use a virtual concierge for travel information. | Difficulty in finding information about local attractions. | Enhance the virtual concierge with comprehensive local guides. |
| Customer Reviews | Prospective guests read Holiday Inn reviews. | Negative reviews may deter potential guests. | Address negative feedback and highlight positive reviews. |
Stage 03: CONVERSION
| | | | |
| --- | --- | --- | --- |
| Touchpoint | Activity | Pain Point | Solution |
| Mobile Booking App | Guests book their stay using the Holiday Inn mobile app. | Mobile app crashes or bugs can deter conversions. | Ensure a stable and user-friendly mobile booking app. |
| Personalized Email Offers | Holiday Inn sends personalized offers via email. | Irrelevant offers can lead to disinterest. | Tailor offers based on guest preferences and history. |
| Reservation Confirmations | Guests receive booking confirmations and details via email. | Delayed or missing confirmations can cause anxiety. | Improve email delivery and notification systems. |
Stage 04: LOYALTY
| | | | |
| --- | --- | --- | --- |
| Touchpoint | Activity | Pain Point | Solution |
| Stay and Earn Rewards | Guests join the Holiday Inn loyalty program. | Unclear program benefits and rewards can deter participation. | Clearly communicate the advantages of the loyalty program. |
| Exclusive Member Perks | Loyalty members enjoy exclusive perks like late check-out. | Lack of recognition for loyal guests can be a pain point. | Ensure consistent delivery of exclusive perks. |
| Guest Feedback Surveys | Holiday Inn conducts feedback surveys to gather insights. | Unaddressed issues can lead to guest dissatisfaction. | Act upon feedback and communicate improvements. |
Stage 05: ADVOCACY
| | | | |
| --- | --- | --- | --- |
| Touchpoint | Activity | Pain Point | Solution |
| Social Media Advocacy | Satisfied guests share their Holiday Inn experiences on social media. | Limited engagement and interaction can hinder advocacy. | Foster active and meaningful social media interactions. |
| Referral Program | Guests refer friends and family to Holiday Inn. | Incentives for referrals may be lacking. | Reward guests for successful referrals and stays. |
| Online Reviews | Happy guests leave positive online reviews. | Negative reviews can impact Holiday Inn's reputation. | Encourage and reward positive reviews; address negatives. |
Start Delighting Your Guests!
If you are looking to implement similar strategies and begin enjoying all the benefits that come with providing excellent customer experiences, we can help!
At QuestionPro, we have all the tools and features you need to implement customer experience strategies and measure their impact easily and effectively.
We have a robust customer experience management platform where you will find everything you need to measure, evaluate, and improve each touchpoint. Additionally, you can explore our other products, such as our customer journey mapping software or our exclusive NPS+ methodology.
The best part? With QuestionPro, you are not alone. A team of professionals will assist you to ensure that our tool adds significant value to your business and results in more satisfied customers. Contact us; we'd love to discuss your needs.