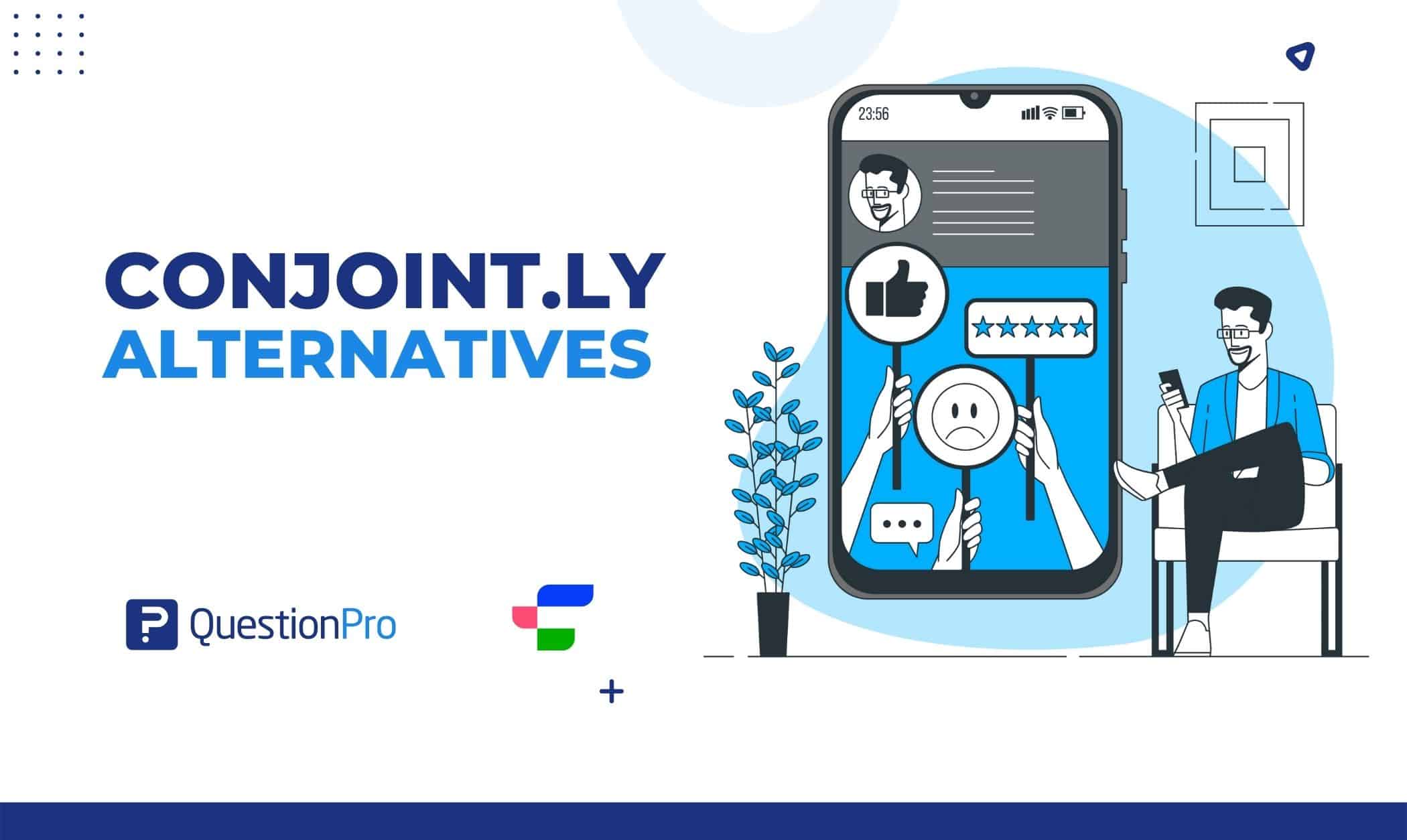 Conjoint.ly is an all-in-one survey research platform with easy-to-use advanced tools and expert help. It gives you access to millions of survey respondents and sophisticated methods for researching products and prices. Let's talk about the best Conjoint.ly Alternatives.
They have a solution for when you need quick and reliable market research. You can get the information you need by using a simple platform that combines strong methods developed over decades of market research. It will help you find new markets and make sure that your big decisions are sound.
Despite their features, they do have some drawbacks. Customers should prefer Conjoint.ly alternatives because of this. Let's talk about them a bit.
What is

Conjoint.ly Alternatives
Conjoint.ly alternatives are similar software that works in the same way as Conjoint.ly. The alternatives could provide different resources, costs, or needs coverage than Conjoint.ly. But this software aims to help businesses or classes do surveys.
From price to value, there is a long list of alternatives to Conjoint.ly that might be a better fit. QuestionPro survey software is an excellent example of an alternative to Conjoint.ly. This software allows organizations, schools, and universities to efficiently do surveys that meet their needs.
QuestionPro is a great software for anyone as a survey tool with excellent features. It can be used as an icebreaker or as a complete survey tool for evaluations or data collection. Platforms like QuestionPro can be helpful when users need real data in real-time.
Conjoint.ly vs QuestionPro
QuestionPro is one of the best Conjoint.ly alternatives. It is a complete survey software with almost all the features you need to run a survey.
Conjoint.ly is a SaaS platform. Conjoint.ly is easy for organizations that want a powerful market research solution.
But QuestionPro is a platform that people can use for non-profit organizations, startups, small businesses, freelancers, market researchers, medium-sized firms, and enterprises.
You can get a free version of QuestionPro if you want to. It also provides you with 24/7 live support. Besides that, QuestionPro also offers training, such as Documentation and webinars.
Best Conjoint.ly Alternatives for Businesses
A list of Conjoint.ly alternatives for your business or organization can help you find the best one for your organization. First, let's go into the most vital ones.
QuestionPro
QuestionPro offers advanced online survey software to help you make better business decisions and be one of the best conjoint.ly alternatives. This software is easy to use because it comes with tools for creating, distributing, and analyzing online surveys, polls, forms, and quizzes.
QuestionPro allows you to use an interactive dashboard to get a quick look at how the survey is doing or to make sophisticated reports. Users can optimize the survey theme with a custom header and footer, fonts, logo, and more to match their brand's voice.
Not only that, but their customer support service is open 24 hours a day to ensure your project stays on track. QuestionPro has more than 350 survey templates and more than 50 question types to meet all your survey needs.
Feedback Server
Feedback Server is a full-featured survey software designed for use by startups and agencies.
This online survey system has tools for data analysis, audio, images, and video support, a question library, question branching, and custom survey URLs in one place. Feedback Server offers solutions that work from beginning to end and are made for Windows.
BigPulse
BigPulse is the most customizable and feature-rich voting technology in the world. These extra features enable rapid responses to various requests and efficient answers to unexpected circumstances.
BigPulse puts security above everything else. BigPulse has a perfect security record because they have high data security and server reliability standards.
Assessment Generator
Assessment Generator helps businesses find good prospects through online quizzes, tests, and surveys. Their assessments have automated scoring and feedback, which lets businesses show their expertise, provide value, and build trust.
You can display as many questions as you'd like in the Assessment Generator, which supports many question formats. By adjusting the user feedback based on score, you can serve various content to your users according to their performance on your assessment.
OPINIA Census
You can make easy-to-understand surveys and quizzes from scratch in no time at all by using OPINIA Census. You can do your surveys, add rewards, get instant alerts, see real-time analytics, send emails and SMS to respondents, and solve problems.
OPINIA Census is suitable for any service-based industry that depends on Customer Experience and wants to improve its feedback and data collection methods to make them more rewarding, thorough, and action-based.
It is Ideal for Startups, SMEs, Agencies, or Enterprises that rely on real data for market research that focuses on social research to analyze and divide respondents' data.
SurveyLab
SurveyLab is survey software and a questionnaire tool that professionals use. Over 85,000 companies and people all over the world use it every day.
Customer Experience Management, Market Research, Human Resources, and Digital Surveys are all supported by the system.
SurveySparrow
SurveySparrow is a unique tool that can turn boring surveys into interesting conversations. Organizations can do unique surveys that look like chats and can easily gather personal information from users. Multiple questions make the tool more flexible and give it a wide range of uses.
SurveySparrow also has many other features, such as the ability to automate surveys and track survey performance in real-time, Piping and Display Logic for personalized surveys, data-driven insights about web surveys, expert survey templates, and so on.
There is a 14-day free trial that you can choose.
Survio
Survio is an online tool for creating surveys about customer satisfaction, staff reviews, market research, and other topics. It offers one of the most diverse sets of survey tools.
It has advanced features like customer service that is available 24/7, a wide range of ready-to-use designs, reports that include Google Analytics, and much more.
SoGoSurvey
SoGoSurvey is a free online survey tool that lets you make quizzes, polls, and forms. It enables you to get real-time reports, uses modern branching, sends alert messages, and so on. It is easy to start, improving the customer experience and the survey's success.
SoGoSurvey stands out because it has two important parts: SoGoCX and SoGoEX. SoGoCX's main goal is to improve the customer experience, while SoGoEX's main goal is to improve customer engagement.
Qualaroo
Qualaroo is a full-featured survey software for small and medium-sized businesses and large businesses.
This online survey system has everything you need in one place: Mobile Survey, Site Intercept Survey, Email Marketing, Question Branching, and Offline Response Collection. Qualaroo offers Web App solutions from beginning to end.
Conclusion
One of the best Conjoint.ly alternatives is the QuestionPro survey software. This software is handy for businesses of today that need digital tools to keep their online data accurate and safe. The survey is free for all QuestionPro users.
QuestionPro is used by world-famous companies like the American Cancer Society, Thales, Energizer, BMW, and many more. Sign up today and let us know if you want to discuss your survey and research needs.