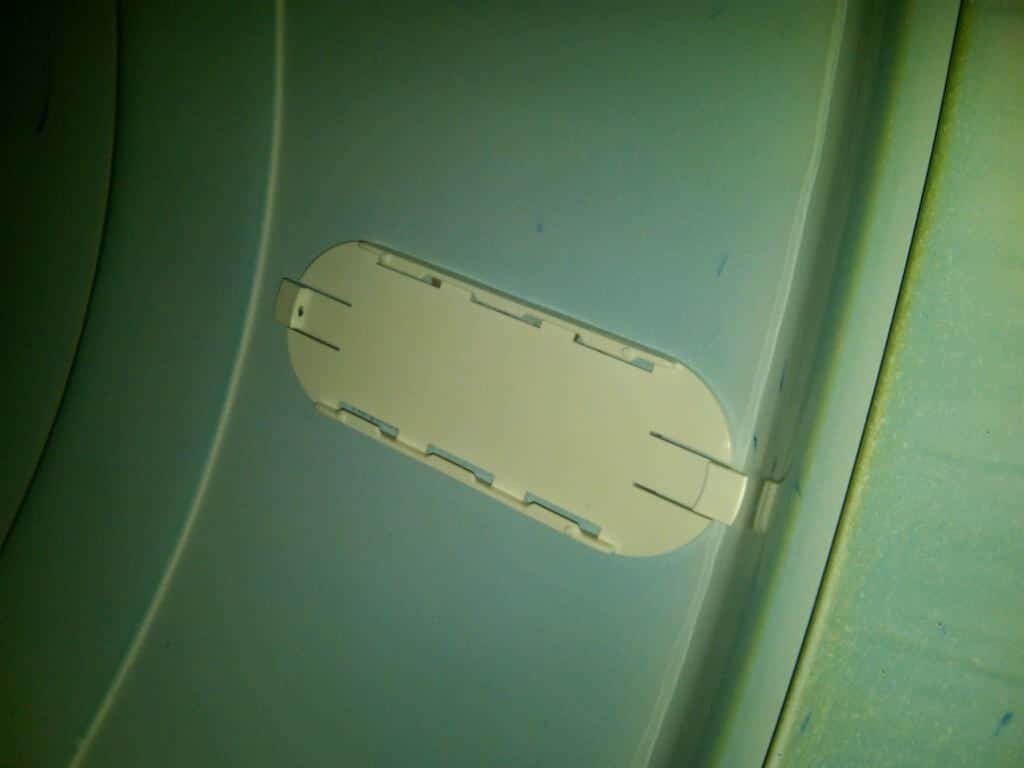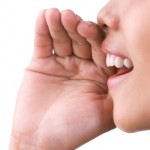 This is a story about how a giant corporation collects customer feedback from a variety of sources and uses it to improve it's products.  Proctor and Gamble is known throughout market research circles as being obsessive about customer feedback.  I had worked with several market research firms in the past who served Proctor and Gamble and I was always impressed with their attention to every detail.
But I had never had a personal experience with their customer feedback system until recently.  I love trying out new products because you just never know when you'll run into something that's a real time-saver.  That is why I snatched up the Bounce Dryer Bar when I saw the $1.00 off coupon in my local paper.
It was a little pricey, but I figured that not having to purchase dryer sheets and liquid softener was a good trade-off.
Of course, I couldn't wait to get the thing in the dryer and give it a try.  I read the directions, which were pretty clear and quickly go the plastic base adhered in the dryer.
The next thing I needed to do was get the actual softener bar into the plastic base.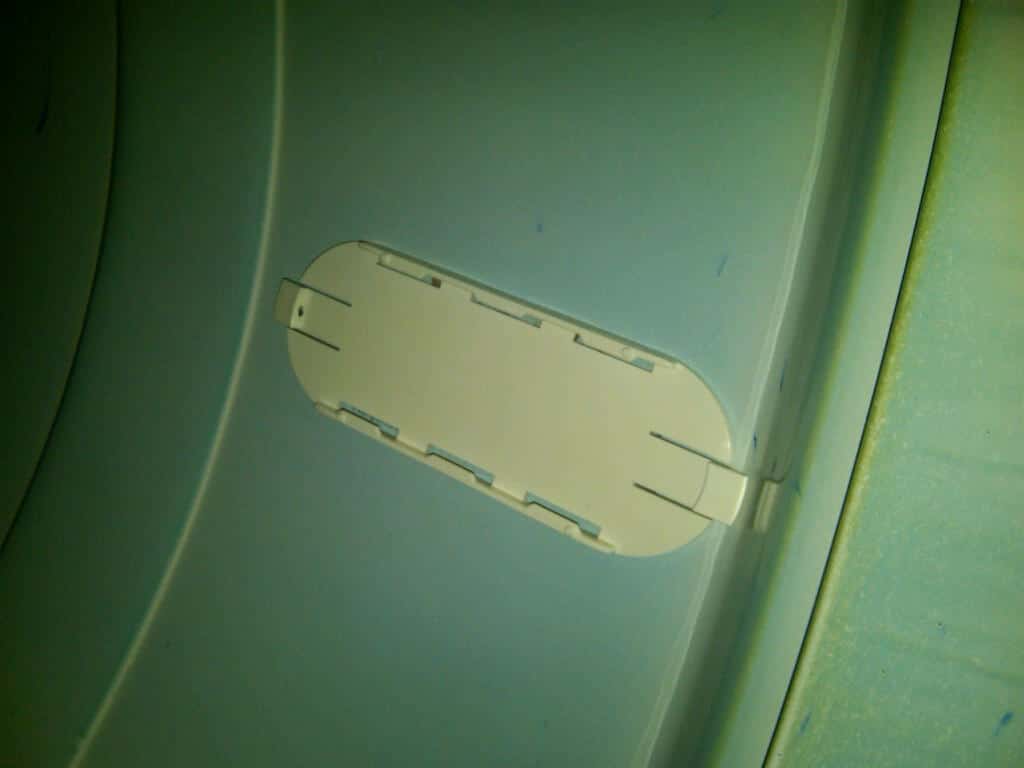 This proved a little more difficult.  The softener bar insert lies on top of a blue base which snaps inside the plastic base.  In theory, this is a good design;  when the softener depletes itself, you unsnap it from the plastic base and replace it with a new one.  I can see that you'd want to make it unsnap relatively easily.
Well, as it turned out — all it took was the tumbling of the dryer and clothes hitting the dryer bar to unhinge the softener bar from the plastic base.  At first I didn't know what happened – I only heard this racket in the dryer and when I saw that it had come loose from the base , I wasn't surprised.  It snapped it really easily, so it made sense that the constant tumbling of towels and clothes could easily displace the bar from the base.  So, this is what my dryer bar looks like now: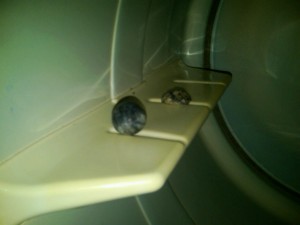 I kept the bar inside the dryer and just let it tumble around in there — separate from the base.  it made noise, but the benefit of not using dryer sheets was still there.
I decided to send this feedback to Proctor and Gamble.  I looked on the back of the package and found that they had an entire site dedicated to this product.  That might not surprise you being that it's P&G and they have thousands of brands to manage.  But that doesn't mean that you shouldn't ask yourself if having a complete website for a specific product or brand isn't a good idea.  I think it is.
The first thing you'll notice on the site is the GIANT feedback button.  This is a great idea, since it's a new product and a new concept.  The next thing that happens is a likable scientist and mom gives us a little intro to the product and volunteers to help us use it.  It's a short clip and does the trick.  There are also extra instructions on the menu to the left.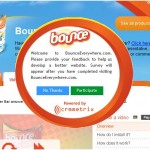 I got on the site and clicked on the "contact us" button to send them an e-mail.  This is where I explained specifically what happened.  Not long after that, I received a letter from the Bounce team along with a coupon for another Bounce Bar.
I didn't see the point in that since I had a bad experience the first time — so I did nothing.
But just yesterday, I received THIS: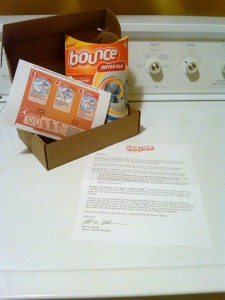 A sturdy box with a new Bounce Bar and a letter that said this:
Dear Ivana,

On behalf of the entire Bounce team, I am sorry you had a disappointing experience with our latest product, the Bounce Dryer Bar.  Our livelihood depends on the trust from consumer like you, so when we let you down, we will do our best to make it right.

We also want to thank you for reaching out to us with your honest feedback.  Your feedback helps us to improve our products, especially on new products like the Bounce Dryer Bar.

In fact, because of feedback from consumers like you, we have done more extensive testing to understand how to improve our product.  Based on this testing, we are making the following changes to the Bounce Dryer Bar:

We are increasing the length of the tape on the back of the dryer bar holder.  This change will reduce the chances of the bar holder falling from the dryer drum and reinforces the dryer tabs that keel the Dryer Bar in its holder.
We are clarifying the installation instructions.  It's our job to provide clear, simple instructions, so we are making our instructions on the package easier to follow with clear words and visuals.

We hope you will give us a chance to make it right.  Along with this letter, we have sent you a complimentary Bounce Dryer Bar, with the longer tape on the back of the holder.  On the next page you will find revised installation and replacement instructions that will be added to our package.

Because your honest feedback has helped us shape this product, we want to give you the modified Bounce Dryer Bar before it is widely available.  We value your opinion and would love to hear your thoughts, so please call us at 800-5-BOUNCE oncve you've had the chance to try this complimentary product.  Please indicate that Bounce gave you complementary Bounce Dryer Bar with new instructions and longer tape when providing your feedback.

Once again, thank you for your role in transforming the Bounce brand.

Sincerely Bob Stallman, Bounce Brand Manager.
This is an example of a great feedback and brand reputation management at work.
What experiences have you had with brands?  Send us your good ones, bad ones and what lessons we should take away from them.