It is safe to say that COVID-19 has had an immeasurable impact on the global economy. But closer to home, our survey finds Americans profoundly troubled by many aspects of life today. A pandemic, a faltering economy, a looming reckoning over systemic racism, deep social divisions – each factor feels unprecedented individually. Collectively, their effects have driven American optimism down while daily angst is rising to new highs.
While there is no end in sight, consumer pulse and consumer research are essential to ensure that brands, organizations, and retailers look for different ways to stay ahead of the curve and offer value in an ever-evolving and ever-changing consumer world. Consumer trends have evolved. But to what extent? Download the wave one report of the free consumer pulse to know more.
Download our FREE Consumer Pulse
Bifocal optimism & questioning the American Dream – Consumer pulse 
The most interesting trend to emanate from wave 1 of this consumer pulse research is that Americans are beginning to question the idea of the ideal American dream. This thinking has stemmed from the fact that the whole has become greater than the sum of the parts. These personal anxieties have coalesced into a deeper questioning of the American Dream itself. For example:
67% agree, "The Founding Fathers would be very disappointed in the condition of America today."

66% agree, "The American Dream has become very difficult for most people to achieve."

53% agree, "I am more worried about the American Dream than ever before."

31% agree, "Young people today will be better off than their parents' generation."
The results show an evident lack of efficacy in matching the narrative of the American dream. The unrest among the general US population states that 68% of residents feel like the country is headed in the wrong direction.
There is a definite positive shift in general trends, behaviors, and outlook on a micro and individual scale, but the macro-level trend is that most Americans are worried. To dimensionalize optimism, consumers rated various aspects of their life from 1 to 10 – 1 being "poor" and 10 being "excellent." While aspects closer to home like mental health, family life, etc. ranked in upwards of 7, the overall state of America and the world averaged at under 5.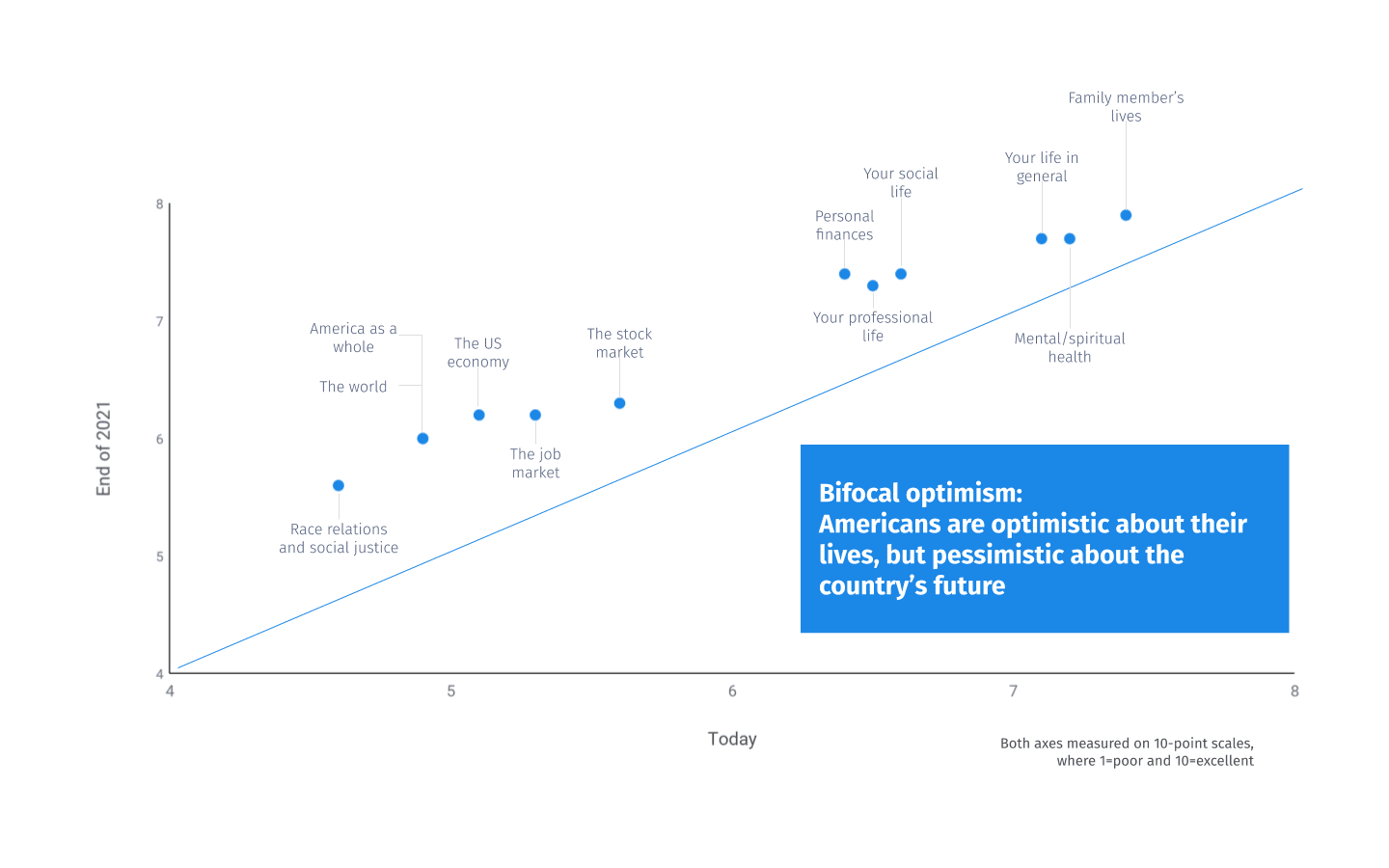 While race relations and social justice have expounded the all-around negativity, coronavirus has played a significant part in this narrative. 
Consumer pulse – Rise of new economies & change in purchase behavior 
It is no surprise that COVID-19 has changed the way that people react and behave in certain situations. The impact of this has been mostly on the American economy and seemingly mature consumer markets. Wave one of this consumer pulse survey has thrown precise dimensions to consumer behavior, trends, and purchase behavior. These three distinct economies are:
Nesting economy – Americans are moving towards creating support bubbles around themselves, their families, and micro-communities to sustain with unrest around coronavirus and other major national factors. 

Passion economy – One in four Americans is now spending more time and resources on passion projects than they would have before. There is a marked spend on facilitating hobbies and passions.

Corona economy – More consumers are now moving away from brick and mortar to digital purchases of non-traditional items such as groceries and household goods. 
However, the prevailing trend across all three economies is that there is a marked shift in purchases geared towards a work-from-home economy.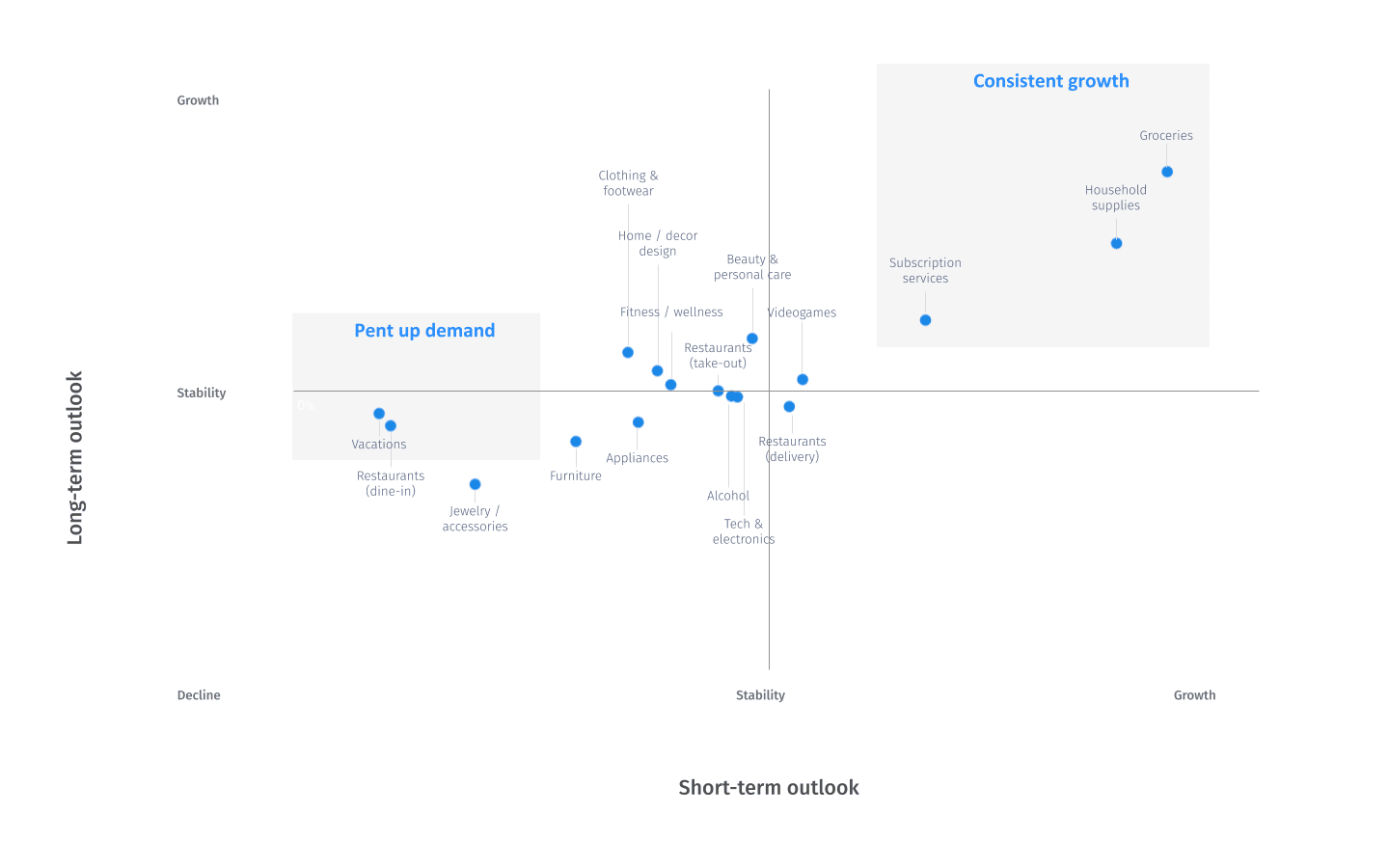 Most obviously, overall spending levels have declined, while e-commerce has increased – more subtly, we see significant changes in consumers' willingness to try new brands and experiment with new channels. 
Nearly half (48%) of consumers have made online purchases in categories they hadn't bought online before coronavirus – a particularly important dynamic given the ease of online repeat purchasing.
Wave one of our study, conducted in conjunction with Stephen Kraus, CEO of Next Level Sciences, has thrown something interesting facts about the average American consumer pulse and behavior. While we continue to monitor these trends and publish reports throughout multiple waves, there is a definite shift in purchase behavior. The change in behavior been a result of coronavirus and that most Americans are anxious about what's going on around them.  
Read on to get the full extent of the American consumer pulse. 
Download our FREE Consumer Pulse
Unless otherwise noted, data in this report are from the August 2020 Kraus/QuestionPro Consumer Pulse, a nationally representative online survey of 1,032 adults living in the United States. This syndicated study paints a broad picture of American life, with questions covering attitudes, aspirations, values, lifestyles, media use, spending patterns, political opinions, and more.