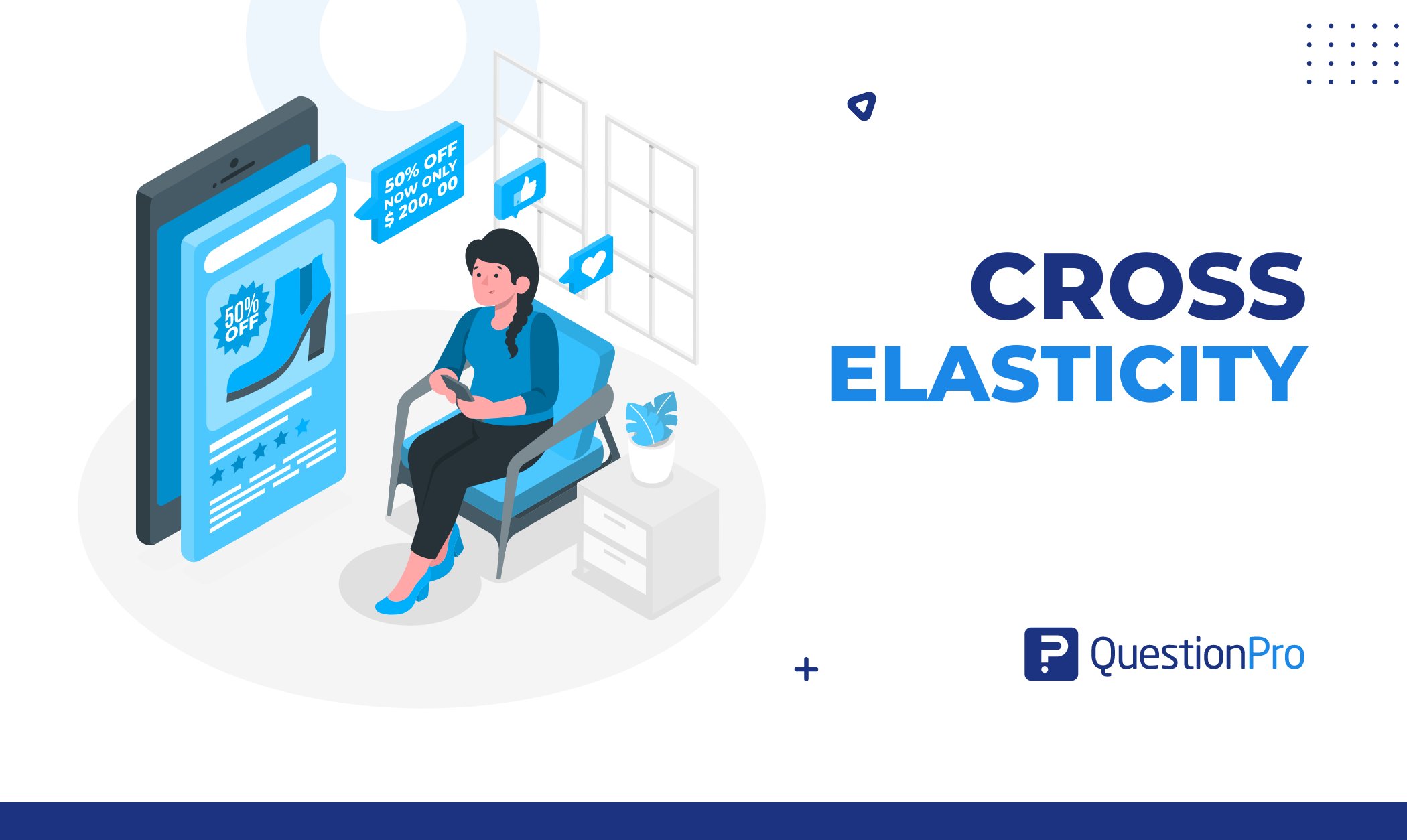 Understanding the links between items and their effects on demand is essential for businesses and policymakers in the field of economics. Cross-demand elasticity is one such indicator that offers important insights into these dynamics.
In this blog, we will examine the idea of cross-elasticity, consider its importance, and discover how to calculate it.
What is cross elasticity?
Cross elasticity of demand is a way to figure out how the desire for one good changes when the price of another good goes up or down. It lets us figure out how different things relate to each other and whether they are substitutes or complements.
By looking at it, we can figure out how much the price change of one good affects the market for another.
Substitute Goods: The demand for a substitute good rises when its price rises. If coffee prices rise, people may switch to tea. Coffee and tea are substitutes. Hence their cross elasticity of demand is positive.
Complementary goods: Consumed together. One good boosts the other. If gasoline prices rise, car sales may fall as operational costs rise. Gasoline and cars are complimentary. Hence their demand is negative.
LEARN ABOUT: Test Market Demand
Cross elasticity indicates product relationships. The quantity and sign reflect whether the commodities are replacements or complements.
Importance of cross elasticity
The cross elasticity of demand is an important concept in economics due to its various practical implications and contributions to market analysis. Here are some key reasons why this holds significance:
Substitutability Analysis
It determines product substitutability. Two items with high positive cross elasticity show strong substitution. Businesses need this data to identify competitors and predict consumer behavior. Understanding product substitutability helps companies price, sell, and develop products.
It shows how price changes affect linked items. A price adjustment in one goodwill considerably affects demand for the other if cross elasticity is large. This data helps companies set prices. They can examine how their pricing actions affect alternative goods demand and change their prices to stay competitive.
This segments markets by customer preferences and behavior. Businesses can identify consumer groups with different substitution or complementarity patterns by examining cross elasticity between items. This insight can guide focused marketing, product positioning, and customer segment-specific products.
It predicts demand based on price changes of related goods. Businesses can assess the sales impact of a substitute or complementary good price change by considering cross elasticity. Demand forecasting helps organizations adapt production, inventory, and resource allocation.
It affects policymakers and regulators. Taxation, subsidies, and restrictions can be informed by-products' cross elasticity. If two goods are equivalents and one is taxed more, demand for the untaxed substitute may increase. This information can help policymakers evaluate such measures.
Calculation of cross elasticity
The formula for calculating the cross elasticity of demand is:
Cross Elasticity of Demand = (% change in quantity demanded of Good A) / (% change in price of Good B)
To calculate cross elasticity, follow these steps:
Choose two goods
Select the goods for which you want to calculate the cross elasticity. Identify the dependent good (Good A) and the independent good (Good B).
Determine the initial and final prices
Note down the initial price and the final price of Good B. Calculate the percentage change in price using the formula:
Percentage Change in Price = ((Final Price – Initial Price) / Initial Price) * 100
Determine the initial and final quantities demanded
Note down the quantity demanded of Good A and the quantity demanded. Calculate the percentage change in quantity demanded using the formula:
Percentage Change in Quantity Demanded = ((Final Quantity – Initial Quantity) / Initial Quantity) * 100
Calculate the cross elasticity
Divide the percentage change in quantity demanded of Good A by the percentage change in the price of Good B using the formula mentioned earlier.
Analyze the result
The sign of the cross elasticity value is crucial. A positive value suggests that the goods are substitutes, while a negative value indicates that the goods are complements.
Conclusion
Cross elasticity of demand is a useful idea that helps us understand how changes in the price of one good affect the desire for another. By figuring it out, businesses and lawmakers can learn more about how markets work, make better decisions about pricing and marketing, and predict demand more accurately.
By understanding how goods relate to each other through cross elasticity, businesses can adapt to shifting market conditions and stay competitive in an economy that is always changing.
Cross elasticity of demand is a key idea for understanding how different goods or services, like QuestionPro, affect each other. By looking at how changes in the price of one product affect the demand for another, businesses can make smart decisions about pricing, marketing strategies, and product positioning to increase their market share and profits.