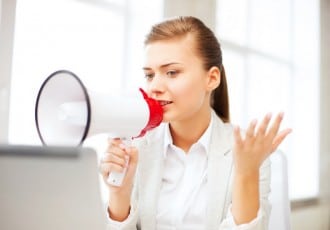 It was going to be "one of those meetings" and I knew it.   The executive team gathered around the conference table and we were about to discuss a new product that was in R&D and getting ready to launch. But there were still a few questions that needed to be answered and the reason it was going to be "one of those meetings" is because we were about to get into an argument about what our customers really wanted.  We should have just asked.
If you ask them, they will tell you
One of the biggest mistakes that  marketers make is in not listening to customers or potential customers. If you let them, your customers will tell you what it is they want. Your first opportunity to listen to your potential customers will come when you first do research for your niche. This is when you will discover what keywords are popular in your niche, which will tell you what it is your potential customers are searching for.
You don't have to turn the keyword thing into a big project — you can get a great insight into the keywords by simply following your customers on social media and listening to their stream – what topics are they talking about, what phrases are they using. Don't just default to industry terms — use the voice of your customer.
Make Sure Your Customers Can Contact You
Be sure to include a "Contact Us" link on your website so that customers or potential customers can contact you with questions or concerns. Far too many websites have everything in place for customers to click the order button and enter payment information but they have no method for customers to simply ask a question. If you will give your customers the opportunity to tell you what they want, they will, and this will build trust and boost your Internet marketing profits.
Consider adding online chat on your web site.  This simple addition has been proven to increase online sales and conversions. Not only that, but it will also be an excellent source of customer insights about what questions they have that are holding them back from making a purchase.
Allow Your Customers to Leave Feedback
By allowing your customers to leave feedback, you will learn more about them and how to serve them. This is a great way to build customer relationships and develop a loyal following of customers. Many brick and mortar companies have had loyal customers for many years and they remain, loyal customers when prices go up and they remain loyal customers when a big, shiny, new discount store sets up shop across the street. Customer loyalty is truly priceless and by listening to your customers, you will have a much better chance of getting that loyalty.
Provide feedback buttons on key pages on your web site.  QuestionPro has an easy widget that creates a little orange tab FEEDBACK tab that customers can click on to provide feedback or to get answers to their questions.
you can find the feedback tab along with the ability to embed surveys or have them appear as a pop-up when you click on the send survey tab.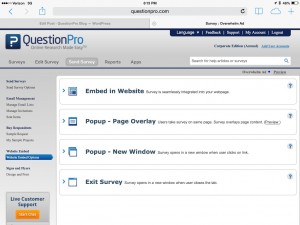 Make Room for Customer Comments on Articles and Blogs
Anytime you can give your customers a chance to tell you what they think or what they want will give you an edge in your marketing endeavors. Give your customers the chance to comment on articles and blogs and their comments will not only give you valuable insight as to what they want but their comments may also inspire other visitors to comment, which will boost interest and ultimately, profits.
While we're on the subject of customers, make it a point to address their concerns as quickly as possible, even if it is just a question from someone who has never ordered from you. As cliché as it might sound always put the customers first and you will find that they will put you first in return.