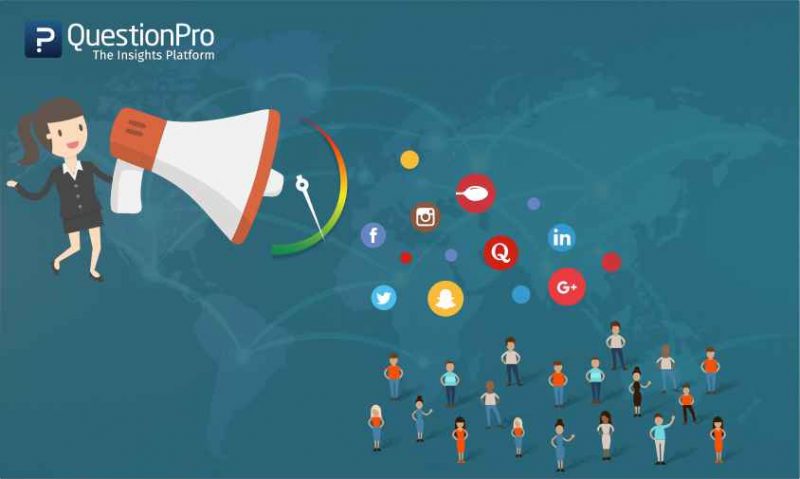 Word of Mouth is inarguably the oldest marketing technique and still making a significant influence on a buyer's decision. It is a very effective marketing technique to improve direct sales for a business owing to its one unique attribute, TRUST. A customer sees this as a fair practice because organizations can influence word of mouth marketing but never completely control the outcome. Can you count on your customers to refer your business to a friend? You need not guess, you can calculate your business' brand shareability mathematically using the Net Promoter Score formula.
A 2016 survey says that nearly 82% of consumers seek a friend or family member's suggestion while considering a purchase. About 67% of them are more likely to buy a product after a recommendation from an acquaintance. The reference can come in many ways like a direct conversation with a colleague or a friend's online share. When customers connect with their favorite brands emotionally, they tend to talk positively about the brand's products without any external influences.
Doing everything right, for example by offering a reliable product at great value, providing excellent customer support, and caring about customer needs, businesses can influence their brand shareability by converting customers to brand promoters. QuestionPro can help you find out if your customers are promoters or detractors of your products and services with a single question survey.
What is Net Promoter Score formula and how is it calculated?
All though there are different ways of measuring customer satisfaction levels, using NPS has proven to be simple yet accurate. The Net Promoter Score formula, developed by Bain & Co. consultant Frederick F. Reichheld is an industry-tested standard.
An NPS question asks a responder to answer 0-10 point rating scale divided into three respondent categories.
   Promoters – Respondents who gave a score as 9 or 10

   Passive – Respondents who gave a score as 7 or 8

   Detractors – Respondents who gave a score from 0 to 6
You can calculate the number of promoter or detractors your business has using the Net Promoter Score formula manually.
Net Promoter Score formula for Promoters

Net Promoter Score formula for Passive

Net Promoter Score formula for Detractors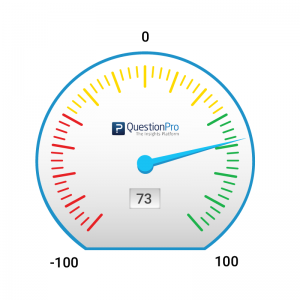 But if you have a larger customer pool, QuestionPro's CX platform enables you to see exactly how many of your customers are loyal to your brand effortlessly. QuestionPro's NPS meter shows you the aggregate satisfaction rate of your customers on a -100 to +100 point range scale.
You can tweak the dashboard to segregate the results based on geographical location, age, and sex of the respondent and many other variables that are significant for your business.
Calculated NPS? Now, take action!
Detractor recovery is a comprehensive mechanism in QuestionPro's Customer Experience (CX) platform that allows you to automate actions when a negative feedback is received. This feature allows you to set up notifications to alert the right person in your company based on hierarchy or raise an automated ticket so that the grievance of a detractor gets attention immediately.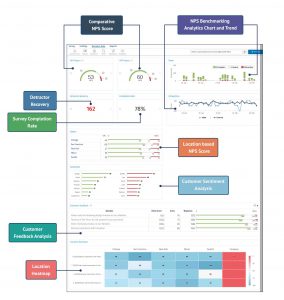 While analyzing customer loyalty, it is important to use Net Promoter Score formula and compare NPS score over regular intervals of time. QuestionPro's Net Promoter Score dashboard enables you to do a comparative analysis of NPS score and displays changing trends through appealing infographics. Here at QuestionPro, we understand the importance of digital word of mouth marketing as well. The automated Promoter amplification feature in the Customer Experience (CX) platform prompts a survey responder to share their feedback on social media if they are a promoter of the brand.
Any company, small or large can benefit greatly from a positive word of mouth when the existing customers turn to promoters of the brand. By encouraging honest voluntary reviews from customers and by sharing positive feedback on social media; a company can influence their brand shareability or a start-up can begin building their brand identity through word of mouth. QuestionPro's CX platform is what you need to precisely measure your customer loyalty employing Net Promoter Score formula, to analyze NPS scores, and automate immediate actions for detractor recovery and benefit from promoter amplification.