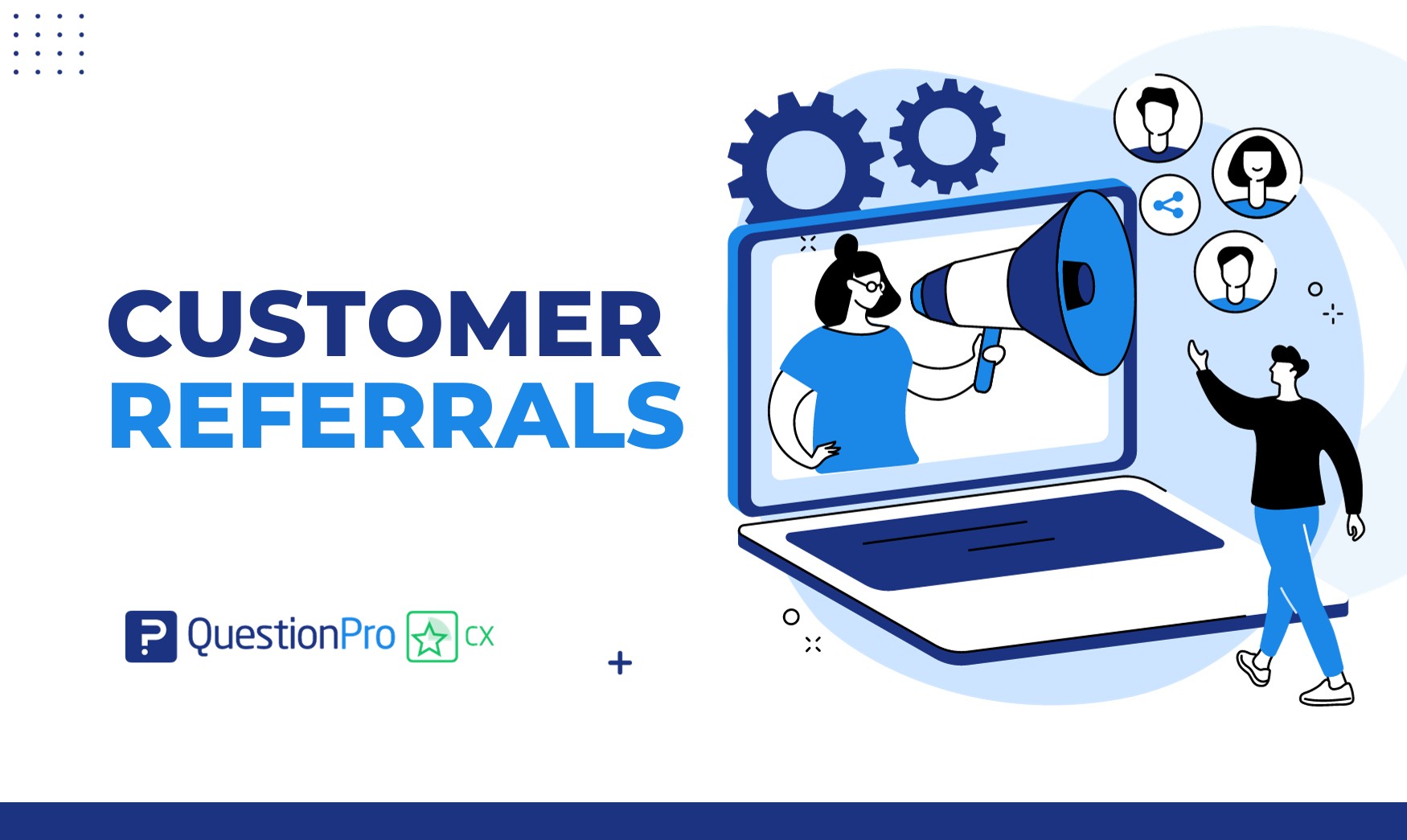 Customer referrals are not just a marketing strategy. They are the heartbeat of organic growth. They foster trust, save you money, and establish a genuine connection with your audience.
Referrals are like friendly recommendations for a business. Imagine you find a fantastic restaurant and tell your friends, "Hey, you should try this place; the food is amazing!" That's a referral.
In this blog, we will explore what customer referrals are and why they are important for your business growth. We also discuss some key tips that you can apply in your business to get more high-quality referrals.
What are Customer Referrals?
A customer referral is when a satisfied customer recommends a product or service to someone they know. This can happen through casual conversations, social media, or more formal referral programs set up by businesses. Essentially, it's a way for happy customers to share their positive experiences and spread the word.
Growing businesses use client referrals to attract new consumers based on positive experiences. Happy customers may recommend a product or service to their friends and family, who may try it, too. Businesses can increase interest with this word-of-mouth suggestion.
Importance of Customer Referrals in Business
Customer referrals are a powerful force in business and can significantly contribute to the growth and success of a company. Here are key reasons highlighting the importance of customer referrals:
Improves trust and credibility.
When a customer refers a business to friends, family, or colleagues, it adds a layer of trust and credibility. People are more likely to trust recommendations they know and respect. It makes referrals a powerful endorsement for your business.
Offers cost-effective marketing.
Acquiring new customers through advertising and marketing efforts can be expensive. On the other hand, customer referrals are a cost-effective way to attract new business. Since satisfied customers willingly promote your business without any direct cost to you, it becomes an efficient and economical marketing strategy.
Increases conversion rates.
Referred customers often have a higher likelihood of converting into actual customers. This is because they come with a built-in level of trust, having received positive feedback from someone they know. They are also more likely to understand the value proposition of your products or services.
Boosts loyalty and retention.
An existing customer who refers to another is usually satisfied and loyal. Encouraging referrals can help build a community of loyal customers to stay with your business over the long term. This loyalty contributes to customer retention and repeat business.
Extends reach and new audiences.
Referrals can extend your business's reach to new audiences. When your existing customers recommend your products or services to their network, it introduces your business to new people. This can lead to the expansion of your customer base.
When people are referred to your business, they usually have a stronger understanding of your product. Because someone who knows your business well recommended them, and you get better-quality leads.
Provides feedback for improvement.
Referrals can provide valuable feedback. When customers recommend your business, they may share insights into what they appreciate about your products or services. This information can be used to understand your strengths and areas for improvement.
Spreads positive word of mouth.
Referrals contribute to positive word-of-mouth marketing, which is one of the most influential forms of promotion. Positive recommendations can quickly spread, creating a positive image of your business in the market.
How to Get Referrals From Your Customers?
Getting referrals from your customers involves a strategic and thoughtful approach. Here are some practical steps to encourage and maximize customer referrals:
1. Be awesome at what you do.
The first step in getting referrals is simple but crucial: be awesome at what you do. Whether you're selling products or providing services, ensure your customers are satisfied and delighted. Happy customers are more likely to share their positive experiences.
2. Ask nicely.
Sometimes, the easiest way to get something is to ask for it. After a successful transaction or a glowing review, don't be afraid to politely ask your customers if they know anyone else who might enjoy your fantastic offerings. A friendly ask can go a long way.
3. Sweeten the deal.
Everybody loves a good deal. Consider creating a referral incentive program. It could be a discount on their next purchase, a special offer, or even a small freebie. By giving a little something back, you show appreciation for their loyalty and encourage them to spread the word.
Social media is where the party's at! Encourage your customers to share their positive experiences on platforms like Facebook, Instagram, or Twitter. You can even create shareable content or hashtags that make it easy for them to broadcast their love for your brand.
5. Show off customer love.
Turn your satisfied customers into stars by showcasing their testimonials. Feature their kind words on your website, in marketing materials, or even on your physical storefront. When potential customers see real people endorsing your business, it builds trust and increases the chances of getting referrals.
6. Stay connected.
Don't let your customers forget about you. Regularly reach out to them with updates, newsletters, or exclusive promotions. The more present you are in their lives, the more likely they'll remember to recommend you when the opportunity arises.
7. Make referring easy.
Remove any complexity in the referral process. Create a simple and user-friendly way for current customers to refer their friends, whether it's through a quick online form, a dedicated email address, or a referral link. The easier it is, the more likely they'll take action.
8. Say, thank you!
When a customer goes the extra mile to refer someone, express your gratitude. A heartfelt thank-you note or a small token of appreciation can make them feel valued and reinforce their positive feelings towards your business.
What Are Customer Referral Programs?
A referral program is a savvy way for businesses to spread the word about their products or services. It's like a friendly nudge from satisfied customers to their friends, family, or coworkers. When customers love a brand, the company invites them to share their discoveries.
If the referred customer makes a first-time purchase, the customer who did the referral gets a thank-you reward. It could be gift cards, shopping points, or even cool branded stuff. Businesses often promote these rewards to make them even more exciting,
Customers in the program receive special links or codes to share the love easily. Essentially, it's a win-win situation. New customers find something great. Happy customers get a little treat, and businesses grow through the trusted network of their satisfied customers.
How to Create a Customer Referral Program?
A successful referral program can be a game-changer for your business, creating a buzz and bringing in new customers. To ensure your program is effective and runs smoothly, follow these five straightforward steps.
1. Set KPIs and goals
Start by defining what success looks like for your referral program. Set Key Performance Indicators (KPIs) and clear goals. Are you aiming for a specific number of new customers, increased sales, or brand visibility? Knowing your objectives will guide the design and implementation of your program.
2. Determine incentives and rewards
Incentives play a crucial role in motivating customers to participate in your referral program. Consider what rewards will resonate with your audience. It could be discounts, exclusive access, or even freebies. Ensure that the incentives are attractive enough to encourage participation but also aligned with your business goals.
3. Design your program and landing page
Craft a referral program that is easy to understand and navigate. Develop a clear and appealing landing page that explains the program details, benefits, and how customers can participate. Use simple language and visuals to make it user-friendly. It will increase the likelihood of engagement.
4. Choose the right tools
Managing a referral program requires the right tools. Choose platforms or referral program software that can help you track referrals, manage rewards, and provide analytics. User-friendly tools streamline the process for both you and your customers, enhancing the overall customer experience.
5. Promote your referral program.
Even the best referral program won't succeed if your customers don't know about it. Actively promote your program through various channels. Utilize email marketing, social media, and your website to spread the word. Consider creating engaging content that highlights the benefits of participation.
Customer Referral Program Examples
Customer referral programs come in various forms. Many successful businesses have implemented creative and effective strategies to encourage their customers to refer others. Here are a few examples of customer referral programs:
Uber
Referral incentive: Uber has been well-known for its referral program. Both the referrer and the new user get a credit toward their next ride when the new user signs up using the referral code.
Ease of sharing: The Uber app allows users to easily share their referral codes with friends.
Dropbox
Referral incentive: Dropbox encourages users to invite friends to join the platform. For every friend who signs up, the user and their friend receive additional free storage space.
Clear communication: Dropbox makes it easy for users to understand the benefits of referring friends through a straightforward communication strategy.
Airbnb
Referral incentive: Airbnb offers travel credits to both the referrer and the referred friend when the friend completes their first booking.
Visual appeal: Airbnb uses visually appealing and personalized graphics in their referral emails to capture attention and convey the benefits clearly.
Amazon Prime
Referral incentive: Amazon Prime rewards users who refer friends with a monetary incentive, like a gift card.
Promotional periods: Amazon occasionally runs promotional periods where successful referral rewards increase, which creates a sense of urgency and excitement.
Tesla
Referral Incentive: Tesla has employed referral programs where customers can earn various rewards, including free Supercharging miles, exclusive Tesla merchandise, and even the chance to win a new Tesla vehicle.
Tiered Rewards: Tesla's referral program often includes tiered rewards, encouraging users to aim for higher levels of referrals to unlock more valuable incentives.
These examples showcase the diversity in customer referral programs, from ride-sharing services to cloud storage, travel accommodations, e-commerce, and even high-end automotive. The success of these programs lies in offering clear incentives, ease of sharing, and aligning with the brand's overall value proposition.
How Can QuestionPro Help in Creating Customer Referral Programs?
QuestionPro can significantly help create and optimize customer referral programs by providing tools and features that streamline the process. Here's how QuestionPro can help in the creation of effective customer referral programs:
Survey design for program insight.
Use QuestionPro to create surveys that help you understand your customers' preferences, behaviors, and motivations. This insight is crucial for designing a referral program that resonates with your audience.
Feedback on referral experience.
Implement surveys to collect feedback from customers who have participated in your referral program. This feedback helps you identify what aspects are working well and what could be improved. It allows continuous refinement of the program.
Identifying incentive preferences.
Conduct surveys to determine the types of incentives that appeal most to your customers. QuestionPro allows you to gather information on reward preferences. It helps you tailor your referral program incentives for maximum effectiveness.
Segmentation for targeted outreach.
Utilize QuestionPro's segmentation capabilities to target specific customer groups. This enables you to tailor referral program messages and incentives based on the unique characteristics of different customer segments.
Automated follow-up surveys.
Set up automated follow-up surveys at different stages of the referral process. This allows you to know customer satisfaction, identify potential issues, and gather insights for program improvement in a timely manner.
Integration with CRM systems.
Integrate QuestionPro with your CRM system to link survey responses to individual customer profiles. This integration provides a comprehensive view of each customer's interaction with the referral program.
Implementing Performance Analytics.
Implement QuestionPro's analytics tools to track the performance of your referral program. Analyze data on customer participation, conversion rates, and overall program success. It will help you make data-driven decisions to enhance the program's effectiveness.
Quick and easy implementation.
QuestionPro's user-friendly interface allows for the quick and easy creation of surveys and referral program assessments. This simplicity ensures that your team can efficiently set up and manage the referral marketing program without extensive training.
Conclusion
Customer referrals are one of the keys to your business growth. They build trust, save money, and turn your customers into your best referral marketing team.
QuestionPro can be one solution that enhances the effectiveness of your referral programs. It helps you keep things simple and accessible for both you and your customers. So, go ahead, deliver exceptional service, ask for those referrals, and watch as your business flourishes with the genuine support of those who love what you do.
Remember, a happy customer today is your best advertiser tomorrow. Contact Questionpro for further information.