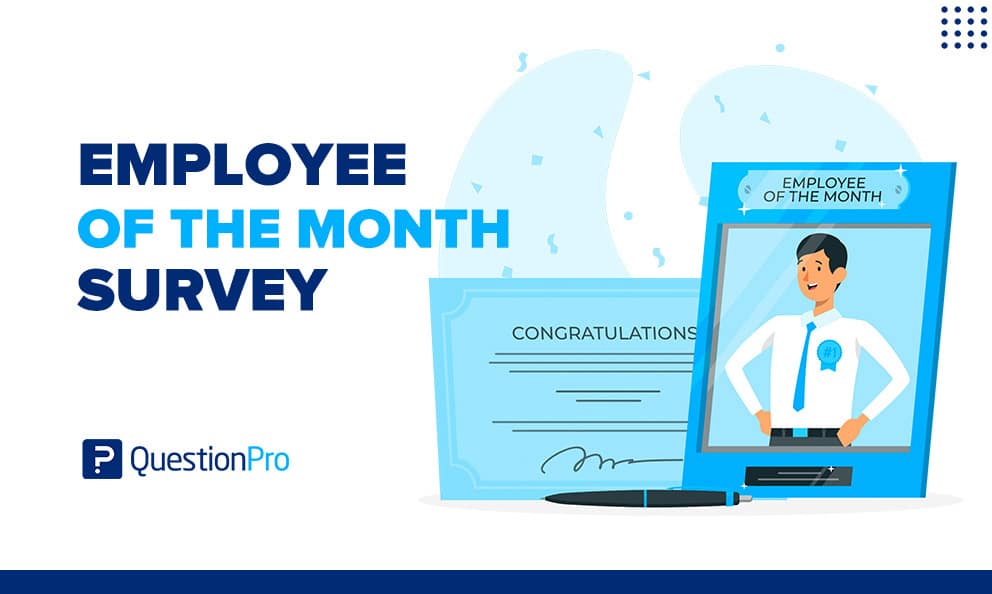 Full Disclosure – QuestionPro doesn't support or condone the use of Employee of The Month Surveys. There are much more powerful ways to use surveys to improve employee appreciation. That being said, if you're going to run one we want to help you be successful as possible.
What are Employee of The Month Surveys?
Employee of The Month Surveys are employee satisfaction surveys that reward an employee for their work performance. If you want to try this with your workforce here are some important things to think about and some best practices. 
The year 2022 is very important for companies to shift with major changes in workforce preferences when it comes to choosing their employer. There are many programs that can be introduced to your team, department, or company that can help cultivate a culture of appreciation.
The pandemic and the economy gave us all a wake-up call to reevaluate our value system when it comes to work. People experienced new ways of working that they never had as options before and it has opened the world's eyes to the idea that they have a voice in how they work.  
A lot of people have been listening to what the workforce is saying and one thing is very clear as a standout driver for employee satisfaction. That is working in an environment where they are appreciated and feel heard by their leadership.
Employee appreciation has a huge impact on employee morale and it's one of the fastest ways to make major improvements to employee culture. It's important to develop an environment where employees frequently recognize one another for the valuable contributions they bring on a daily or at least weekly basis.
A sample survey template for you to use with your employee of the month surveys program.
This isn't a popularity contest

– Some people have a personality or position in the company that will give them more visibility and likability within the company. This can create an unfair advantage for certain employees and do more harm than good if it becomes clear that those individuals are always selected as the employee of the month. If you're trying to create a great culture then you need to make sure this is an inclusive and fair experience.  You can do that by running the survey with smaller groups by department or roles and not one single surveying launched to the entire company. 

Be specific

– It can be incredibly valuable to not just hear the names of the people that are being appreciated for their work by so much more important to understand why. This can be hard for some employees and might take some practice but understanding specific situations and actions and the impact they made. 

It doesn't have to be for just employees. It can be teams, too!

This can put the focus on empowering the rest of the company to share the valuable work a specific team or department does to run the entire company. It can be easy to feel unseen and unappreciated by other departments and this will keep that sentiment from setting in with your workforce.

Keep experimenting and making changes –

This isn't going to be perfect on your first try. Communicate that to the entire company and let them know that the goal is to help all employees feel appreciated for the work they are doing. Learn from each survey and make changes as you get feedback.  
Sample Survey:
Q1. Whom you are nominating?
Q2. Name of the Employee whom you wish to nominate?
Full Name
Q3. If Team, please mention the name of the team.
Team Name – Eg. APAC – CST
Division – Eg. Customer Success team
Country/Region  – Eg. APAC
Q4. If Team, please mention the name of the team.
Q5. Select what all defines your Nominee?
Good with team and the clients 
Takes up responsibilities proactively
Is trustworthy and Accountable
Q6. Please elaborate your Nominee's work on your own words?
OPEN END
Q7.Please elaborate your Nominee's Business Accomplishments?
QuestionPro has been the trusted survey partner for respected brands since 2005. That's a lot of surveys! We put together a simple survey template that will help you get started. Change the words. Remove or add questions. Have fun and make it your own! 
Authors: Ford Knowlton & Samriddhi